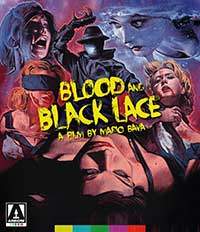 Blood and Black Lace is the story of a killer that is stalking The Cristian Haute Couture fashion house and eliminating the beautiful models one by one. Police are dumbfounded and clueless about how to deal with the killings not necessarily ding as much as they should to comfort the women. They are after all, models, and not necessarily very bright when it comes to the real world according to law enforcement.
The masked killer wears a fedora, trench coat, and has featureless face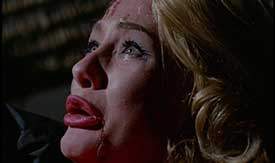 reminiscent of "The Blank" from Dick Tracy. The effect is rather unnerving. In order to stay alive the women of Cristian Haute will have to use their wits in order to stay alive. This will be easier said than done due to some of the women having outside interests that may not mesh together with what's going on at the present time.
Mario Bava's Blood and Black Lace is somewhat the archetype of the giallo movement that would later be popularized by he and Dario Argento. Giallo is the Italian word for "yellow" and is taken from the yellow covers of old school Italian mystery novels of many years past – the films exhibiting these giallo flourishes of bold colors and being wrapped in either a horror or thriller storyline or both. They were basically "classy" horror films filled with style and substance.
From the opening "self-aware" credit sequence in which the cast stand like mannequins next to actual mannequins in various avant-garde poses to the exquisite lighting and cinematography, for a film that's about 52 years old – it really stands on its own and it's evident where filmmakers such as Dario Argento, Martin Scorsese, and even Nicolas Winding-Refn have gotten their inspiration from. Blood and Black Lace is literally a movie picture canvas and just about every frame can be scooped up with a spoon. Not only is the film a technical achievement but also the storyline itself is pretty good and mixes up the genres with some horror-thriller, and mystery aspects quite nicely. This is one of my favorite Arrow Video releases of the year!
The Video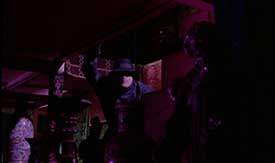 Blood and Black Lace is presented in 1080p, 1.66:1. keep in mind that most press materials and even Amazon may or may not list the film as being in 1.85:1 but the Blu-ray is actually presented in 1.66:1. Where to start? Before the film begins we get a disclaimer that reminded me of something Criterion would do. It talks about the painstaking process the film went through for this marvelous restoration. The image is certainly cleaned up, but they don't scrub the grain structure away. Thousands of instances of dirt have been removed, etc. The color palette is a wonder to behold, as every scene seems to be framed with one could call odd compositions in terms of lighting and use of color. The Blu-ray conveys all of this wonderfully and it is in fact a reference quality disc in terms of video presentation.
The Audio
Blood and Black Lace is presented in two versions – there is an English and Italian (with subtitles) version of the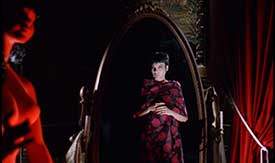 film presented in 1.0 mono. The film is correctly centered and features all of the dialogue and onscreen effects encapsulated in one lone channel. The only faults I could detect were that of the high and treble-heavy levels. If there's a high pitch sound effect or high enough musical cue then the center did have a bit of trouble handling those nuances without rattle. Outside of that minor hiccup the rest of the lossless mono track was spectacular.
The Supplements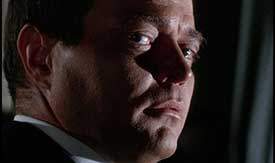 This Blu-ray package is a fully loaded affair. There are several hours of material packed into this Blu-ray set that it was pretty unreal. Once I finished watching the film I had no choice but to sit and continue watching the supplements. Please be warned that there are potential spoilers for other films of the giallo genre, so if you have not seen certain films by Bava or Argento then I would skip out on the documentaries, because there are many comparisons to other films in their respective catalogs.
SPECIAL EDITION CONTENTS
Brand new 2K restoration of the film from the original camera negative
High Definition Blu-ray (1080p) and Standard Definition DVD presentations
Optional Italian and English soundtracks presented in original uncompressed mono PCM audio
Newly translated subtitles for the Italian audio
Optional English subtitles for the deaf and hard of hearing for the English soundtrack
Brand new audio commentary by Mario Bava s biographer Tim Lucas
Psycho Analysis a new documentary on Blood and Black Lace and the origins of the giallo genre featuring interviews with directors Dario Argento (Suspiria) and Lamberto Bava (Demons), screenwriter Ernesto Gastaldi (All the Colors of the Dark) critics Roberto Curti and Steve Della Casa, and crime novelists Sandrone Dazieri and Carlo Lucarelli (HD)
An appreciation by Hélène Cattet & Bruno Forzani, the creative duo behind Amer and The Strange Color of Your Body's Tears (HD)
Yellow the much-acclaimed neo-giallo by Ryan Haysom & Jon Britt [Blu-ray exclusive] (HD)
Gender and Giallo a visual essay by Michael Mackenzie exploring the giallo's relationship with the social upheavals of the 1960s and 70s Panel discussion on Mario Bava featuring Dario Argento, Lamberto Bava and Steve Della Casa, recorded at the 2014 Courmayeur Film Festival (HD)
The Sinister Image: Cameron Mitchell in an episode of David Del Valle's television series, devoted to the star of Blood and Black Lace and presented in full (SD)
The alternative US opening titles, sourced from Joe Dante's private print and scanned in 2K especially for this release (HD)
Original theatrical trailer (HD)
Reversible sleeve featuring original and newly commissioned artwork by Graham Humphreys
Collector s booklet featuring new writing on the film by Howard Hughes, author of Cinema Italiano and Mario Bava: Destination Terror, an interview with Joe Dante, David Del Valle on Cameron Mitchell and more, all illustrated with archive stills and posters
The Final Assessment
Blood and Black lace is a masterpiece of the giallo sub-genre. This Blu-ray release from Arrow Video is definitely up there in terms of one of the best Blu-rays of the year. In fact, I got flashbacks in terms of presentation from their Day of Anger package of last year. Granted, we're 6 months from the end of the 2016, so there's no doubt that more Arrow Video releases will make my list. Blood and Black Lace is sure to please horror-thriller fans alike!
Blood and Black Lace will be available in a a special 2-disc edition and 2-disc limited edition SteelBook.
Blood and Black Lace (TheaterByte Blu-ray Review)
Unrated
Rating Certificate
Arrow Video
Studios & Distributors
Marcello Fondato, Guiseppe Barilla, Mario Bava
Writer
English LPCM 1.0 (48kHz/24-bit) | Italian LPCM 1.0 (48kHz/24-bit)
Audio
Summary
Blood and Black Lace is a fantastic detective-thriller-horror hybrid and marks one of the earliest "giallo" films by master filmmaker Mario Bava. One could watch the film on mute and be captivated by the sumptuous visuals.
What people say... Login to rate
Be the first to leave a review.
Show more