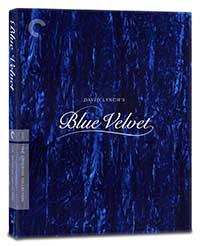 Blue Velvet is David Lynch's dreamlike 1986 neo-noir crime/thriller that probed the perverse secrets bubbling under the surface of small-town America. Kyle Maclachlan stars as Jeffrey Beaumont, a seemingly clean-cut, all-American young man who returns home to his small working-class town of Lumberton when his father suffers a stroke. When he finds a human ear in a field, he does the right thing and takes it to the police, but their disinterest in investigating any crime leaves him even more curious to discover the secret behind the ear. This leads Jeffrey to the mysterious and sexy lounge singer Dorothy Vallens (Isabella Rossellini) and the violent, ether-addicted Frank Booth (Dennis Hopper).
Booth has kidnapped Dorothy's young son and is holding him captive so he can use Dorothy to play out his prurient sadomasochistic fantasies. Despite Jeffrey's attraction to the sweet and innocent Sandy Williams (Laura Dern), daughter of the police detective, he can't help but be drawn to Dorothy and the world of darkness she represents. He feels an uncontrollable need to comfort her, have sex with her and save her. In typical Lynch-ian fashion, Jeffrey's investigation of the found ear and Dorothy Vallens opens up a whole world of motley characters who would seem equally at home in an asylum as in a carnival sideshow, including Dean Stockwell as Ben the "suave" lip-syncher who is charged with holding Dorothy's kidnapped son. Blue Velvet is truly a stunning and sexy piece of work from start to finish.
With its surreal imagery and unapologetic merging of deadpan humour, brutalism, sadomasochism, misogyny, and neo-noir, Blue Velvet's exploration of heartland America's sunny façade (right from the opening we see gorgeous beds of vermillion roses peeking out above pure white picket fences) and its grimy, insect infested underbelly with buried human body parts, prostitutes and drug-addled maniacs was a precursor to Lynch's later endeavors in the same mode, such as the cult Television classic Twin Peaks, and the film has gone on to be considered one of the greatest of the 1980s, despite originally greatly divided critical reception.
The Video
This is a new director-approved digital transfer of Blue Velvet created in 16-bit 4K resolution on a Lasergraphics Director film scanner from the 35mm A/B original camera negative. Thousands of instances of dirt, debris, scratches, splices, and warps were manually removed using MTI Film's DRS while Digital Vision's Phoenix was used for jitter, flicker, small dirt, grain, and noise management.
The film is presented on Blu-ray in its original 2.35:1 aspect ratio in an AVC 1080p encodement that looks clean and organic, free from smoothing and excessive DNR. There is still plenty of grain here and lots of rich detail. Colors really 'pop,' especially the primaries – check out the vermillion roses against the white fences in the early scenes or the blue velvet robe that Dorothy wears. Some darker scenes can look a little bit gritty, but that is more due to heightened noise from low-light photography. This is great looking restoration and transfer.
The Audio
The 5.1 soundtrack was created in 2008 by recording mixer Dean Hurley and director David Lynch at Lynch's own Asymetrical Studio in Los Angeles from the original-source 35mm magnetic-stock stems, which were limited to LtRt music and effects as well as monaural dialogue, music, and effects stem sources. The decoded original music and effects mix of the film became the basis for the new LCR image of the mix, with mono dialogue stems for the center channel and phase-aligned music and effects stems for light low-frequency enhancement and ambient surround effects. The alternate 2.0 surround track was mastered from this mix as well. Both mixes are supplied in DTS-HD Master Audio. The 5.1 mix is very subtle, to say the least, staying mainly across the front and the ambient effects are extremely subtle, but we are presented clean dialogue.
The Supplements
Blue Velvet get the premium Criterion treatment with fantastic set of special features on disc, the wonderful booklet with excerpts from Lynch's book and the themed packaging.
The Lost Footage (2.35:1; 1080p) – Fifty-three minutes of deleted scenes and alternate takes, assembled by director David Lynch
"Blue Velvet" Revisited (1.78:1; 1080p) – In 1985, German filmmaker Peter Braatz was invited by director David Lynch to Wilmington, North Carolina, to document the shooting of Blue Velvet on Super 8, in photographs, and in audio recordings. The result is this eighty-nine-minute unconventional "meditation" on the film, with music by Cult with No Name, Tuxedomoon, and John Foxx.
Room to Dream – This eighteen-minute audio recording is of director David Lynch reading from Room to Dream, the 2018 book he coauthored with Kristine McKenna.
Interviews:

Angelo Badalamenti (1.78:1; 1080p)
It's a Strange World: The Filming of Blue Velvet (2.35:1; 1080p)

Mysteries of Love (1.33:1; upscaled 1080i) – This seventy-minute 2002 documentary features interviews with Blue Velvet's cast and crew.
Test Chart
Booklet: The booklet contains excerpts from the chapter on Blue Velvet in Room to Dream, a 2018 book coauthored by Kristine McKenna and director David Lynch. Additionally, the booklet has photos, credits, and information on the transfer.
The Final Assessment
One of many David Lynch masterpieces, Blue Velvet seethes with sexuality and mystery while it plays like an odd drug-induced dream. Thankfully the film finally gets the treatment it deserves on Blu-ray in this Criterion Collection edition that easily bests the previous MGM release on Blu-ray.
Blue Velvet is available on Blu-ray & DVD May 28, 2019 from the Criterion Collection
---
De Laurentiis Entertainment Group (DEG) | Criterion Collection
Studios & Distributors
David Lynch (screenplay)
Writer
$39.95
MSRP
English DTS-HD MA 5.1
Audio
DTS-HD MA 2.0 Surround
Secondary Audio
Summary
In David Lynch's surreal 1986 masterpiece, the discovery of a severed ear in a field leads a young man on an investigation into the seedy underbelly of small-town America, one related to a sultry nightclub singer (Isabella Rossellini), her psychopathic, ether-addicted boyfriend who has kidnapped her child, and his surrounding group of lunatic friends. The film finally gets the treatment it deserves on home video in this stellar, director-approved 4K restoration from the Criterion Collection.
What people say... Login to rate
Be the first to leave a review.
Show more