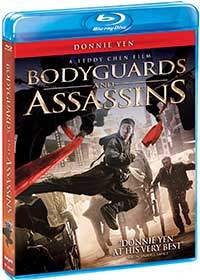 Teddy Chen (Kung Fu Killer, The Accidental Spy) directed this 2009 Chinese historical martial arts action film set during the early 20th century Hong Kong. A healthy mixture of politics, patriotism, self-sacrifice, and duty, Bodyguards and Assassins follows a band of revolutionaries gathered together in colonial British Hong Kong in 1906.
As the air of revolution has begun to spread across the mainland, Chinese revolutionary figure Sun Yat-sen (Zhang Hanyu) heads to Hong Kong for a clandestine meeting that will be pivotal to the success of uprisings to overthrow the Qing dynasty on the mainland. The Qing dynasty is ruthlessly determined to keep their grip on power, however, and they send hordes of assassins to kill Sun. Our group of revolutionaries must protect Sun while the crucial meeting takes place. These include Chen Xiaobai (Tony Leung Ka-fai), a revolutionary activist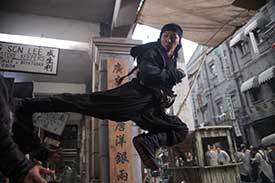 and journalist who has in his tutelage the 17-year-old Li Chungguang (Wang Bo-chieh), son of his financial backer, the powerful Hong Kong businessman Li Yuetang (Wang Xueqi). Donnie Yen plays Sum Chung-yang, former husband to Li Yuetang's mistress, Yuet-yu who is played by the amazingly beautiful Fan Bingbing, who appears to be here simply as eye candy, because her role is completely unnecessary. While Yen plays a pivotal role in the film's famous, nearly hour-long fight sequence that is magnificently choreographed, his character is also somewhat of an open question and loose thread. We get the sense that he is there for dramatic tension and that he has some inner turmoil, but, again, it's completely unnecessary or at least not fully explored back story. Mostly he wanders through Bodyguards and Assassins dejected and trying to see his old wife, and playing both sides of the ultimate fight, until the crucial moment when he finally picks a side.
This historical action film is best when Chen lets the history stay out of the way and lets the action take over. The characters are all superb when the struggle to survive begins, and martial arts fans will not be able to get enough of this amazingly done and well-acted film.
The Video
Bodyguards and Assassins was shot in Super 35 on various ARRI and Panavision cameras and arrives on Blu-ray in a 2.35:1-framed AVC 1080p encodement from Shout! Factory. The image looks stunning. It's filmic and organic with a fine, natural layer of grain, nuanced details in the shadows and a clean overall presentation free from any major issues with source damage. Colors are nicely saturated without looking unnatural.
The Audio
Bodyguards and Assassins comes with a Mandarin DTS-HD Master Audio 5.1 soundtrack as well as Mandarin DTS-HD Master Audio 2.0 stereo and English DTS-HD Master Audio 5.1 tracks. I used the Mandarin 5.1 track as my reference for this review, but also sampled the Mandarin 2.0 mix. The audio is also superb on this release, whether you go with the Mandarin 5.1 or the 2.0. In 5.1, you get a spacious and balanced mix with lots of solid effects in the surround channels, but it's not constantly coming at you, there's a lot of subtlety and balance with clear dialogue as well. The 2.0 mix is surprisingly engaging when switching from the 5.1 track. It has very wide stereo imaging and a lot of directional panning following the action on the screen.
The Supplements
The extras are all standard, but they do have several interviews with the cast and crew and lengthy behind-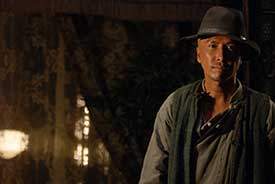 the-scenes featurettes worth sitting through.
Interview with Leon Lai (1.78:1; SD; 00:02:15)
Interview with Wang Xueqi (1.78:1; SD; 00:03:35)
Interview with Tony Ka-Fai Leung (1.78:1; SD; 00:02:22)
Interview with Peter Chan (1.78:1; SD; 00:02:19)
Behind the Scenes (1.78:1; SD; 00:33:28)
The Action (1.78:1; SD; 00:04:28)
The Characters (1.78:1; SD; 00:20:53)
The Set (1.78:1; SD; 00:02: 43)
The Design (1.78:1; SD; 00:01:56)
The Make-Up (1.78:1; SD; 00:01:40)
Theatrical Trailer (2.35:1; SD; 00:02:25)
The Final Assessment
While Bodyguards and Assassins could probably use a stronger screenplay and a little trimming in the editing room, it is ultimately a gem of a martial arts film with incredible action and just enough convincing drama to keep one's attention. Donnie Yen steals the movie even though he is technically not the lead actor.
Bodyguards and Assassins (TheaterByte Blu-ray Review)
Not Rated
Rating Certificate
Shout! Factory
Studios & Distributors
Guo Junli, Chun Tin Nam, Joyce Chan, Chan Tung Man, James Yuen, Wu Bing
Writer
$16.99
MSRP
Mandarin DTS-HD MA 5.1 | Mandarin DTS-HD MA 2.0 Stereo | English DTS-HD MA 5.1
Audio
Summary
Donnie Yen's action performance, the hour-long fight sequence, and the passable drama of Bodyguards and Assassins are enough to recommend it to fans of the genre.
What people say... Login to rate
Be the first to leave a review.
Show more