Aspect Ratio: 1:78:1
Video Codec: AVC/MPEG-4 (2D); MVC (3D)

Resolution: 1080p/24 (23.976Hz)
Audio Codec: English DTS-HD Master Audio 5.1 (48kHz/24-bit), English 2.0 DVS [3D], French and Spanish Dolby Digital 5.1
Subtitles: English SDH, French [3D], and Spanish
Region: ABC (Region-Free)
Rating: PG
Run Time: 96 Mins.
Discs: 4 (1 x Blu-ray 3D+ 1 x Blu-ray+ 1 x DVD+ 1 x Digital Copy)
Studio: Walt Disney Studios Home Entertainment

Blu-ray Release Date: November 8th, 2011
List Price: $49.99
Overall
[Rating:4/5]
The Film
[Rating:4/5]
Video Quality
2D HD: [Rating:5/5]
3D Effect: [Rating:4/5]
Audio Quality
[Rating:5/5]
Supplemental Materials
[Rating:2.5/5]
Click thumbnails for high-resolution 1920X1080p screen captures
(The below TheaterByte screen captures were taken directly from the Blu-ray Discs and losslessly compressed in the PNG format. There should be no loss of picture quality with this format. All screen captures should be regarded only as an approximation of the full capabilities of the Blu-ray format.
The Film
[Rating:4/5]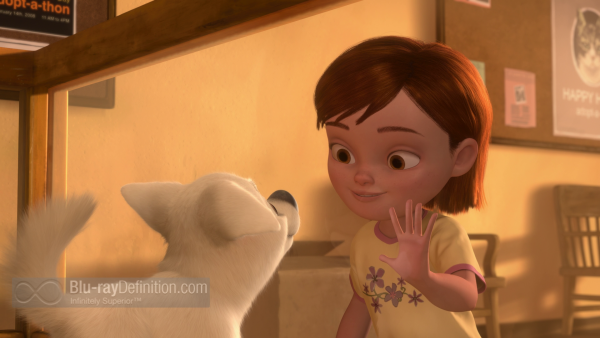 Bolt (voiced by John Travolta; Pulp Fiction) knows one thing and one thing only. That he must protect Penny (voiced by Miley Cyrus) at any costs. While everyone, including Penny, realizes that what Bolt does is all for a Hollywood TV show, poor old Bolt believes this is reality. When he's accidentally shipped to New York City, Bolt soon comes to realize that all the "super-powers" he thought he had…well, aren't real. Faced with the reality that Penny is far away, Bolt must figure out a way to use his real "super-powers" to find his way back into her arms. What results is a surprisingly good Disney film, one that I didn't expect anything out of.
While most of the modern 'big star voicing animated characters' films don't do anything for me, Bolt was one of those rare gems. Perhaps it's more because of the story involving animals and a humans emotional attachment to our furry friends than the physical story. Whatever the reason, Bolt kept me entertained throughout. Simply put, Bolt is a charming, family friendly film that isn't just for children. Any age group can watch this and surely find something to enjoy.
Video Quality
2D HD: [Rating:5/5]
3D Effect: [Rating:4/5]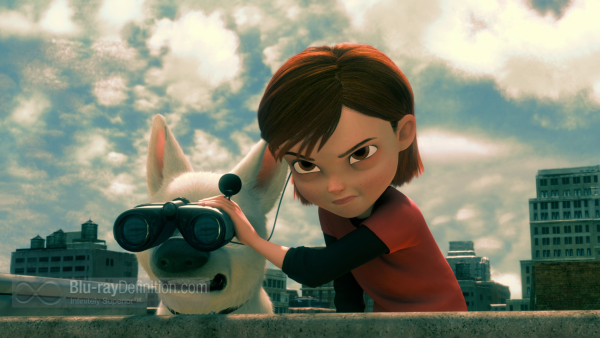 Bolt arrives with the same AVC/MPEG-4 encoded transfer found on the previous Blu-ray release. The results are the exact same as this is a truly perfect 2D presentation. The film's color palette features bold greens, yellows, heck nearly all colors of the spectrum look great. Blacks are inky and dark resulting in fine detail. Speaking of detail, take a look at any of the captured screenshots. Zoom in and search for a lack of detail. You won't find it. With this world being digitally created, items like grain, noise or any other video issues are nonexistent. A truly, truly excellent image.
3D-wise, Bolt looks quiet good. The initial opening moments truly do showcase fine 3D. Depth is excellent whether it be electrical fields zipping out at us or the downing of a helicopter. As Hollywood as Bolt physically is, the 3D aspect is just like that. Once we move outside of the TV realm of the film, the 3D remains consistent. Ghosting does rear its head in a few moments, but I feel only the real keen eye may be able to pick it out. Colors remain sharp and vibrant with consistent warm colors like yellows and whites. Textures remain as well, especially that of Bolt's fur. Like its 2D counterpart, the overall quality of the image is great.
Audio Quality
[Rating:5/5]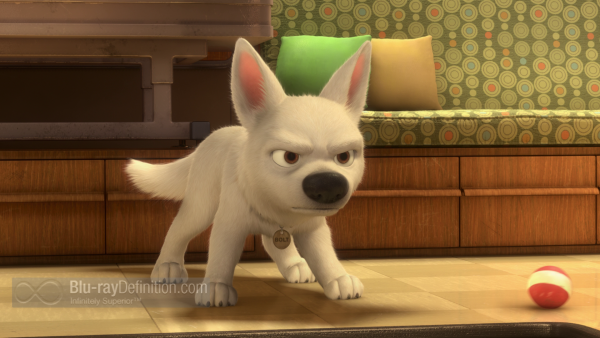 Bolt serves up quite the impressive DTS-HD Master Audio 5.1 lossless offering. Dialogue is reproduced via the center channel with no instance of drop out. Atmosphere is key, whether it be the opening 'Hollywood' moments where varying effects ring throughout the room creating a true 360 degree sound field. Dynamics are spot on as well, in particular during the closing sequences. It's here that the listener can stand anywhere in the room, by any speaker, and detect activity. Or my personal favorite, stand in the middle of the room and simply be immersed in great audio. The film's musical moments (while somewhat cheesy) do sound fine here adding in that bit for the kids. LFE is rock solid at times giving nice, solid bass that helps to add to the action scenes. On and on I could go giving examples after examples, but in the end know this. Bolt has a fantastic soundtrack, one that both audiophiles and kids alike will enjoy.
Supplemental Materials
[Rating:2.5/5]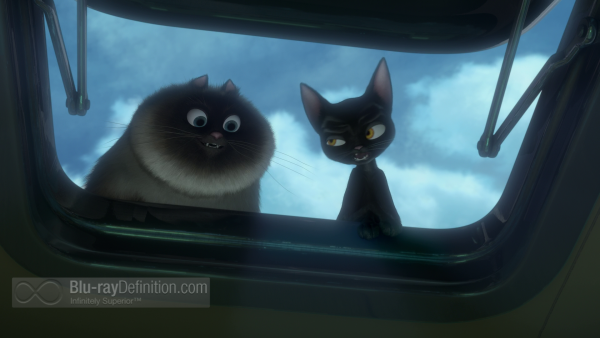 Super Rhino – At 5 minutes in length, this short shows a world where Rhino has super-powers.
Bolt's Be-Awesome Mission Game – This is a short, three level game that is clearly aimed at kids.
In Session with John Travolta and Miley Cyrus – A brief 1 minute look at the recording session for the song below.
Music Video – "I Thought I Lost You" Performed by Miley Cyrus and John Travolta – 2 minute music video.
Creating the World of Bolt – A rather brief (at 7 minutes) look into the stylistic decisions Williams and Howard chose for the film.
A New Breed of Directors – Directors Chris Williams and Byron Howard speak on directing their 1st film in this 7 minute clip.
Deleted Scenes – Roughly 7 minutes of storyboard sequences are shown.
Act Speak! The Voices of Bolt – This runs right around 10 minutes and looks into the varying recording sessions with the actors featured in the film.
Bolt Art Gallery – Four different galleries covering character designs, visual development, storyboards and the music.
DVD – A DVD of the film is included on the 3rd disc
Digital Copy – A Digital Copy, playable on devices including iPod Touch, iPad, iPhone and Windows Media Devices, is included on the 4th disc.
The Definitive Word
Overall:
[Rating:4/5]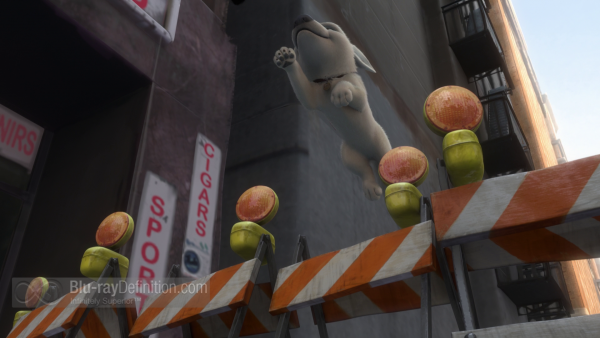 Bolt is a charming, entertaining family film that doesn't travel the a typical road Hollywood animated films travel. Disney has updated their impressive former 2D release with a 3D transfer that is quite good. Recommended for those looking for more 3D material and for those who don't own this one yet.
Additional Screen Captures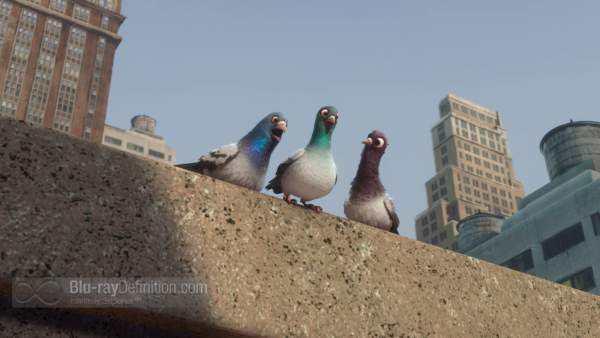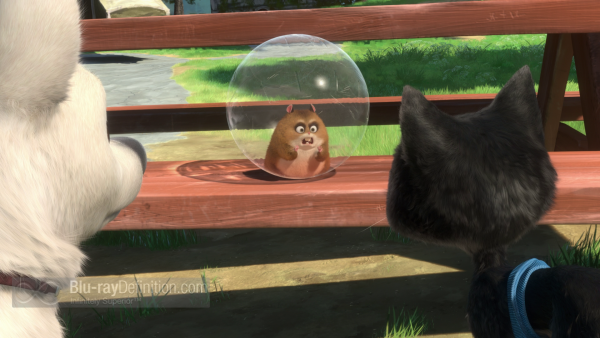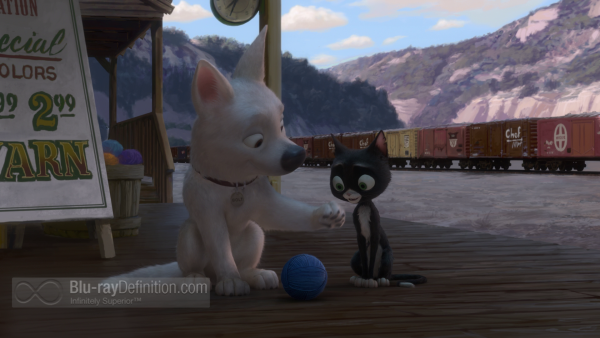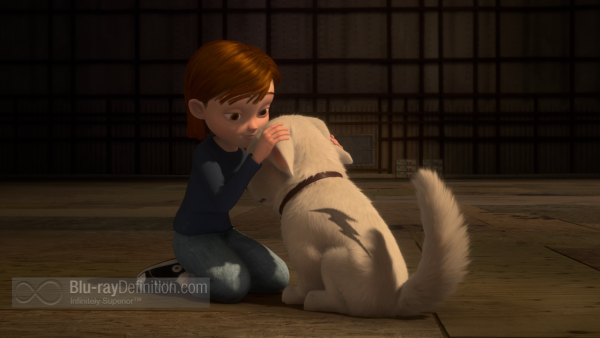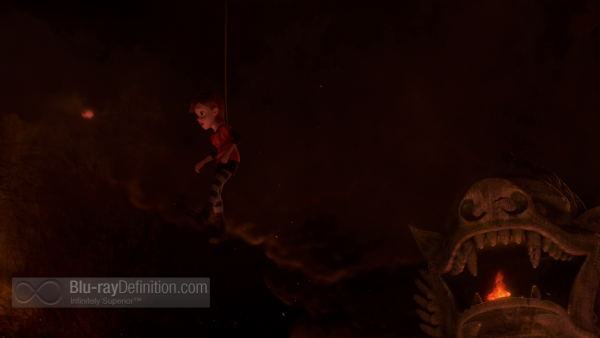 [amazon-product]B005GSVFDW[/amazon-product]
Purchase Bolt on Blu-ray 3D Combo Pack at CD Universe
Shop for more Blu-ray titles at Amazon.com
Overall
[Rating:4/5]
The Film
[Rating:4/5]
Video Quality
2D HD: [Rating:5/5]
3D Effect: [Rating:4/5]
Audio Quality
[Rating:5/5]
Supplemental Materials
[Rating:2.5/5]