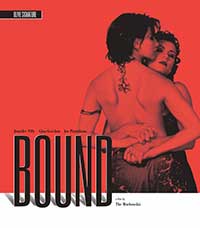 The Wachowski's first film, Bound (1996), was a genre-subverting neo-noir thriller that helped to spur on the neo-noir movement in the 1990s. Starring Gina Gershon as a tough ex-con, Corky, and Jennifer Tilly as the sexy Violet, girlfriend to mafia money laundering gangster Caesar (Joe Pantoliano), the film follows the story of the two women who form a steamy romance and plot a high stakes heist to steal $2 million from Violet's boyfriend.
Shot in high contrast color with stark shadows and weird camera angles – all references to the classic era of film noir, Bound subverts the genre by turning the classic femme fatale and romance usually at the center of the genre into two strong women in a lesbian romance. The Wachowskis, who had not yet come out as transgender then, used lesbian consultant Susie Bright to lend the film an authenticity that had lacked in films made by men that centered around female characters or lesbian themes.
Beyond that, Bound never indulges in lascivious lesbian tropes despite marketing that may make it seem like one is in for some sort of soft porn. The one sex scene between the two women is extremely tasteful and is not the main focus of the film. The focus of Bound is placed where it should be in any noir – the danger surrounding the plot, the symbolism sprinkled throughout the film, and the gorgeous imagery from cinematographer Bill Pope, who would also go on to work with The Wachowskis on The Matrix.
The chemistry between the two leading actresses is palpable, and actor Joe Pantoliano also puts in a fine performance as the unhinged mafioso who throws all of their well laid plans into jeopardy. Ms. Tilly is the standout here, however, dripping with duplicitous sensuality, and her voice really works for her in this role, somehow adding to her ability to charm, deceive and seduce. It's wonderful seeing her in a role where she's not cast as an airhead or simple sexpot, and she really puts on one of her best performances in Bound.
The Video
Olive lists this release  as a "new high-definition digital restoration" and it arrives in this release with an AVC 1080p encodement framed at 1.85:1. The image looks amazing – it is detailed and organic, clean with good color and a fine amount of shadow nuance. There are no major issues with edge enhancement, digital noise, or color banding.
The Audio
Bound comes with a DTS-HD Master Audio 2.0 stereo soundtrack. The mix is fantastic for a stereo track with panning that almost sounds you, clear and full dialogue, good dynamics.
The Supplements
This edition of Bound comes packaged in a matte slipcover and packed with a collection of wonderful on-disc special features including an excellent audio commentary and four interviews, all worth watching.
Audio commentary with writers/directors The Wachowskis; actors Joe Pantoliano, Jennifer Tilly and Gina Gershon; film editor Zach Staenberg; and technical consultant Susie Bright
"Part and Parcel" – With titles designer Patti Podesta (1.78:1; 1080p/24; 00:07:10)
"The Difference Between You and Me" – with B. Ruby Rich and Jen Moorman (1.78:1; 1080p/24; 00:17:45)
"Here's Johnny!" – with Christopher Meloni (1.78:1; 1080p/24; 00:10:03)
"Femme Fatales!" – with Gina Gershon and Jennifer Tilly (1.78:1; 1080p/24; 00:26:53)
"Modern Noir: The Sights & Sounds of Bound" — with cinematographer Bill Pope, editor Zach Staenberg, and composer Don Davis (1.78:1; 1080p/24; 00:29:25)
Theatrical Trailer (1.33:1; 1080p/24; 00:02:06)
Essay by Guinevere Turner (On disc and in a collector's booklet w/production stills)
The Final Assessment
A groundbreaking debut feature film by The Wachowskis that helped define the neo-noir movement for the 1990s and beyond, Bound arrives in a gorgeous transfer from Olive Films on Blu-ray packed with excellent features. Cinephiles should grab this one up quickly.
Bound is available August 28, 2018 on Blu-ray from Olive Films
R (for strong sexuality, violence and language)
Rating Certificate
Dino De Laurentiis Company | Spelling Films | Olive Films
Studios & Distributors
Lilly Wachowski | Lana Wachowski
Writer
108 Mins. (Theatrical) | 109 Mins. (Unrated)
Run Time
$39.95
MSRP
English DTS-HD MA 2.0 Stereo
Audio
Summary
A tough ex-con, Corky (Gina Gershon) is seduced by Violet (Jennifer Tilly), the sexy girlfriend of mafia money launderer Caesar (Joe Pantoliano), and the two devise a plot to steal $2 million in dirty money from him in this slick, neo-noir thriller, which was also the strong debut feature film from sibling filmmakers The Wachowkis. The film subverts the classic tropes of the film noir genre, rejects the norms of the damsel in distress as the femme fatale, and set the standard for the neo-noir movement of the 1990s and beyond. Olive Signature offers up a beautiful new HD transfer of the film with a bevvy of special features.
What people say... Login to rate
Be the first to leave a review.
Show more