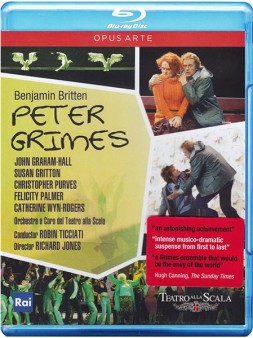 Click thumbnails for high-resolution 1920X1080p screen captures
(The below TheaterByte screen captures were taken directly from the Blu-ray Disc and losslessly compressed in the PNG format. There should be no loss of picture quality with this format. All screen captures should be regarded only as an approximation of the full capabilities of the Blu-ray format.
The Performance
[Rating:4.5/5]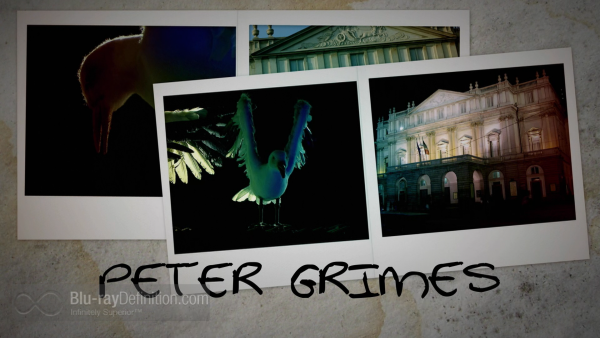 Peter Grimes is not just one of the greatest English-language operas of all time, but one of the greatest operas, period.  Benjamin Britten, the reigning British composer of the last half of the 20th century, created his masterpiece during World War II and it debuted in June, 1945.  Based on George Crabbe's poem, The Borough, Montagu Slater fashioned a natural language libretto that aligns perfectly with Britten's facile musical line.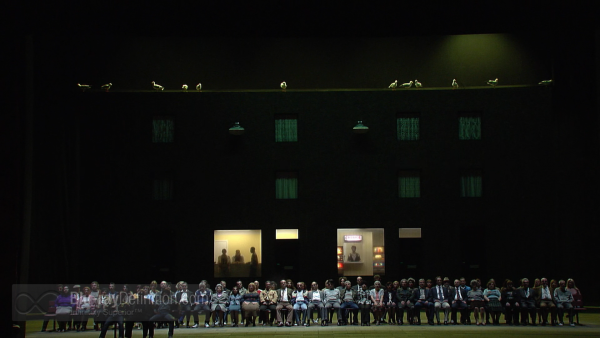 The opera opens with a courtroom investigation of loner fisherman Peter Grimes (John Graham-Hall) whose boy apprentice has died at sea. Although Grimes is cleared, there is lingering suspicion about him. The village school mistress Ellen Orford (Susan Gritton) takes up for Peter's cause.  In the borough, we meet Auntie (Felicity Palmer) who runs a side business as a madame for her two working girls, the "nieces" (Simona Mihai and Ida Falk Winland), Mrs Sedley, the town gossip (Catherine Wyn-Rogers) who is addicted to the laudanum that she buys from Ned Keene (George von Bergen). Finally, there is the retired Captain Balstrode (Christopher Purves) who is Peter's only other friend.  Grimes is desperate to get another apprentice from Hobson (Stephen Richardson) who agrees as long as Ellen picks him up. A furious storm rages and Peter has a vision of the future with Ellen as his wife.
During a Sunday church service, Ellen accompanies the new apprentice who has signs of mistreatment by Peter. When she confronts Peter, he strikes her. Later the crowd gathers to seek out Grimes in his hut and mete out justice. Grimes is with his new apprentice but when he attempts to discipline the boy, the lad falls down the stairway to his death.  The villagers arrive but Grimes has already left. Eventually, Balstrode finds Peter and convinces him that the only way out is for Grimes to take his boat far out to sea and sink it. As the curtain falls, there is a sighting of a boat sinking at sea.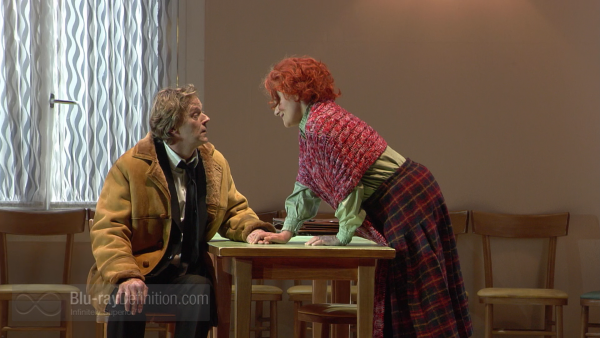 This 2012 Teatro Alla Scala production, directed by Richard Jones, has updated the opera to the present time. This is not a drastic change in the overall concept and the staging, while minimalist, is most effective with some nifty special effects.  With the exception of Christopher Purves and Felicity Palmer, this cast was were new to me. Conductor Robin Ticcati is one of the rising stars on the UK music scene and gives us a superb reading of this big score.
Video Quality
[Rating:4.5/5]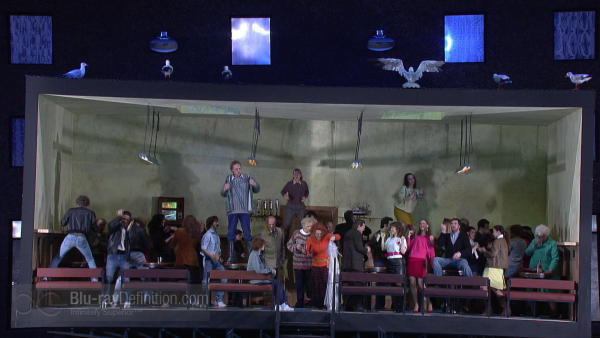 This opera has few light moments and, yet the camera illuminates the faces of the  singers perfectly, conveying their inner conflicts through some deft close ups.  Special effects like the storm scene are carried off with aplomb.  Color palette is excellent. The choice of cardboard-like cut outs for the sets takes us perfectly into Grimes' world that exists somewhere between reality of life and nightmare that he is living.
Audio Quality
[Rating:4.5/5]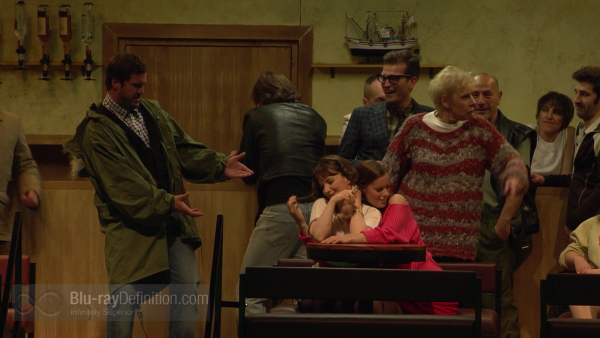 The unique sound world of Benjamin Britten is essential to the impact of this towering work. The audio engineers give us utmost clarity for the voices on the stage and musicians in the pit and we do get everything in the score.
Supplemental Materials
[Rating:2.5/5]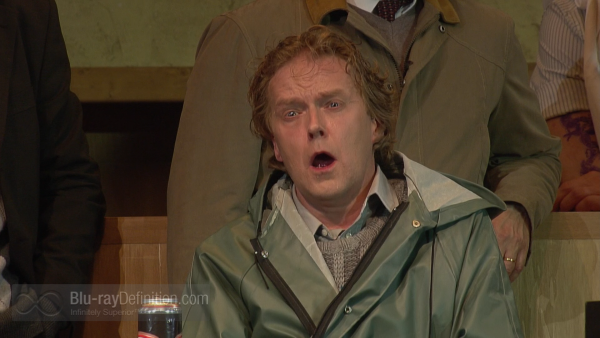 High-definition interviews are presented with conductor Ticcati, singer Graham-Hall, director Richard Jones, and choreographer Sarah Fahie. While brief, these are telling insights into this production from the varied perspectives of its participants.
The Definitive Word
Overall:
[Rating:4.5/5]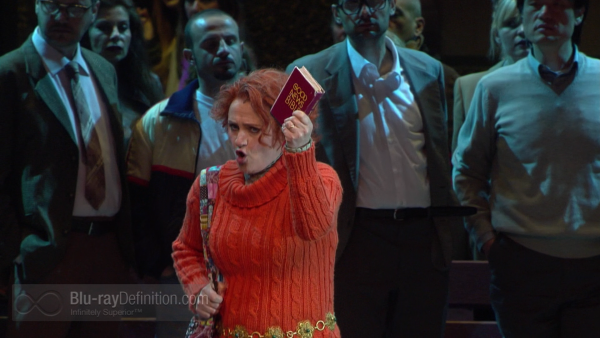 I have all of the Peter Grimes DVDs that have been released to date, and each brings something to the catalog that is worth watching. Of course, the original Grimes, Peter Pears (for whom the role was written) and later, Jon Vickers, will not be displaced by any of the singers that have followed. But these two are no longer performing this role so we must look for new voices, and in the recent Zurich production (Christopher Ventris) and the present one (Graham-Hall), we have worthy successors, each of whom sheds new light on this complex character. Graham-Hall may not have vocal power of Vickers or the crystal-clear line of Pears, but he displays the vulnerability of this role as well as I have it seen. This production benefits greatly from a well-conceived update, strong casting, particularly on the part of soprano Gritton and baritone Purves supported by Ticcati's brilliant conducting.  While I won't be giving my older DVDs away, this Blu-ray premiere benefits from modern recording technology and delivers a Peter Grimes that I will continue to enjoy for some time to come.
Additional Screen Captures
[amazon-product region="uk" tracking_id="bluraydefinit-21″]B00BMTTXZG[/amazon-product]
[amazon-product region="ca" tracking_id="bluraydefinit-20″]B00BMTTXZG[/amazon-product]
[amazon-product]B00BMTTXZG[/amazon-product]
Purchase Peter Grimes (Teatro Alla Scala) on Blu-ray at CD Universe
Shop for more Blu-ray titles at Amazon.com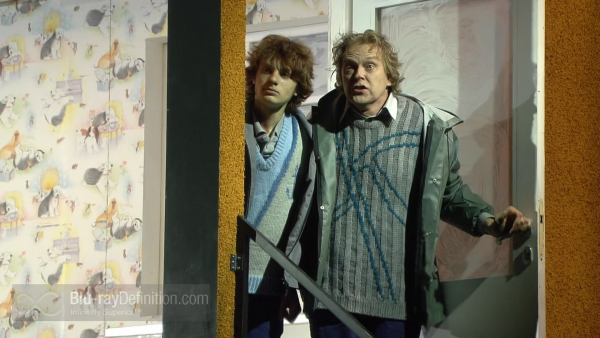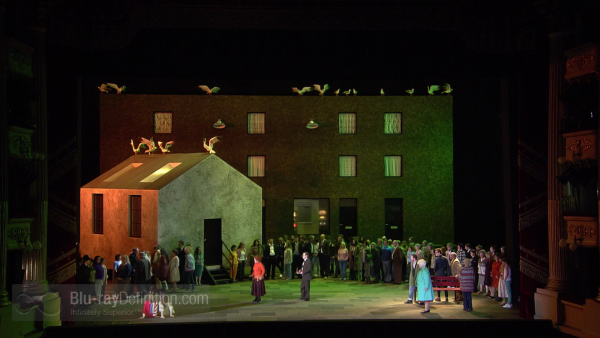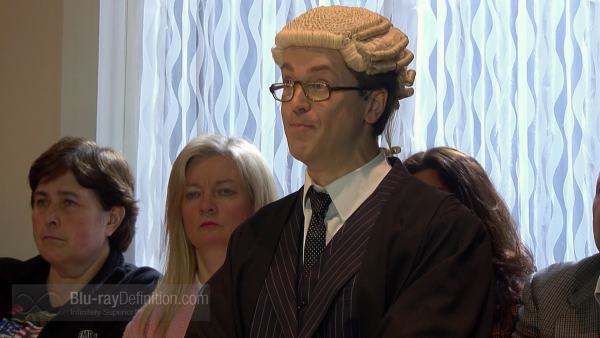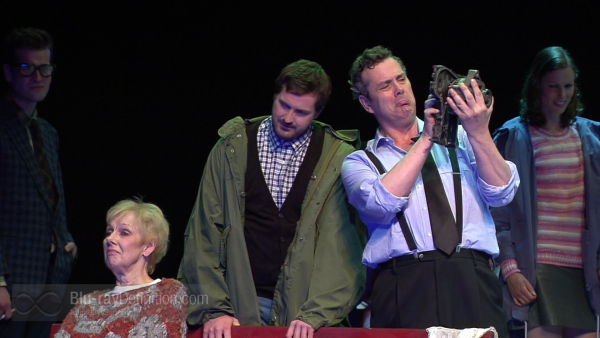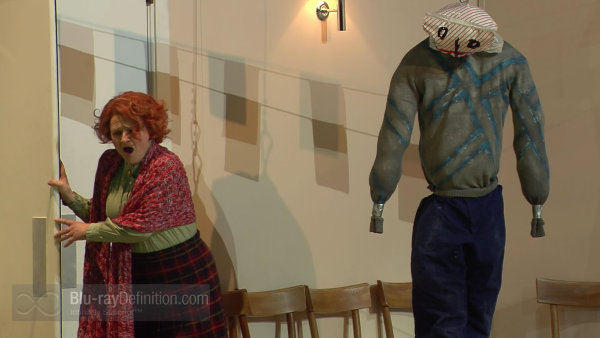 [amazon-product region="uk" tracking_id="bluraydefinit-21″]B00BMTTXZG[/amazon-product]
[amazon-product region="ca" tracking_id="bluraydefinit-20″]B00BMTTXZG[/amazon-product]
[amazon-product]B00BMTTXZG[/amazon-product]
Purchase Peter Grimes (Teatro Alla Scala) on Blu-ray at CD Universe
Shop for more Blu-ray titles at Amazon.com
Overall
[Rating:4.5/5]
The Performance
[Rating:4.5/5]
Video Quality
[Rating:4.5/5]
Audio Quality
[Rating:4.5/5]
Supplemental Materials
[Rating:2.5/5]