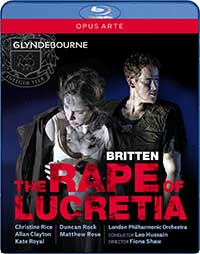 England's summer music festival at Glyndebourne was originally founded to present Baroque and Classical period operas but, surprisingly enough, Benjamin Britten's The Rape of Lucretia was actually written for this company in 1946.
The Male Chorus (Allan Clayton) and the Female Chorus (Kate Royal) appear on a dark stage as the Christian narrators of the background of this opera set in a pagan era. The two choruses will reappear throughout the opera and narrate the thoughts of male and female characters, respectively. Etruscan Tarquinius Superbus is now Emperor of Rome, and although a Greek invasion has been thwarted, the city has greatly suffered.
In a military camp on the outskirts of Rome, Tarquinius (Duncan Rock), Collatinus (Matthew Rose), and Junius (Michael Sumuel) are drinking heavily. They are suddenly informed by soldiers returning from town that all the wives, except for Collatinus's wife Lucretia (Christine Rice), have been unfaithful to their husbands. Junius convinces Tarquinius to challenge Lucretia's fidelity. When the Prince arrives, Lucretia and her servants Bianca (Catherine Wyn Rogers) and Lucia (Louise Alder) welcome him into their house.
As Lucretia sleeps, Tarquinius sneaks into her bedroom and rapes her. In the morning, Tarquinius has left the ravaged woman who sends a messenger to make Collatinus return home. When her husband returns, the shameful Lucretia tells him what has happened. Although Collatinus swears that he would still accept her as his wife, Lucretia feels unworthy and commits suicide. The opera concludes with the Male and Female Choruses joining in prayer as they excavate a head and arms that are then placed on a what appears to be a crucifix.
Director Shaw sees this opera depicting a war-torn society weary of conflict. The nearly empty stage is an archaeological site marked with boundaries that clearly places the attention on the singers who, with the exception of the Chorus, are clad in ancient costumes. The brutal rape scene is the dramatic apex of this work:  the semi-clad Tarquinius smears Lucretia with the mud that covers his body as she is being violated, following which the same act is repeated by the Male and Female Chorus.
The Rape of Lucretia is not one of Britten's most frequently performed operas, but it is a powerful work with some fabulous music that foreshadows his subsequent chamber operas like The Turn of the Screw. The English principals, particularly Royal, Clayton, Rice and Rock form a very strong quartet that handles the challenges of Britten's musical idiom with aplomb. Maestro Leo Hussain gets the London Philharmonic players to deliver a nuanced, well-balanced performance from the pit that extracts the details and the broad sweep of the score.
The Video
Video director François Roussillion draws us into this psychodrama with his usual expert camerawork that supports the stage proceedings with precision. Although the sets are dark, the colors, when highlighted, are excellent and as is customary for Opus Arte videos, this is demonstration-quality stuff.
The Audio
The reduced scoring of Britten's chamber orchestra allows for extraordinary clarity of both instrumental detail and the voices on stage. The surround channels are ambience-only with audience effects at the final curtain applause.
The Supplements
The program booklet lists cast and production credits, track listing, excerpts from an interview with dramaturg Cori Ellison and director Fiona Shaw, a background essay by Suzanne Dixon, musical notes by Ian Julier, and a brief synopsis. There are three visual extras:
Post-War Britten: The History of Lucretia (9:43) (English DTS-HD MA 5.1 48kHz/24-bit): Director Fiona Shaw provides her insights into the basis of this production as a metaphor for the aftermath of war.
Innocence Corrupted: A Conversation with Fiona Shaw (7:02) (English DTS-HD MA 5.1 48kHz/24-bit):
Cast Gallery
The Final Assessment
This second Blu-ray release of The Rape of Lucretia is a 2015 production that follows a strongly cast 2001 BBC David McVicar-directed production filmed at Britten's home venue of  Snapes Malting. Having seen that one, this new version probes even more deeply and offers better sights and sounds. If the image of the widower Collatinus and his little girl at the opera's end does not break your heart then, most likely, you have had a cardiac arrest.  Another feather in the Glyndebourne Festival cap!
Britten: The Rape of Lucretia [London Philharmonic Orchestra/Hussain] (TheaterByte Blu-ray Review)
Opus Arte
Studios & Distributors
DTS-HD MA 5.1 (48kHz/24-bit)
Audio
English | German | French | Japanese | Korean
Subtitles
LPCM 2.0 Stereo (48kHz/24-bit)
Secondary Audio
Summary
A touching rendition of one of Britten's earliest chamber operas with a superb cast, musical direction, and production values.
What people say... Login to rate
Be the first to leave a review.
Show more