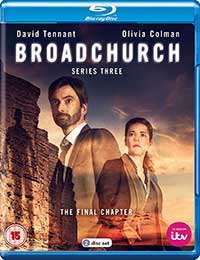 The third and final chapter of the British crime drama Broadchurch sees its main characters Detective Inspector Alec Hardy (David Tennant) and Detective Sergeant Ellie Miller (Olivia Colman) deep in another mystery that has engulfed the small, fictional seaside town. A popular middle-aged woman, Trish Winterman (Julie Hesmondhalgh) is brutally raped after a birthday party at a rented out estate. With most of the town's men in attendance, the circle of suspects grows to an unmanageable number for Hardy and Miller, especially the further they dig into the peccadilloes of the townsfolk. Could it be the cab driver with the penchant for porn? The black garden supply shop owner who has a thing for Trish? Her best friend Cath's husband, whom it is revealed she has sex with just the morning of Cath's 50th birthday party? Things get very complicated in a hurry. Beyond solving the crime, the two detectives find themselves dealing with their personal problems. Hardy, who moved back to Broadchurch after some time away, is trying to reconnect with his teenage daughter, but his work ethic is driving them apart. Miller's son is having problems at school after being caught with porn on his smart phone.
The series in this final chapter continues to look as beautiful as ever – its windswept seaside cliffs — Harbour Cliff and Beach in West Bay, Dorset providing much of the scenery – and the gorgeous widescreen cinematography. This is a cinematic crime drama in every sense spread out over several episodes. And Tennant and Colman are brilliant together as the detectives getting to the bottom of yet another brutal crime that has the town abuzz. Tennant, once known as the quirky Doctor Who, has long since shaken off that typecasting and played such roles as the villain Kilgrave in Netflix Original Marvel's Jessica Jones and Richard II.
This is a fitting end to this riveting series that, while it has done well in its native land across the pond, has only had minor success in the U.S. It's time for America to wake up to what is in fact a very strong mystery series in three series. Perhaps it will gain popularity in the coming years.
The Video
The 1080i/50 AVC encodement of Broadchurch framed at 2:1 looks solid. The digital source comes across crisp with nuanced shadow detail and natural colors. There is a little bit of washout in the darker areas in some places, but there are no issues with banding or compression noise.
The Audio
The audio options for Broadchurch are disappointing. The 5.1 mix is only provided in the DVD-era lossy DTS format and, while it does provide clear dialogue, the mix itself isn't much to talk about. There is some mild ambience in the surrounds and the score occasionally comes alive as well as some rain, which immerses you. There is an English LPCM 2.0 stereo mix as well that has good stereo separation and clear dialogue as well. The dialogue isn't as distinctly weighted to the center for obvious reasons, but it is a strong option given the weakness of the 5.1 mix.
The Supplements
The collection comes with a small set of featurettes that briefly offer a making of and overview of the series' style. These EPK-style features provide interviews with the cast and crew. Some deleted scenes and a gorgeous high-resolution still gallery are included as well.
Behind the Scenes: How We Made Broadchurch (1.78:1; 1080i/50; 00:19:19)
Behind the Scenes: Broadchurch Style (1.78:1; 1080i/50; 00:05:11)
Deleted Scenes (1.78:1; 1080i/50; 00:09:58)
Picture Gallery (1.78:1; 1080i/50; 00:02:47)
The Final Assessment
Broadchurch ends its run on a riveting and involved mystery about a brutal sexual assault. The cast and writing are strong throughout keeping viewers guessing straight through. While some of the issues surrounding sexual assault, the effects of pornography and racial politics are incorporated, they are only briefly touched on and at times feel a bit under examined. Despite this minor flaws, this series is top-notch and presented well on Blu-ray to boot even of the audio mix and provided codec is disappointing.
[amazon_auto_links id="100779"]
Kudos Film and Television | Imaginary Friends | ITV
Studios & Distributors
Paul Andrew Williams | Daniel Nettheim | Lewis Arnold
Director
24 April 2017
Release Date
English LPCM 2.0 Stereo
Secondary Audio
Summary
The third and final series of this beautifully filmed, well written and acted British mystery crime-drama follows the brutal sexual assault of a middle-aged woman and the fallout that causes in this small seaside town. This Blu-ray set looks stunning, but the DVD-era audio codec is a bit of a letdown.
What people say... Login to rate
Be the first to leave a review.
Show more