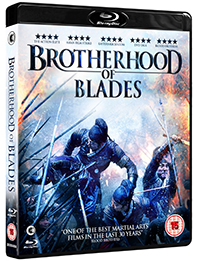 From director Lu Yang (My Spectacular Theatre), Brotherhood of Blades is in itself a spectacular wuxia spectacle in the tradition of films like Crouching Tiger, Hidden Dragon; Hero; and House of Flying Daggers. It is arguably one of the best the genre has seen since that trio of films, even though there have been many over the years that have entertained.
Set at the end of the Ming dynasty in 17th century China, the film follows three lethal, sword-wielding assassins who work for the new emperor and are assigned to kill a rebel eunuch named Wei (Chin Shi-chieh) and eliminate his followers. The assignment leads the three deadly killers down a path to palace intrigue, conspiracies, and people on both sides of a long-running feud out to kill them.
Brotherhood of Blades is filled with epic fight sequences and brilliantly choreographed swordplay, and this no doubt, goes a long way in making the film palatable, but that is not all that there is to Brotherhood. Unlike many of the films in this genre, it avoids the camp and actually has a weighty script underpinning its story, one about honor, deception, and moral conflicts that drive the assassins.
The performances from the cast are all completely convincing, other than perhaps some of the women such as Liu Shishi who plays a prostitute who gains the attention of one of the assassins, but these wuxia films, which are so drenched in testosterone, have never been too good at developing too many convincing female characters. Despite its minor flaws, Brotherhood of the Blades is one of the long-lasting classics that we will be talking about still in twenty or thirty years or more.
The Video
Brotherhood of Blades gets what looks to be a gorgeous transfer of an original digital production on Blu-ray in AVC 1080p framed at 2.35:1. It is free from color banding, edge enhancement and compression noise, looks wonderfully cinematic and has good nuance in the darker areas.
The Audio
Brotherhood of Blades gets an aggressive DTS-HD Master Audio 5.1 mix in Mandarin that fits the wuxia style filmmaking perfectly. This is actually a better 5.1 mix than a couple of the DTS:X mixes I have heard for a couple of these sorts of films on Blu-ray. While we don't get the discrete overhead sounds, there are a lot of discrete surround effects, wide stereo panning, but also great balance of atmospherics, score, and dialogue. The high frequencies never sound grating, which is good given the amount of swordplay, and the low frequencies are weighty as well.
The Supplements
This release from Second Sight Films is absolutely barebones. All we get is the feature film and that's it.
The Final Assessment
An exciting, action-packed stunner with jaw dropping choreography and a solid story to hold it up, Brotherhood of Blades is a wuxia film that fans of the genre should all have in their collections. If you're in a Region B territory (or like to import) then this admittedly barebones Second Sight Films Blu-ray Disc is a reference quality delight you should consider owning.
[amazon_auto_links id="99085"]
Beijing Dachu Changge Film And TV Culture Co. | Central Newsreel and Documentary Film Studio | China Film Co. | Combo Drive Pictures Co. | Second Sight Films (UK Distributor)
Studios & Distributors
£19.99
MSRP
Mandarin DTS-HD MA 5.1
Audio
Mandarin DD 2.0 Stereo
Secondary Audio
Summary
Amazing action choreography, a solid script and strong performances make this martial gem one of the strongest in the genre for the past couple of decades. This UK release on Blu-ray from Second Sight Films is barebones, but is pure reference material.
What people say... Login to rate
Be the first to leave a review.
Show more