– –

The Film
[Rating:4/5]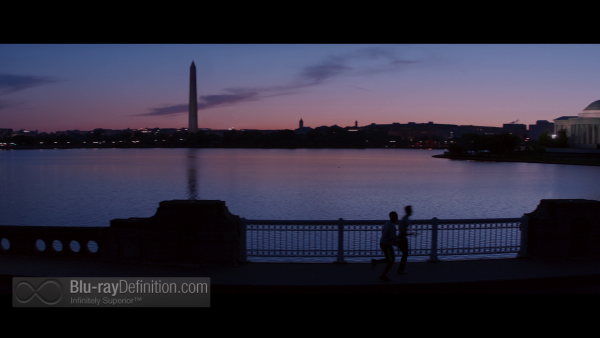 In this sequel to 2011's Captain America: The First Avenger, the nation's favorite super-soldier, Steve Rogers/Captain America (Chris Evans; Scott Pilgrim vs. The World), continues to struggle with fitting into the modern after being kept frozen for decades. Also, a new challenge arises that he must face from within S.H.I.E.L.D. itself in the form of a new top secret program, Project Insight, headed by the World Security Council leader Alexander Pierce (Robert Redford; All is Lost; The Company You Keep) that could tip the balance of power around the globe and threaten the lives of millions. The project, a huge undertaking that involves the use of three massive, satellite-networked aircraft seems to be targeting specific people by the millions for assassination using an advanced predictive algorithm, and high on the list happens to be Captain America himself, as well as Natasha Romanoff/Black Widow (Scarlett Johansson; Lucy; Under the Skin). Even more shocking to the Captain, is that head of S.H.I.E.L.D. Nick Fury (Samuel L. Jackson; Turbo; Pulp Fiction), seemed to be involved. But with Fury apparently dead, the Captain and Black Widow are left to fend for themselves while trying to stop Project Insight from proceeding with only the help of a new friend, fellow soldier Sam Wilson/Falcon (Anthony Mackie; The Fifth Estate; Abraham Lincoln: Vampire Hunter), who employs a set of military-grade robotic wings to offer air support to the duo, as an assassin named Winter Soldier hunts them down.
Sibling filmmaking team Joe and Anthony Russo have taken over directorial duties from Joe Johnston for Captain America: The Winter Soldier, and screenwriters Christopher Markus and Stephen McFeely return to deliver an even more compelling script over their previous origin story in the preceding film. This combination of fresh blood and solid writing results in a sequel that outdoes the original film, both in terms of action and pacing, and in its development of the characters. Captain America is more complex this time around, still somewhat the fish out of water, he now has a newfound motivation and an uncertainty that arises not just from his being out of time, but finding an opponent in the Winter Soldier who can not only meet him on equal terrain in terms of strength, but, when it is finally revealed just whom the Winter Soldier might be, leaves the Captain/Steve Rogers in an ethical quandary.
Meanwhile, the Russos' direction keeps us captivated and guessing at every turn, even when things slow down, and they rarely do for very long. The action set pieces are awe inspiring, just as they should be for any superhero film worth its salt. Whether it's the explosive finale or the edge-of-the-seat car chase earlier on involving Fury, the Russos know how to use the special effects to balance the film's complex subplot. And while The Winter Soldier may not have the same gravitas of Christopher Nolan's The Dark Knight trilogy, it provides a satisfyingly troubled hero and an intense level of action.
Video Quality
[Rating:4.5/5]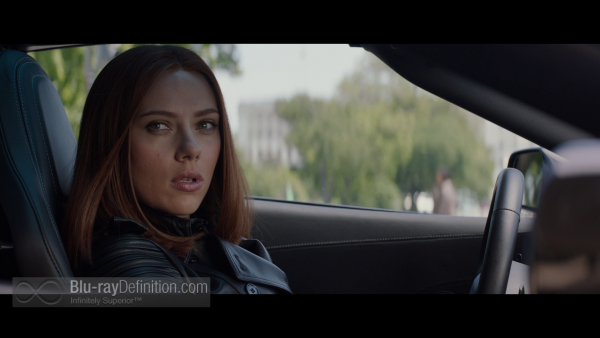 Captain America: The Winter Soldier was shot in HD using the ARRI ALEXA Plus and Red Epic cameras in the anamorphic format. On Blu-ray, Disney gives the film a pristine 2.39:1 AVC encodement at 1080p. The imagery is crisp, with deep blacks and nuanced shadows. There's only some slight video noise evident that looks refined, so it doesn't ever distract. The flesh tones are spot on, having a natural, pinkish hue. Other colors look very good as well. While the overall palette is somewhat tame, we see that Captain America's red, white, and blue uniform stands out nicely.
A 3D version will also be available on Blu-ray 3D (we were only provided the 2D release), but it is worth noting that this film, although it ran in theatres in 3D, was a 3D conversion, not a native 3D production.
Audio Quality
[Rating:4.5/5]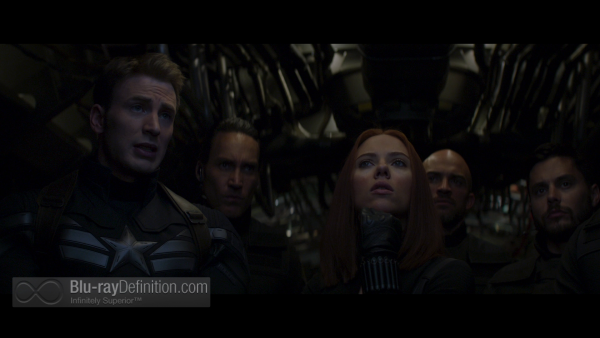 The Blu-ray comes with a strong reference quality English DTS-HD Master Audio 7.1 (48kHz/24-bit) soundtrack. It is nicely balanced between a subtler, atmospheric sound and a big, in-your-face sound with thunderous bass in the multitude of action sequences and solidly discrete foley effects in the surround channels. Dialogue never dips to a masked level and the upper frequencies remain smooth and airy.
Supplemental Materials
[Rating:2.5/5]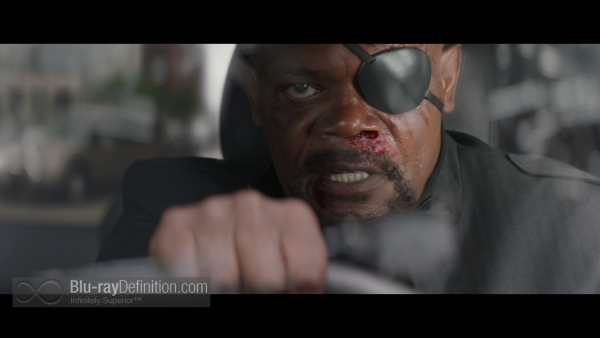 Featurettes:

On the Front Line: An Inside Look at Captain America's Battlegrounds (1.78:1; 1080p/24; 00:10:11) – Full of behind the scenes footage and interviews, this ten-minute featurette gives a brief look at the action-packed sequences that punctuate the latest Captain America film from Marvel.
On Set with Anthony Mackie: Cut the Check! (1.78:1; 1080p/24; 00:01:55)
Steve Rogers' Notebook (1.78:1; 1080p/24; 00:02:26) – The filmmakers discuss showing the Captain's notebook and how they surveyed fans around the world for region-specific input on what cultural references to list.

Deleted & Extended Scenes w/optional Commentary (2.35:1; 1080p/24; 00:03:36)
Gag Reel (2.35:1; 1080p/24; 00:02:37)
Commentary with directors Anthony & Joe Russo and screenwriters Christopher Markus & Stephen Mczfeely
The Definitive Word
Overall:
[Rating:4/5]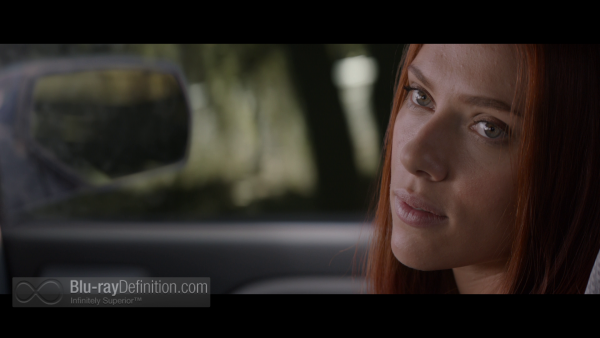 Chris Evans dons the Red, White, and Blue once more for an epic sequel to the 2011 origin story of Captain America in Captain America: The Winter Soldier, a superior film to its predecessor. With awesome action sequences, finer character development and a gorgeous Blu-ray release, this is one to get without hesitation.
Additional Screen Captures