– –

The Film
[Rating:3/5]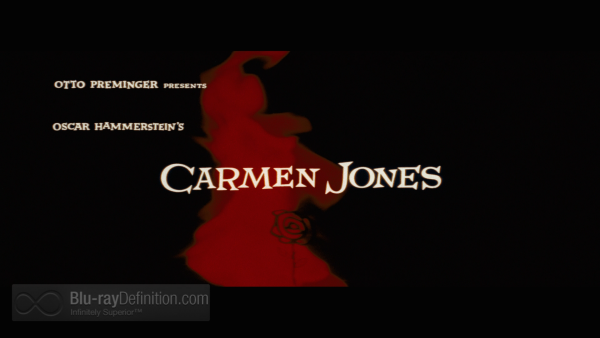 Famed Hollywood director Otto Preminger stepped out of character for this 1954 cinematic adaptation of a play based on George Bizet's immortal opera, Carmen. Carmen Jones tells the same story, more or less, but with an all Black cast, and sets and costumes updated to the World War II era. In spite of the fact that Harry Belafonte, Dorothy Dandridge and Diahann Carroll were all accomplished vocalists, their singing voices were considered inadequate for the demands of this score and were dubbed in by LeVern Hutcherson, Marilyn Horne, and Bernice Peterson, respectively. Those familiar with the original opera will note the updating of the characters' names with the most hilarious being "Husky Miller," a boxer, for the original "Escamillo," a bullfighter.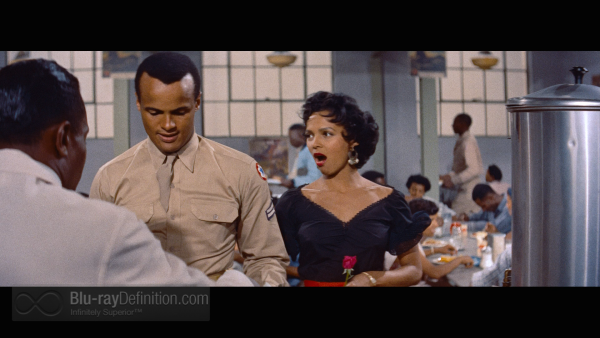 Carmen Jones is a flirtatious factory worker who gets arrested for fighting with a fellow employee. Sergeant Brown (Brock Peters) asks Private Joe (Harry Belafonte) to escort her to jail. This displeases Cindy Lou (Olga James), Joe's fiancee who has been visiting him. Joe drives Carmen to her grandmother's house where he is seduced by this singing siren.  Later, Carmen takes off on her own, leaving Joe a love letter. Joe is sent to the stockade for letting Carmen escape.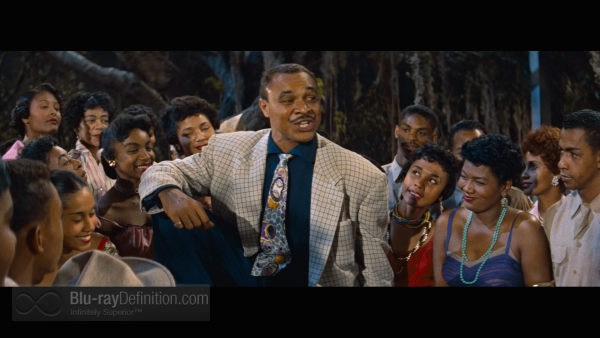 Carmen, now working in a Louisiana nightclub, meets Husky Miller (Joe Adams). Husky makes a play for her and her friends Frankie (Pearl Bailey) and Myrt (Diahann Carroll) but they decline his advances.  Suddenly, Joe arrives, fresh from the stockade, and tells Carmen that he has received orders for flight school. Carmen, unhappy at this news, decides to leave with Sergeant Brown. An enraged Joe nearly beats the sergeant to death and to avoid prison for striking a superior officer,  he and Carmen flee to Chicago.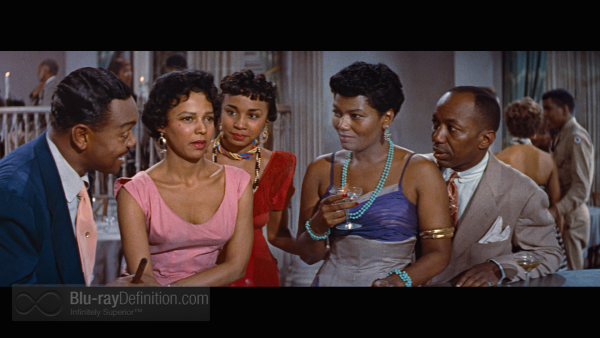 In Chicago, Carmen visits Husky's gym to get money from Frankie and Myrt. She returns to their crummy boarding house with groceries. Carmen and Joe argue about how she got the money, and Carmen goes to Husky's hotel room. During a card game, she draws a card that foretells her unhappy fate. Later, Joe finds Carmen at Husky's gym. During the boxing match, he makes a final plea for Carmen to leave with him but when she refuses, Joe strangles her.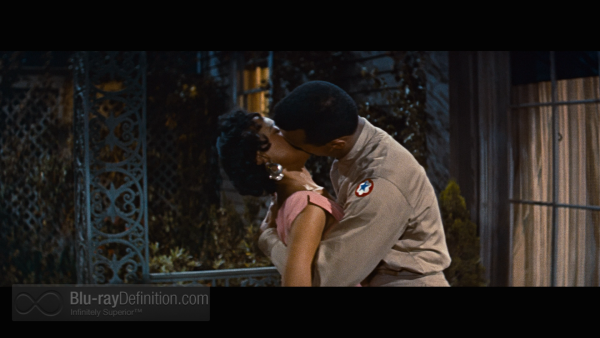 Carmen Jones received mixed reviews on its release with a number of critics noting the obvious incongruities between Bizet's original music, the revised and often campy lyrics, and the characters themselves. Nevertheless, there is some serious star power in the principal roles that keeps the proverbial ship from sinking altogether.
Video Quality
[Rating:3.5/5]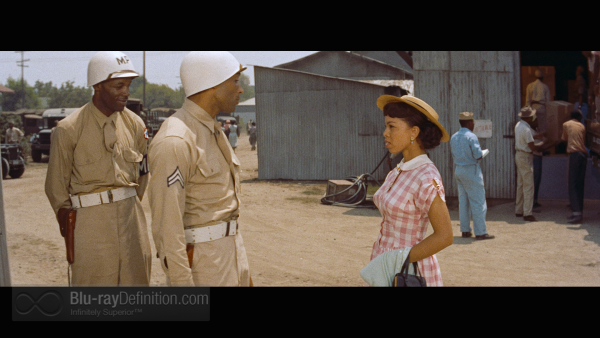 For a film that is verging on being 60 years old, the makeover is quite decent. There is noticeable residual grain and some softening of the visuals. The colors are quite good.
Audio Quality
[Rating:3/5]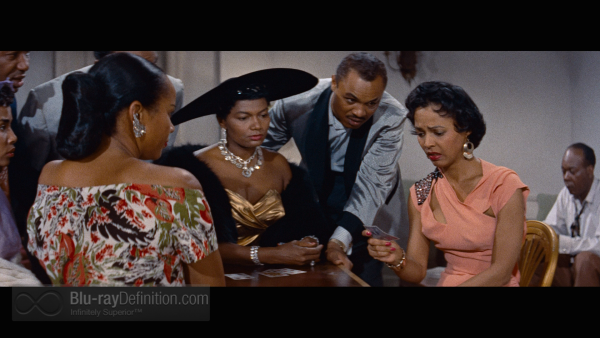 The DTS-HD Master Audio 4.0 remastering of what was available in both mono and 4-track stereo versions does a nice job with the solo voices and the studio orchestra, although off-center channel voices sound a bit canned. It is far better than the "Spanish" Dolby Digital 1.0 version that keeps the songs in English, but the dialogue in Spanish. There is some residual compression in the sound that was characteristic of this era's recordings.
Supplemental Materials
[Rating:1.5/5]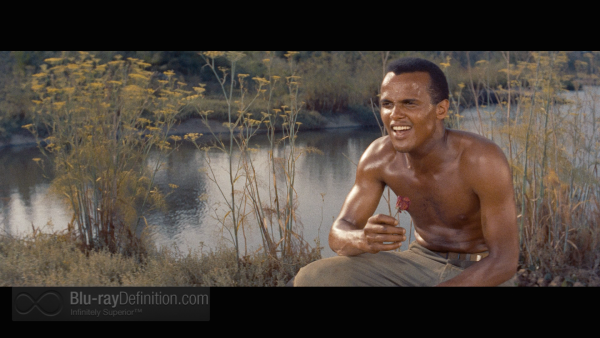 We get a short list of extras:
Original Theatrical Trailer: 3:00 (English Dolby Digital Stereo 48kHz/16b)
The Definitive Word
Overall:
[Rating:3/5]
Although the dubbing is quite good, I found that hearing far different voices come from these well known singers to be problematic. As a product of its segregated times, Carmen Jones plays on racial stereotypes that some of today's viewers might find offensive. Curious music lovers wanting to see this film may also come away disappointed by what Preminger's direction and Hammerstein's lyrics have done to Bizet's masterpiece. The main, and for me, the only reason to see this film is Dandrige's Oscar-nominated performance. She understands her character completely, gets into Carmen's skin and becomes a steamy force of nature.
Additional Screen Captures
[amazon-product]B00FL2F0KW[/amazon-product]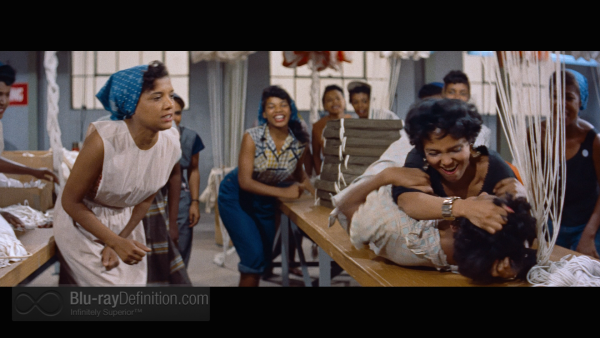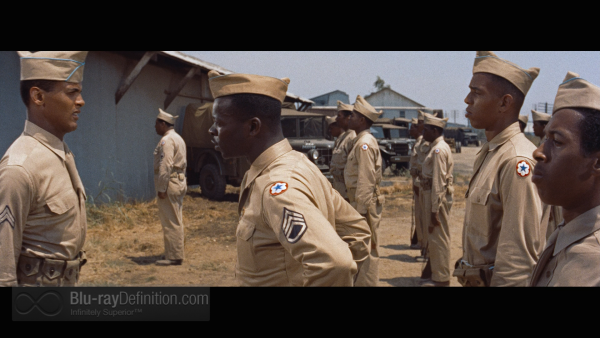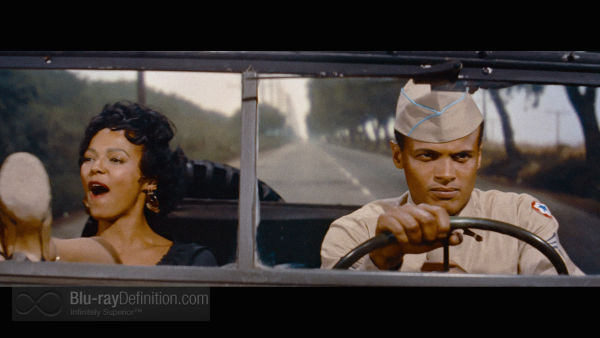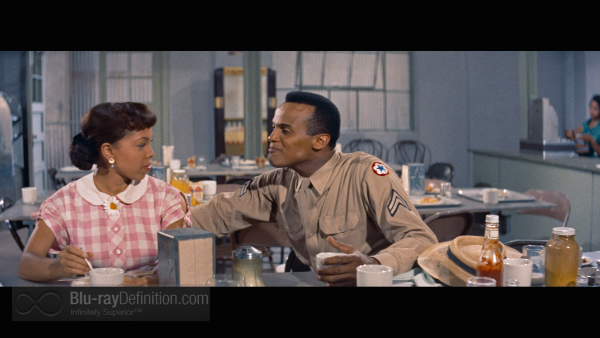 [amazon-product]B00FL2F0KW[/amazon-product]