– –

The Performance
[Rating:4/5]
Caroline Esmeralda van der Leeuw, better known as Caro Emerald, is a Dutch songstress who has had two monster hit albums in the past two years, Deleted Scenes From The Cutting Room Floor, and The Shocking Miss Emerald. This 2013 BBC Radio Theater concert gives us a sampling from both of these releases:
Just One Dance
You Don't Love Me
Riviera Life
Pack Up The Louie
Black Valentine
Back It Up
Liquid Lunch
Completely
Paris
Dr. Wanna Do
I Belong To You
That Man
The Other Woman
Mad About The Boy
My 2 Cents
Tangled Up
A Night Like This
Stuck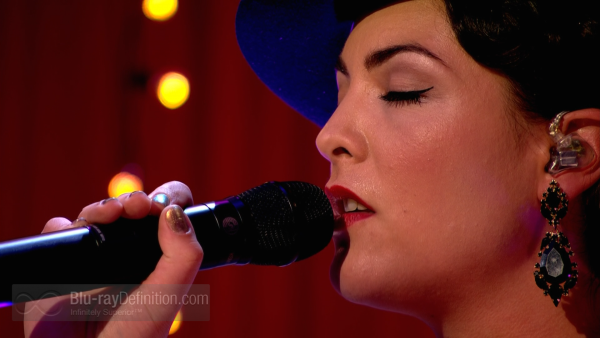 First of all, Ms. Emerald is one of those performers that cameras just love. She is not only telegenic, but projects an exotic stage presence. The program has that retro sound, big band and all, that calls up memories of the late, lamented Amy Winehouse. This program has just enough variety and mood swings that there is never a dull moment. Backed up super sideman, this is one great concert.
Video Quality
[Rating:5/5]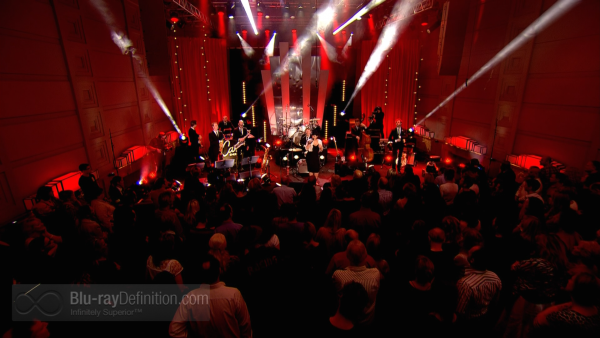 A superb video in all respects with beautiful colors and close-ups of the Caro face that are to die for. The camera crew moves smoothly across the stage never letting the action down.
Audio Quality
[Rating:4.5/5]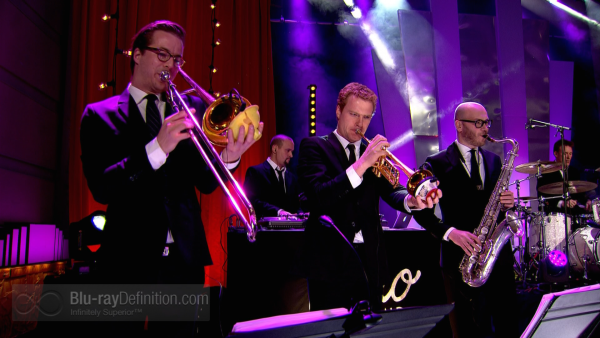 For a live concert video, there is surprisingly little extraneous sound. The surround channel version is as good as it gets in realizing the live experience for home viewers and leaves its two-channel counterpart in the sonic dust.
Supplemental Materials
[Rating:2.5/5]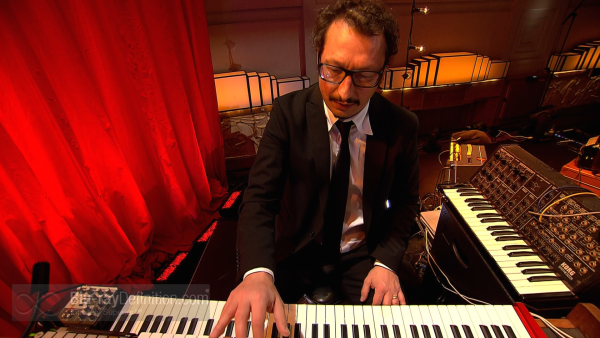 Besides the program booklet listing the tracks and players, there is the following:
Caro In Rehearsal: Tangled Up (3:17) (English DTS-HD MA 5.1 48kHz/24-bit). A run-through of one of Latin numbers on the playlist
Caro In Rehearsal : That Man  (3:34) (English DTS-HD MA 5.1 48kHz/24-bit) Another run-through of a bouncy single.
Interview with Caro (13:13) English LPCM Stereo 48kHz/16-bit): A nice feature on this singer covering her career from beginning to the present.
The Definitive Word
Overall:
[Rating:4/5]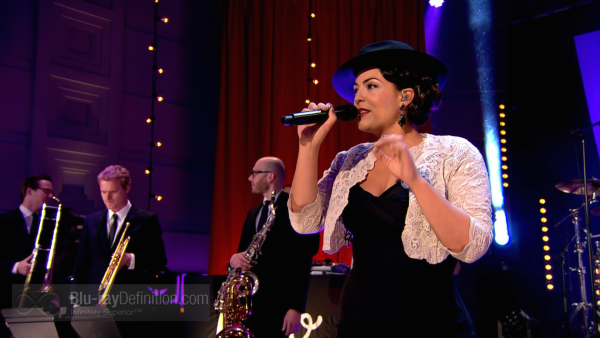 It is exciting to see a new artist embarking on what may become a huge international career. Caro Emerald has the complete package: voice, looks, moves, and personality.  Further, she is adept in a multitude of styles from jazz to pop to Latin, and the list goes on. With an approach that is infectious, (I defy anyone to not get their bodies moving with "Liquid Lunch" a paean to the tribulations of a hangover or "Tangled Up," a tango tune), you can see why the audience crammed into this small venue was enthralled by the concert. For those looking for a singer who can do it all, give this one a spin, sit back, and just plain enjoy
Additional Screen Captures
[amazon-product]B00EKGX7ZK[/amazon-product]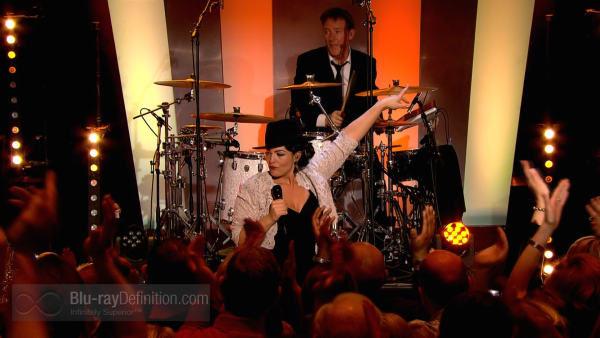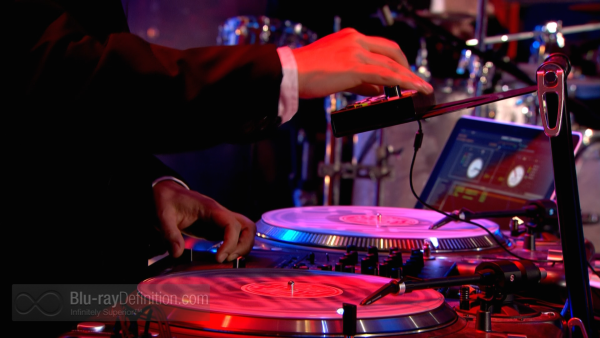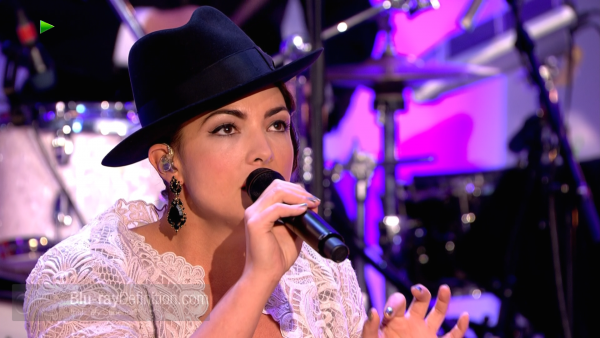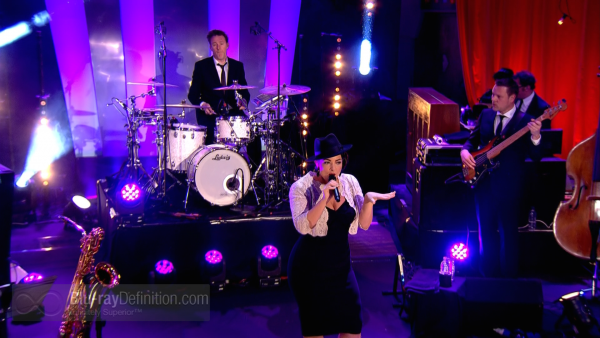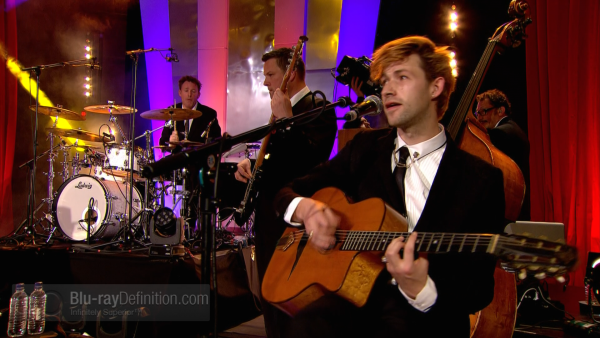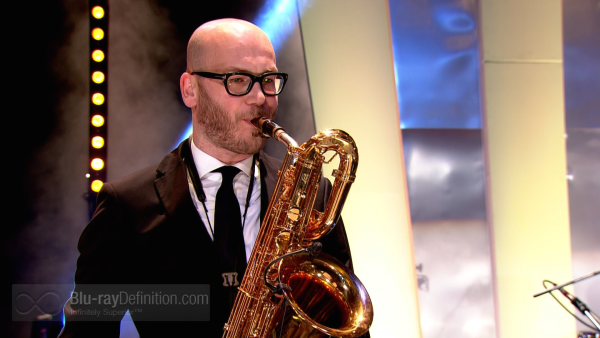 [amazon-product]B00EKGX7ZK[/amazon-product]