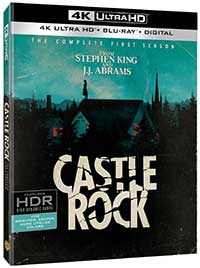 When I reviewed Hulu Original's Castle Rock Season One a few months ago, I thought how nice it would be to have the entire show on Blu-ray discs without having to deal with the pesky commercial messages that interrupt each episode.  Warner Brothers Home Entertainment clearly heard me and has now released a four disc (two 4K UHD and two HD Blu-rays) for my uninterrupted viewing pleasure.
Show creators Sam Shaw and Dustin Thomason have joined forces with legendary fright-monger Stephen King and the author's devoted fans will have little difficulty identifying the numerous "easter eggs" referring to people and places in his extensive body of work.  King's home state of Maine provides the setting for a dark tale unfolds after "The Kid" (Bill Skarsgård) is discovered in a long unoccupied prison ward after former warden Dale Lacy (Terry O'Quinn) committed suicide in Episode One. The Kid calls out for death-row attorney Henry Deaver (Andre Holland), a former Castle Rock kid adopted by Preacher Matthew Deaver (Adam Rothenberg) and his wife Ruth (Sissy Spacek), to represent him.
When Henry returns to Castle Rock, he finds that Ruth is suffering from the early stages of dementia and is living with retired Sheriff Alan Pangborn (Scott Glenn). Pangborn had rescued young Henry (Caleel Harris) from certain death in the frozen woods many years earlier. The subsequent episodes shift back and forth in time in Castle Rock, a town that has witnessed its share of tragedies: train derailments, factory explosions, major fires, and massacres. Henry's visit dredges up some painful memories as he inadvertently discovers a possible portal to an alternative universe.
The mystery surrounding The Kid deepens after he is released from prison. Henry's past may not be as clear-cut as it seems, particularly when he reconnects with former childhood friend Molly Strand (Melanie Lynskey). Molly is a local realtor and an "empath" who uses mind-numbing drugs to blunt her continuous and disturbing emotional connections with others. How much of what follows is real and how much of it is imagined is anyone's guess, as Season One poses some tantalizing questions about The Kid: Is he really the Deaver's biological son or some malevolent being who means harm to the fine citizens of Castle Rock?
The Video
This 4K HEVC 2160p disc with HDR10 HDR offers a noticeably better color palette than what I saw on streaming on Hulu. Blacks and contrasts are superb and, as good as the streaming program was, this 4K UHD set is just so much better. There is also more precise capture of details (you can count the freckles on Melanie Lynskey's face). While the flashbacks were filmed on 35 mm stock and the present day scenes on digital intermediaries, it is nearly impossible to tell any differences in image quality. The accompanying Blu-ray is certainly quite decent but suffers in comparison from the lack of HDR10's wide color gamut and in its softer overall outlines.
The Audio
The DTS-HD MA 5.1 soundtrack is virtually identical to the LPCM 2.0 audio played back upmixed on my system that accompanied the streaming series. Bass is tight, atmospheric sounds in the surround channels abound, and the dialogue is quite clear.
The Supplements
The 4K Ultra HD discs contain ten brief "Inside The Episode" segments that contain pointers to each episode's content as discussed by creators Sam Shaw and Dustin Thomason.
Disc 2 also contains two featurettes that go into more depth on the script's themes inspired by Stephen King's genius:
Blood on the Page (Dolby Digital Stereo 48kHz/24-bit) (19:40).
A Clockwork of Horror: Merging the Styles of Stephen King & J.J. Abrams (Dolby Digital Stereo 48k/24/b) (4:51)
The two Blu-ray discs contain the same extras
There is a digital code included as well.
The Final Assessment
Season One presents plenty of riddles and, hopefully, when Season Two airs sometime next year, the persisting ambiguities of time, place, and character might receive some much-needed clarification. From a technical standpoint, the 4K Ultra HD discs are visually stunning and, one might just hope that the audio crew will gift the 2019 edition with the Dolby Atmos soundtrack that it deserves.
Castle Rock: The Complete First Season is out on 4K Ultra HD Combo Pack, Blu-ray, and DVD from Warner Bros. on January 8, 2018
---
Warner Brothers Home Entertainment
Studios & Distributors
Michael Uppendahl | Ana Lily Amirpour | Daniel Attias | Andrew Bernstein | Kevin Hooks | Nicole Kassell | Julie Anne Robinson | Greg Yaitanes
Director
Sam Shaw | Dustin Thomason
Writer
HEVC (H.265) 2160p (4K) | AVC 1080p (Blu-ray)
Video
4000 Nits
Maximum Luminance
0.005 Nits
Minimum Luminance
DTS-HD MA 5.1
Primary Audio
English SDH | French
Subtitles
HDR Effect (If Applicable)
Summary
A Stephen King-based series focusing on a creepy small town with dark secrets and strange characters where time and place can be altered without notice. A strong cast mostly surmounts a storyline that is complex and often confusing.
What people say... Login to rate
Be the first to leave a review.
Show more