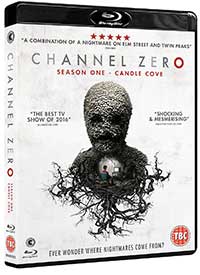 SyFy's Channel Zero: Candle Cove horror anthology series from creator Nick Acosta is the first major series to take the FX horror juggernaut American Horror Story on head on. Based on the Internet creepypastas (short horror blog posts meant to scare, sort of the modern version of campfire ghost stories), this first six-part installment is based on a blog post by Kris Staub.
Child psychologist Mike Painter (Paul Schneider) returns to his small town home years after his twin brother disappeared in the summer of 1988. When a strange pirate TV show from his and his hometown friends' childhood, Candle Cove, which ran for only a couple of seasons during the time when several children from the area were murdered, Mike begins to grow increasingly suspicious that the show is somehow connected to those murders and the sudden reoccurrence of children beginning to disappear.
Channel Zero: Candle Cove is classic horror taken to the creepiest, most mind-bending extremes. If Stephen King and John Carpenter had a love child, then this would be it. The series never fails to deliver on its atmospheric retro-'80s psycho-horror vibe filled with intense suspense and dread and nightmarish imagery all the way through.
Channel Zero: Candle Cove is the first season in the anthology. The series has already run its second season No End House and is already picked up for a third season set to première in 2018.
The Video
Channel Zero: Candle Cove arrives on Blu-ray in an AVC 1080p encodement framed at 1.77:1 from Second Sight Films in the UK. It is a strong release with good detail and natural color reproduction. The shadow detail is nicely nuanced, but some shots show a slight bit of washout in the blacks and there are also small amounts of noise and banding.
The Audio
An English DTS-HD Master Audio 5.1 mix is the sole audio track. Furthermore no subtitles are provided at all, not even English SDH, so anyone hard of hearing is out of luck. The mix is a solid one with clean and full dialogue and a good bit of atmospherics that help to boost the eerie nature of this series.
The Supplements
It's slim pickens on this release with only a 10 ½ minute interview with show creator Nick Acosta and a short run of deleted scenes included.
Nick Antosca Interview (1.78:1; 1080i/60; 00:10:28)
Deleted Scenes (1.78:1; 1080p/24; 00:03:43)
The Final Assessment
Lush with atmosphere and all the things right out of the cobwebbed corners of your psyche, Channel Zero: Candle Cove gives horror on television a shot in the arm and shifts the focus away from other ballyhooed anthology series. This UK Blu-ray release from Second Sight Films is a solid effort despite being a barebones effort.
Channel Zero: Candle Cove is out now on Blu-ray & DVD in the UK fro Second Sight Films.
[amazon_auto_links id="106158"]
Universal Cable Productions | SyFy | Second Sight
Studios & Distributors
Nick Antosca (Creator)
Director
£19.99
MSRP
English DTS-HD MA 5.1
Audio
Summary
Child psychologist Mike Painter (Paul Schneider) returns to his small home town after years away and begins to suspect that a strange pirate TV series from his childhood, Candle Cove, may be connected to the 1988 disappearance of his twin brother and more recent disappearances of children in the area. This anthology series is based on internet creepypastas, is filled with nightmarish imagery, psycho-drama and allusions to the horror of Stephen King and John Carpenter. A second season (No End House) and already aired and a third is set for 2018.
What people say... Login to rate
Be the first to leave a review.
Show more