Aspect Ratio: 1.37:1
Video Codec: AVC/MPEG-4
Resolution: 1080p/24 (23.976Hz)

Audio Codec: English DTS-HD Master Audio 7.1 (48kHz/24-bit), DTS-HD Master Audio 1.0 (48kHz/24-bit), French and Spanish Dolby Digital 5.1

Subtitles: English, English SDH, French, Spanish

Subtitles Color: White

Region: ABC (Region-Free)

Rating: G

Discs: 2 (1 x Blu-ray + 1 x DVD)
Digital Copies: N/A

Run Time: 75 Mins.

Studio: Walt Disney Studios Home Entertainment

Blu-ray Release Date: October 2, 2012
List Price: $39.99
–
Overall
[Rating:4.5/5]
The Film
[Rating:5/5]
Video Quality
[Rating:3.5/5]*
Audio Quality
[Rating:4/5]
Supplemental Materials
[Rating:4.5/5]
Click thumbnails for high-resolution 1920X1080p screen captures
(All TheaterByte screen captures are lightly compressed with lossy JPEG at 100% quality setting and are meant as a general representation of the content. They do not fully reveal the capabilities of the Blu-ray format)
–
The Film
[Rating:5/5]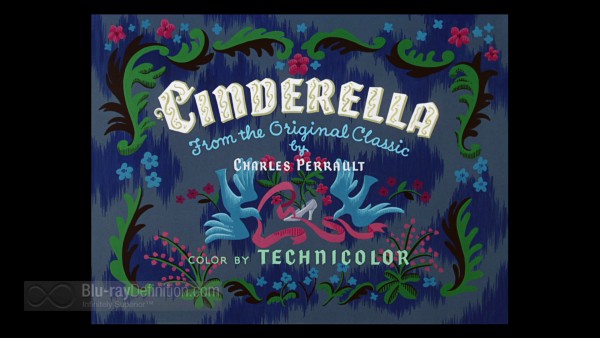 Disney's iconic fairy tale princess Cinderella comes to life again in this sparkling new Diamond Edition from the studio. The 1950 film helped rescue the studio from financial ruin after a difficult wartime period that saw classic feature-length releases like Pinocchio and Fantasia do poorly at the box office, but the ever fearless Walt carried on, returning to a tale he had already adapted in animated form some years earlier in much different form.
The story of Cinderella is one we are all familiar with, but that probably every little girl grows up with having a special place for in her heart. Cinderella's (Ilene Woods) father remarries a woman with two young daughters about her age, Drisella and Anastasia, but shortly thereafter he passes away. It is then that the cruelty of Cinderella's new stepmother, Lady Tremaine (Eleanor Audley), is truly revealed. The wicked woman forces Cinderella into a harrowing life of servitude to her and her awkward, unattractive daughters. Some years later, when the King (Luis Van Rooten) throws a royal ball to find a bride for his son, the Prince (William Phipps), Cinderella's stepmother and stepsisters conspire to keep her from being able to attend. Only with the help of her lovable friends, the two mice Jaques and Gus (James MacDonald) is she able to put together a suitable dress to wear and finish her chores, but the stepsisters tear up here lovely dress so she cannot attend. In steps her motherly fairy godmother who transforms her into a sparkling vision in a gown fit for a princess, with glass slippers to match. With a carriage transformed from a pumpkin and horses transformed from her friends the mice, Cinderella heads off to the ball. At the ball, she dances with and leaves an impression on the Prince that makes him want for no other woman but Cinderella. Alas, when Cinderella must dash away from the ball before the stroke of midnight when her fairy godmother's spell will wear off, she leaves behind only one glass slipper as a clue to whom she was, and a servant is sent out to search the land to find the woman who fits that shoe.
A magical story of transformation and strength under the worst of circumstances, for little girls (and boys) of all ages, Cinderella is the quintessential Disney princess. It is also a remarkable bit of animation in the usual Disney style, with flowing characters, particularly detailed backgrounds, and bold colors that spark the imagination. The story also flows naturally, alternating between the romance and fantasy of the traditional fairy tale and the comedic sub plot the writers easily work in with the mice Gus, Jacques, and the mean fat cat Lucifer.
Video Quality
[Rating:3.5/5]*
Cinderella looks absolutely fantastic, as if a fairy godmother waved her magic wand across the original elements and transformed it into this glistening Blu-ray release from Disney. Of course, we know that's not what happened. Anyone can see that a lot of hard work and meticulous attention to detail went into this restoration. The colors pop, the line art is sharp, and detail is pristine; in a word, it's amazing.
Thanks to one of our readers we were able to compare this new Cinderalla transfer from Disney to previous DVD releases and see that, in fact, what Disney has done here is blown out the contrast and saturation, cleaned up the image to an extreme level, and also, in many cases, removed a lot of the finer details in the animation, such as effects around Cinderella's transformation into her gown, lines in dresses, and more. Some spots show colors that have been completely changed or appear to have been wiped out altogether, such as the fairy godmother's blouse beneath her cloak. As such, the rating for this release has garnered Blu-rayDefinition's first official revision downward outside of any corrected due to typos/reviewer error.
Audio Quality
[Rating:4/5]
Cinderella comes with a spruced up new lossless DTS-HD Master Audio 7.1 (48kHz/24-bit) mix that spreads the sound around nicely and gives the ambience a nice boost. This works well during the musical sequences and some of the comedic scenes with Lucifer and the mice. However, there is an overall dullness to the sound that makes it sound just a bit veiled. It does scale back some of the clipping that can be heard, however, in the original monaural soundtrack, provided here in a lossless DTS-HD Master Audio 1.0 (48kHz/24-bit) option. For purists, this is actually not a bad option as it has a surprising amount of midrange punch and good intelligibility, suffering only from the occasional aforementioned clipping.
Supplemental Materials
[Rating:4.5/5]
From Disney shorts and new behind-the-scenes featurettes to the classic DVD bonus features, this new Diamond Edition is filled to the brim with extra content for Disney lovers of all ages.
The supplements:
Introduction by Diane Disney Miller (1.78:1; 1080p/24; 00:01:16)
DisneyView – View the film with the option of filling the black side-bars with themed artwork.
Personalized Digital Storybook: Bibbidi-Bobbidi-You – Disney Second Screen app enabled (not available at press time)
Backstage Disney: Diamond Edition:

The Real Fairy Godmother (1.78:1; 1080p/24; 00:11:50) – A look at the evolution and inspiration of the creation of the Fairy Godmother in Disney's Cinderella.
Behind the Magic: A New Disney Princess Fantasyland (1.78:1; 1080p/24; 00:08:17) – Ginnifer Goodwin (TV's Once Upon a Time) gives a tour of the construction of the new Fantasyland at Disney's Orlando theme park.
The Magic of the Glass Slipper: A Cinderella Story (1.78:1; 1080p/24; 00:10:03) – A short dramatizing the creation of the famous Christian Louboutin Cinderella shoe, featuring the footwear designer himself.
Alternate Opening Sequence (1.78:1; 1080p/24; 00:01:13) – These recently discovered rough sketched suggest an alternate opening sequence for Cinderella.
Tangled Ever After (1.78:1; 1080p/24; 00:06:29) – A new CG-animated short features a continuation of Disney's Rapunzel reworking, Tangled.

Classic DVD Bonus Features:

Classic Deleted Scenes:

Introduction (1.33:1; SD; 00:01:54) – Introduction by Don Hahn, producer of Beauty and the Beast and The Lion King.
"The Cinderella Work Song" (1.33:1; SD; 00:03:18)
"Dancing on a Cloud" (1.33:1; SD; 00:04:29)

Classic Music & More

Cinderella Title Song original demo recording (00:02:15)
Unused Songs (original demo recordings):
"Sing a Little, Dream a Little" (00:02:52)
"I'm in the Middle of a Muddle" (00:01:59)
"The Mouse Song" (00:01:41)
"The Dress My Mother Wore" (00:02:40)
"Dancing on a Cloud" (00:03:48)
"I Lost My Heart at the Ball" (00:02:08)
"The Face that I See in the Night" (00:02:36)

Radio Programs

"Village Store" Excerpt (Original Air Date March 25, 1948) (00:02:35)
"Gulf Oil Presents" Excerpt CA. 1950 (00:05:25)
"Scouting the Stars" (Original Air Date February 23, 1950) (00:04:25)

Classic Backstage Disney

From Rags to Riches: The Making of Cinderella (1.33:1; SD; 00:38:27) – Learn how Walt and Roy took the studio from financial insecurity during wartime and turned into a success with the parallel fairytale of Cinderella.
The Cinderella that Almost Was (1.33:1; SD; 00:14:08) – Don Hahn hosts this featurette uncovering an alternate version of the Cinderella adaptation that may have been, based on uncovered Walt storyboards.
From Walt's Table: A Tribute to the Nine Old Men (1.33:1; SD; 00:22:09)
The Art of Mary Blair (1.33:1; SD; 00:14:58) – This featurette is a tribute to and bio on Mary Blair, one of the most influential, yet lesser known outside of the Disney faithful, of the Disney animators.
Storyboard-to-Film Comparison: Opening Sequence (1.33:1; SD; 00:06:49)
1922 Laugh-o-Grams: Cinderella (1.37:1; SD; 00:07:24) – One of Walt's early animated works, this Laugh-o-Gram is a vastly different adaptation of Cinderella.
Excerpt From: "The Mickey Mouse Club: With Helene Stanley (Original Air Date: January 24, 1956) (1.33:1; SD; 00:03:55)

Theatrical Trailers:

1950 Original Release Trailer (1.37:1; SD; 00:00:24)
1965 Reissue Trailer (1.37:1; SD; 00:02:21)
1973 Reissue Trailer (1.37:1; SD; 00:01:26)
1981 Reissue Trailer (1.37:1; SD; 00:01:32)
1987 Reissue Trailer #1 (1.37:1; SD; 00:01:57)
1987 Reissue Trailer #2 (1.37:1; SD; 00:01:25)

The three-disc Combo pack version also contains Digital Copy
DVD
The Definitive Word
Overall:
[Rating:4.5/5]
Cinderella is a nearly faultless and flawless Disney classic that sits rather high in the Disney hierarchy of animated fairy tales with good reason. The story is a universal one even in spite of its fantastic elements and Disney has more than done this film justice in this splendid rendering on Blu-ray.
Additional Screen Captures
[amazon-product]B007WWRJ3A[/amazon-product]
[amazon-product]B0036TGSYE[/amazon-product]
[amazon-product]B007WWRJA8[/amazon-product]
Purchase Cinderella: Diamond Edition 2-Disc Combo Pack at CD Universe
Purchase Cinderella: Diamond Edition 3-Disc Combo Pack (w/ Digital Copy) at CD Universe
Shop for more Blu-ray titles at Amazon.com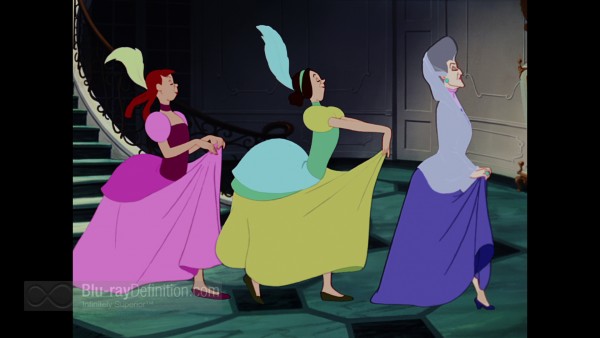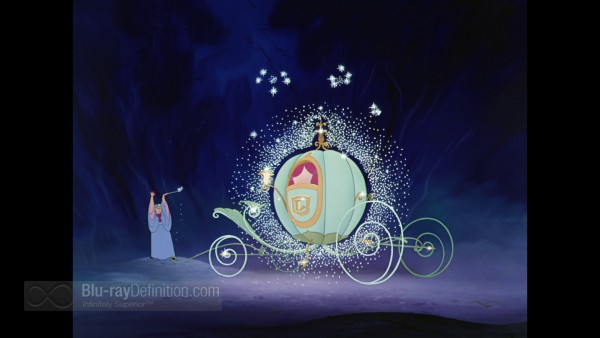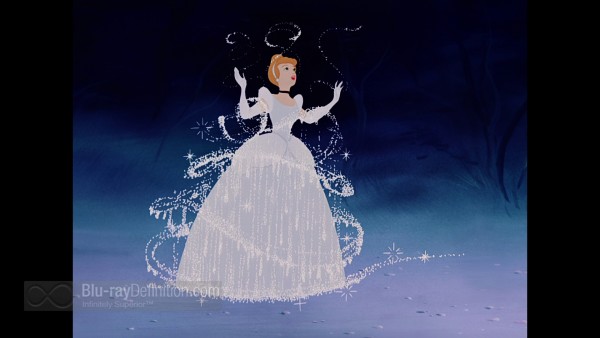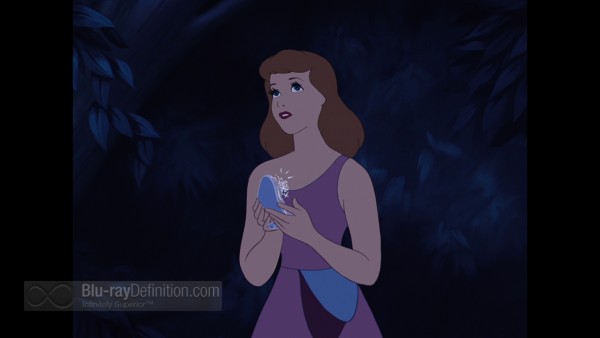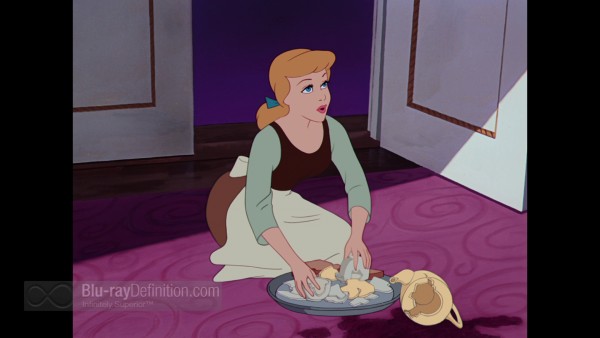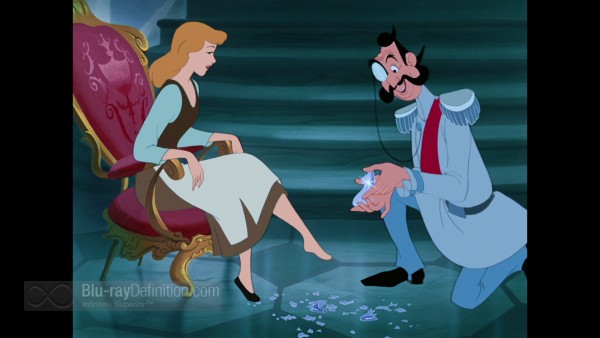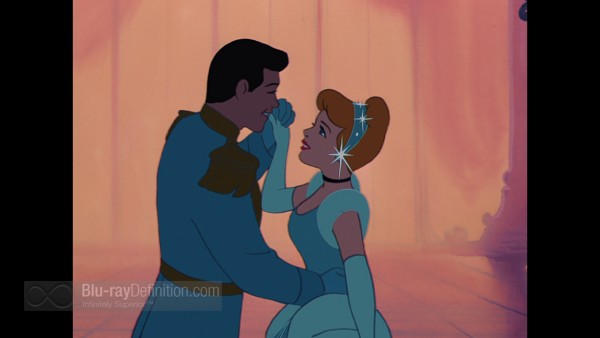 –
[amazon-product]B007WWRJ3A[/amazon-product]
[amazon-product]B0036TGSYE[/amazon-product]
[amazon-product]B007WWRJA8[/amazon-product]
Purchase Cinderella: Diamond Edition 2-Disc Combo Pack at CD Universe
Purchase Cinderella: Diamond Edition 3-Disc Combo Pack (w/ Digital Copy) at CD Universe
Shop for more Blu-ray titles at Amazon.com
Overall
[Rating:4.5/5]
The Film
[Rating:5/5]
Video Quality
[Rating:3.5/5]
Audio Quality
[Rating:4/5]
Supplemental Materials
[Rating:4.5/5]
–