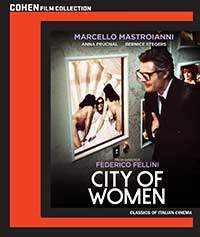 Italian auteur Federico Fellini's surreal style of filmmaking was running just a bit thin by the time he made City of Women (La città delle donne) in 1980. Although the film was certainly full of effort and lots of originality, it was not on the same level of his strongest past efforts such as 8 ½ or Amarcord.
Shot as one long dream sequence, it follows Snàporaz (Marcello Mastroianni) who wakes up from a nap on a railway coach and tries to seduce a beautiful woman, rather crudely ("you're a whore and I love you for it!"). He follows her through a forest and finds himself the sole male representative the midst of a feminist convention. The vitriol being expressed by the women is a shock to Snàporaz. A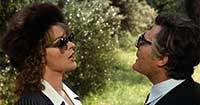 number of surreal vignettes take him on a journey through various encounters with hypersexual women, drugged-up teenage girls, and his own alter ego Dr. Katzone (Ettore Manni). Finally, after a brief encounter with his drunker ex-wife, he begins a sequence of a journey through his past that is like an allusion to the grand musicals of the Golden Age of Hollywood.
Given that City of Women is meant as one long dream (or nightmare, depending on how you look at it), it is to be expected that it would not be very linear. In this case, however, rather than feeling vibrant and original, Fellini uses this premise as a crutch to mask the lack of cohesion in this screenplay. City of Women flits along without much purpose at all, and while it purports to examine the existence of women, one doesn't get that sense at all. Looking at it today, it feels like "mansplaining" to women why they are so angry, or, complaining about women's justified grievances. Fellini falls into the familiar trap of portraying women as either sexual objects or simple maternal beings, and uses a male character, inexplicably, as the catalyst to explore the world of femininity.
Mastroianni does as good a job as he can with Fellini's only average work, which is to say, he is good, but he is boxed in by what is not one of Fellini's better efforts. That's not to say that it is all bad going with City of Women. There are plenty of spending moments in the film. Visually it is every bit as stimulating as any Fellini film you've ever seen, especially the "musical" sequence down memory lane. And it is indeed witty. There just isn't a strong enough thread to hold it all together cohesively.
The Video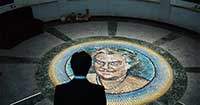 Cohen Film Collection offers up City of Women in a good AVC 1080p rendering on Blu-ray that looks natural throughout and has a consistent layer of grain that is never intrusive. The image has some film softness and looks just a little on the dim side, but is ultimately satisfyingly organic and clean without being smooth and flat.
The Audio
We get yet another Cohen release of a classic World Cinema film that comes with only a Dolby Digital track on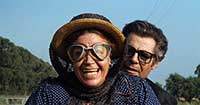 this issue of Fellini's City of Women. That said, the Italian Dolby Digital 2.0 monaural track sounds well enough and might not have benefited too much more from a lossless track. It is clean and intelligible. Perhaps a lossless encodement might have added just a bit more clarity to the dialogue.
The Supplements
The two interviews and the 30-minute documentary are worth watching for the new information and insight they provide from people close to Fellini.
Dreams of Women (1.78:1; 1080p/24; 00:30:30) – This 30-minute documentary discusses Fellini's work on City of Women.
Interview with Production Designer Dante Ferretti (1.78:1; 1080p/24; 00:21:24)
Interview with Filmmaker Tinto Brass (1.78:1; 1080p/24; 00:11:10)
Original Italian Trailer (1.85:1; 1080p/24; 00:03:41)
Original French Trailer (1.85:1; 1080p/24; 00:01:39)
2016 Re-Release Trailer (1.85:1; 1080p/24; 00:01:30)
The Final Assessment
There is a lot to enjoy in City of Women, but it is not the recommended entry point to the work of Federico Fellini. This 1980 film did not find the director at his most inspired and the often-surreal nature of his filmmaking worked to his disadvantage here. Still, this Cohen Film Collection release is solid and should be picked up for cineastes looking to complete their Fellini collections.
City of Women (TheaterByte Blu-ray Review)
Cohen Film Collection
Studios & Distributors
Federico Fellini, Bernardino Zapponi, Brunello Rondi
Writer
Italian Dolby Digital 2.0 Mono (w/ English Subs.)
Audio
Summary
Fellini's City of Women is a surreal journey through the lives of women from the perspective of a man. It's disjointed approach and often incoherent message makes it one of the auteur's least effective films, but there is still plenty to enjoy.
What people say... Login to rate
Be the first to leave a review.
Show more