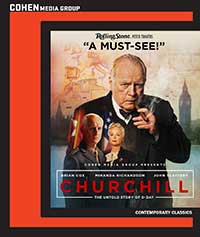 Cohen Media Group releases director Jonathan Teplitzky's (The Railway Man) 2017 film Churchill on Blu-ray Disc. The film is a biographical drama tracking the events during 96 hours before D-Day, the massive allied invasion of Normandy, and in particular, the struggles British Prime Minister Winston Churchill, played brilliantly by Brian Cox (The Bourne Identity), faces with both the decision by the operation commander, American general Dwight Eisenhower (John Slattery, Mad Men, Captain America: Civil War) and Churchill's own marginalization in the operation.
While Churchill as a film hardly stands out as a probative biography, as a film honing in on a specific moment in a part of this particularly imposing historic figure, it does hit its mark. Churchill is shown beleaguered by age and worry, with the weight of his past disastrous failures at war, mainly the deadly campaign at Galipoli, heavy on his thoughts, as he doubts the allies intent to push on with their plans to storm the beaches at Normandy. Cox in this film becomes the embodiment of Churchill, putting in a brilliant turn as the cigar smoking, portly figure both stentorian in his delivery.
The issue overall with this film is, we don't really ever dive any further into the mind of Churchill beyond his trepidations over D-day and we learn that perhaps his wife Clemmie (Miranda Richardson) nagged him a lot. Yes, the marvelous Miranda Richardson is cast in the role of a nagging 1940s housewife. Other historical figures such as Dwight Eisenhower and General Montgomery, both portrayed by fine actors as well, are here as window dressing. We don't get any sort of interaction beyond one-dimensional idol worship.
Thank goodness for David Higgs' beautiful, lush cinematography who rescues this film and makes it very pretty to watch beyond its often self-indulgent hero-worship and the admittedly riveting performance from Brian Cox.
The Video
Churchill gets a gorgeous AVC 1080p encodement framed a 2.39:1 on Blu-ray Disc from Cohen Media Group. The Image is clean and detailed with no compression noise or motion artifacts. The color palette is somewhat washed out due to artistic intent, so this is a not an image that will 'pop' and flesh tones are even a bit pallid, but this transfer is about as good as it gets.
The Audio
Cohen Media Group includes a competent DTS-HD Master Audio 5.1 mix for the dialogue-driven Churchill. The mix is front-heavy with some ambience in the surrounds and the occasional 'escaped' discrete sound in the surround channels. As is often the case with the Cohen releases, a lossy Dolby Digital 5.1 track is also included that is mastered with more dynamic range than its lossless counterpart – go figure.
The Supplements
Cohen Media Group doesn't include much with this barebones offering. There's a behind-the-scenes 'making of' that clocks in at a little past the 22-minute mark and is an okay watch, but hardly an in-depth exploration. The original theatrical trailer is also onboard. They also include their typical thin booklet with no more than credits and a few production stills.
Churchill Behind the Scenes (1.78:1; 1080p/24; 00:22:38)
Theatrical Trailer (2.40:1; 1080p/24; 00:02:22)
Booklet with credits and production stills
The Final Assessment
Cohen Media Group delivers a solid Blu-ray release for this rather disappointing biopic. Brian Cox does, however, put on a stunning performance as Winston Churchill in a turn that reminds us all in this chaotic world about the importance of true leadership and moral scruples.
Own Churchill on Blu-ray & DVD from Cohen Media Group October 3, 2017.
[amazon_auto_links id="105182"]
PG (for thematic elements, brief war images, historical smoking throughout, and some language)
Rating Certificate
Salon Pictures | Tempo Productions Limited | Head Gear Films | Metrol Technology | Cohen Media Group
Studios & Distributors
Jonathan Teplitzky
Director
Alex von Tunzelmann
Writer
$30.99
MSRP
English DTS-HD MA 5.1
Audio
English DD 5.1
Secondary Audio
Summary
British Prime Minister Winston Churchill (Brian Cox) is overwhelmed by doubts and his marginalization in the hours leading up to D-Day in this razor thin biopic held together by a brilliant portrayal of Churchill by Cox and beautiful cinematography from David Higgs. The Blu-ray from Cohen Media Group is a solid if barebones disc.
What people say... Login to rate
Be the first to leave a review.
Show more