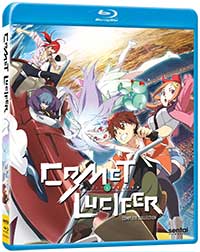 Comet Lucifer is a mecha fantasy OVA from 2015 that originally aired in 2015. Produced by 8-Bit and directed by Kikuchi Yasuhito, the story is set on world named Gift known for cerulean crystals named Giftium that are mined like diamonds are on Earth.
Sōgo Amagi is a boy from the mining town of Garden Indigo who likes to collect rare crystals, which is how he discovers one oddity buried deep in the caverns of the mines, a girl encased in a giant crystal. When she is freed, it begins a dangerous adventure involving the military that are after the girl, named Felia. Sogo, his childhood friend Kaon, and a strange crystal-encased snake-like companion, Mo Ritika Tzetzes Ura, who serves Felia and turns into a giant humanoid mecha, are left to defend Felia against military attacks as they try to solve the mystery of Felia's origins. The more they uncover, the more it seems that Felia, whom they discover also has powers hidden within her, could be the key to the salvation or destruction of the planet as they know it.
The story in Comet Lucifer is a little hard to follow in my opinion. Maybe it's because it never really materializes as either a strong mecha series, a solid romance/harem series, which it sort of verges on at times, or even a comedy, and the mystery surrounding Felia is so basic it's almost nonexistent.. It makes the big revelation in the final episodes feel anti-climactic.
That said, there are plenty of traditional action sequences in the series and that is where the series stands out. The mecha sequences looks excellent. Felia is also superbly drawn character with strong moe appeal. Overall, however, Comet Lucifer likely will not rise to the top of the ranks of anime series.
The Video
Comet Lucifer arrives on Blu-ray in an AVC 1080p encodement framed at 1.78:1. The image is just average, to be honest. I've seen much better, but I've also seen much worse (Knights of Sidonia comes to mind). The colors look good, but there is a softness to the overall picture quality and some color banding throughout.
The Audio
Comet Lucifer comes with the original Japanese-language soundtrack in a DTS-HD Master Audio 2.0 stereo mix that offers up clean dialogue and a decent amount of stereo effects. The dynamics are good during the action sequences and there is a punchy midrange. The voice cast does a decent job with the characters, although constant calling out of "Sogo!" by Ohashi Ayaka can become a bit annoying, although that is more a problem with the writing and voice directing than anything else.
The Supplements
There are a good bit of extras included here, included several shorts and music videos in addition to the usual clean opening and closing animations and Sentai Filmworks trailers.
Clean Opening Animations
Clean Closing Animations
From Garden Indigo's Train Window Shorts
Music Videos:

Beyond the Reminiscence
Evolve
Story of Lucifer
Like a Cosmos
Tell Me Blue Sky
The Seed and the Sower

Sentai Filmworks trailers
The Final Assessment
There are some elements in this series that make it enjoyable to watch, but the confused mystery surrounding the main character and underuse of the mecha leave a lot of its potential unused. The extras on disc are fun, but the audio and video are, again, just average fare.
[amazon_auto_links id="97806"]
Sentai Filmworks
Distributor
Nakayama Atsushi | Kikuchi Yasuhito
Director
$59.98
MSRP
Japanese DTS-HD MA 2.0 Stereo
Audio
Summary
An unusual mecha fantasy OVA series that downplays its mecha elements for a confusing mystery, Comet Lucifer is a mixed bag of sometimes excellent visuals and action and a story arc we sometimes aren't fully invested in. The Blu-ray looks average at best but does have an above average amount of cool extras.
What people say... Login to rate
Be the first to leave a review.
Show more