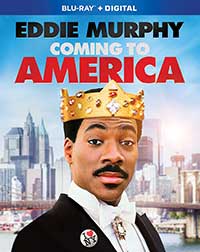 Coming to America is the 1988 spiritual follow-up to 1983's Trading Places. John Landis returns to the director's chair to direct Eddie Murphy (Dreamgirls, Norbit) alongside pal Arsenio Hall for another fish out of water comedy.
This time out, Murphy plays African prince Hakeem who upon reaching his 21st birthday is confronted with the proposition of an arranged marriage to a beautiful bride, Imani Izzi (Vanessa Bell Calloway) who has been raised from childhood to follow his every command. When he asks her what kind of music she likes, her response is, "whatever kind of music you like." When he commands her to hop on one leg and bark, she does it. Prince Hakeem is despondent, he doesn't want this kind of woman, he wants an intelligent woman with her own mind, so he determines to defy his father, King Jaffe Joffer (James Earl Jones) and find himself a bride in America.
Taking his close friend and sparring partner Semmi (Hall) with him, he heads to Queens, New York and finds the most rundown apartment he can. The two men pose as paupers and start working at a local fast food burger place, McDowell's, a one-off imitation of McDonald's, where Hakeem notices the boss' beautiful daughter Lisa McDowell (Shari Headley) and is smitten, even more so when he sees her speak at a local Black Awareness charity event. Now he must try to win her over from her rich and arrogant boyfriend, the heir to a hair product company fortune while also keeping it a secret that he is a wealthy prince. It becomes harder for him to do as his companion Semmi grows weary of slumming it and longs for the comforts he is used.
Coming to America was a successful comedy in 1988 and continued Murphy's run of 1980s successes. The film features Murphy and Hall playing a number of characters in heavy make-up that makes both highly unrecognizable – from a barber (Murphy) to an old white Jewish man (Murphy also) and a charismatic preacher (Hall). These are the most memorable and outstanding parts of the film. The romance is average fare, and less challenging than the romance at the center of Trading Places, which was between a prostitute and a fallen, wealthy commodities trader.
In fact, there is no real pathos in Coming to America or social context to speak of such as there was in Trading Places, outside of the McDowell father trying to arrange his daughter's marriage to a man of means and Hakeem's father trying to arrange his marriage to a woman who would be completely obedient. I suppose one could find a feminist subtext, but one tends to think it was more accidental than anything well thought out.
The Video
Coming to America arrives on Blu-ray with a 1.78:1 framed AVC 1080p encodement. The film hasn't had a major restoration for this new reissue, but it looks pleasing and organic. There is some softness in some background shots and some of the more visual effects heavy shots, such as the dance sequence in the film's first act, but overall, it's clean and crisp, especially on close-ups.
The Audio
Sadly, like the video, the audio for Coming to America has not been upgraded and a lossy Dolby Digital 5.1 mix is all we get that is competent, but certainly not a reference track by any measure. The dialogue is clear, there are some atmospherics, and mild stereo imaging.
The Supplements
This anniversary reissue of Coming America hit Blu-ray only with archival special features in standard definition that have been previously available and a digital UltraViolet + iTunes code.
Prince-ipal Photography: The Coming Together of America (1.33:1; SD; 00:24:39)
Fit for Akeem: The Costumes of Coming to America (1.33:1; SD; 00:18:05)
Character Building: The Many Faces of Rick Baker (1.33:1; SD; 00:12:55)
Composing America: The Musical Talents of Nile Rodgers (1.33:1; SD; 00:11:09)
A Vintage Sit-Down with Eddie & Arsenio (1.33:1; SD; 00:05:38)
Photo Gallery
Theatrical Trailer
The Final Assessment
A film that has lots of funny moments but is not as cohesive or even socially meaningful as its companion release from Paramount, the 35th anniversary Trading Places, Coming to America 30th Anniversary is nevertheless an amusing comedy that holds up and perhaps feels a little less dated than the other.
Coming to America [30th Anniversary] is out on Blu-ray June 12, 2018 from Paramount
Paramount Pictures | Eddie Murphy Productions | Paramount Home Entertainment
Studios & Distributors
Eddie Murphy (story) | David Sheffield (screenplay) | Barry W. Blaustein (screenplay)
Writer
$14.99
MSRP
English | English SDH | French | Spanish
Subtitles
French DD 2.0 | Spanish DD Mono
Secondary Audio
Summary
An African Prince (Eddie Murphy) comes to America with his good friend (Arsenio Hall) pretending to be a poor janitor working at a fast food restaurant, in order to avoid his arranged marriage and find himself an intelligent, self-confident woman. A spiritual sequel to 1983's Trading Places that reworks the former film's fish out of water theme with less social commentary, Coming to America features Eddie Murphy and Arsenio Hall in the role of several characters that help carry the comedy and this film still holds up.
What people say... Login to rate
Be the first to leave a review.
Show more