Aspect Ratio: 2.35:1

Video Codec: AVC/MPEG-4

Audio Codec: English DTS-HD Master Audio 5.1 (48kHz/24-bit); French Dolby Digital 5.1; Portuguese Dolby Digital 5.1; Spanish Dolby Digital 5.1; Thai Dolby Digital 5.1

Subtitles: English SDH, Bahasa, Chinese, French, Korean, Malay, Portuguese, Spanish, Thai

Region: A

Discs: 2

Studio: Touchstone Home Entertainment

Release Date: June 23, 2009

List Price: $39.99
[amazon-product align="right"]B001Y8DJW8[/amazon-product]

 

Purchase from CD Universe

Download from: 

Overall

The Film

Video Quality

Audio Quality

Supplemental Materials

Click thumbnails for high-resolution 1920X1080p screen captures
More screen captures (16 total)
(Screen captures are lightly compressed with lossy JPEG and thus are meant as a general representation of the content and do not fully reveal the capabilities of the Blu-ray format)
The Film

With a name like Jerry Bruckheimer attached to a project, one might think that it would yield special results. Although the Bruckheimer sheen is definitely evident in the style and obvious large production budget seen in the lavish sets and expensive locations, Confessions of a Shopaholic is no more than a wonted rendition of a Hollywood romantic comedy. In fact, calling Shopaholic a "romantic comedy" is a stretch. Shopaholic is actually short on the romance and heavier on the comedy.
Making light of what is truly a serious economic problem in the U.S., credit card debt,  Shopaholic relies on stereotypes of women as compulsive shoppers and superficial fashion hounds to tell its unlikely story. Rebecca Bloomwood (Isla Fisher) is a compulsive shopper and fashion journalist with a multitude of credit cards who dreams of working at the top fashion magazine Allette. When she shows up for the interview, she finds the position has already been filled internally, so instead she sits for an interview with a financial magazine owned by Allette's parent company. Despite her obvious lack of financial acumen, she gets the job after sending the "dreamy" editor a letter intended for Allette she wrote  on a drunken evening with her friend Suze (Kristin Ritter).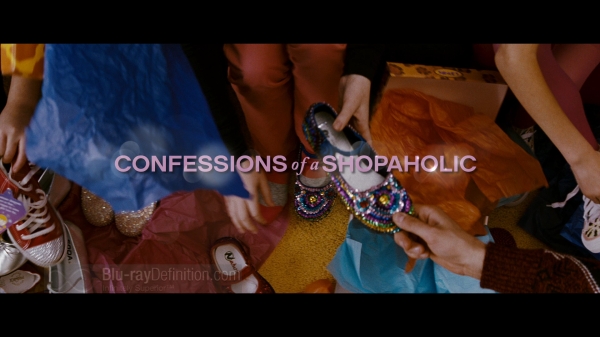 Rebecca becomes an instant international sensation with her column, "The Girl in the Green Scarf", which everyone takes as good advice on how not to get into debt. The problem is that Rebecca has really only been writing about her true passion, fashion and shopping, which is taken as a metaphor (subconsciously injected by Rebecca) for the emptiness of being a slave to fashion and spending. Little does the world know that Rebecca has been hiding her own financial woes and shopping compulsion and is being hounded by a debt collector, Derek Smeath (Robert Stanton).
Isla Fisher is the only shining star in this trite movie that relies on all the standard tricks of the genre. There's best friend who's getting married who acts as both Rebecca's conscience and enabler; there's the dreamy boss who somehow can overlook all of Rebecca's faults and fall madly and deeply in love with her immediately; and lastly, the bitchy rival for both her guy's affection and her dream job.
If the comedy in Shopaholic is good enough to cause a chuckle or guffaw on the occasion, it is only due to Fisher's ability and charm. She has an uncanny, physical comedic sense that is not unlike the late Lucille Ball, in many ways. However, the writing is terrible, the circumstances completely implausible and, wither the romance? The romance between Rebecca and her boss, Luke Brandon (Hugh Dancy), is so sterile that there won't be many "aws" or tears from the, most likely majority female, viewers. It may still make for some good lighthearted weekend distraction, but it is hardly a standout film, even in the mostly insipid genre that is the "chick flick."
Video Quality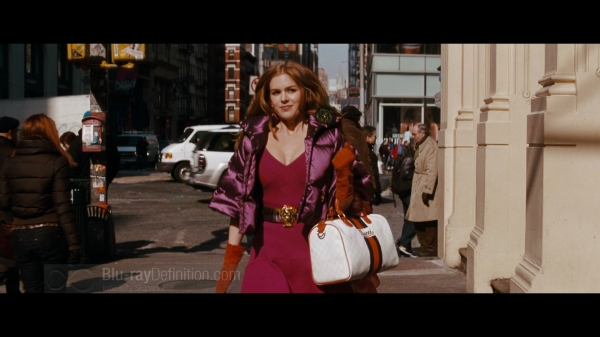 Shopaholic is as stylish and colorful looking a film as the fashionistas it lampoons.  The AVC/MPEG-4 high definition transfer to Blu-ray does a solid job of capturing this look. Although the color palette is less natural than it is surreal, the colors are brilliant nonetheless. Splashes of vibrant, candy-colored primaries constantly dot the settings, whether it is a multitude of colored sweaters on a store display or a mustard colored couch.
Of course, this being a new film, the source is pristine, unsullied. There is a fine veneer of film grain that adds an organic, film-like appearance despite the obvious color alterations to the original 35mm film in the digital domain. Textures in the luxuriant designer clothes are rendered brilliantly and contrast and black levels are solid all the way through. Flesh tones are a bit less than natural due to the artistic choices, but the at least don't display any red push. This disc proves once again that even a lackluster film can sparkle on Blu-ray.
Audio Quality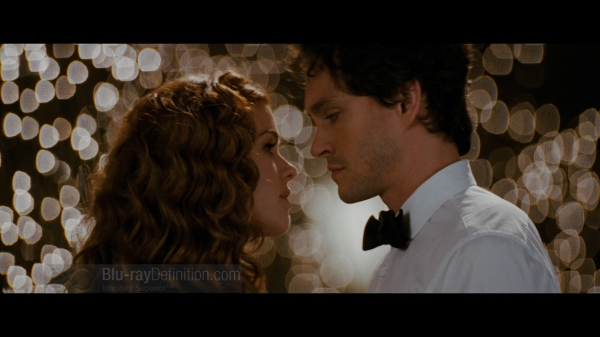 Being a romantic comedy, Shopaholic is naturally not going to have a spectacular surround mix, but the English DTS-HD Master Audio 5.1 lossless mix is solid, regardless. The surround channels aren't used aggressively, but the soundtrack filled with pretty bottom-heavy contemporary Top 40 hits from the likes of Gwen Stefani, Amy Winehouse, and Trey Songz allow the mix to open up and breathe, adding some excitement to the mix. The various shopping scenes, such as the "sample sale" offer provide ample opportunity for some more discrete activity in the surround channels.  The film is still mostly dialogue driven, however, and not consistently engulfing, but the dialogue is clean and intelligible; well balanced in the mix.
Supplemental Materials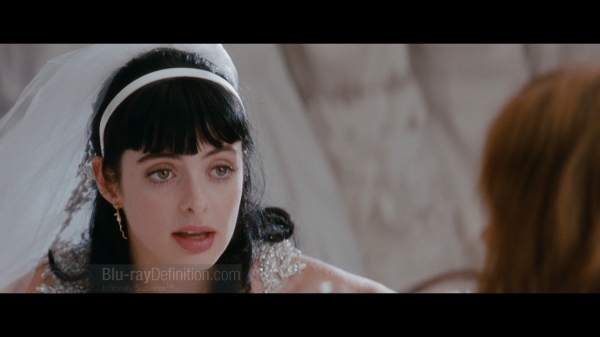 Why do these throwaway romantic comedies always get such great extras? Is it because the studios feel they won't sell well unless that extra incentive is added? It must be, because, similar to another recent stinker, The House Bunny, Confessions of a Shopaholic gets all but its bloopers and music videos provided in great looking HD, from behind-the-scenes featurettes to deleted scenes.
The supplements available on this release are:
Behind the Fashion (1.78:1; 1080p/24):
Wardrobe by Patricia Field — The Hollywood stylist (Sex and the City; The Devil Wears Prada) discusses her process of putting of putting together wardrobes for the actors.
Temple of Shopping — The Henri Bendel building where some filming was done is showcased.
The Green Scarf — Patricia Field talks about here search to find the perfect green scarf, which is a central element to the film.
New York: Fashion Central — The actors and filmmakers discuss filming on location in Manhattan.
Sample Sale Madness — Behind the scenes on the "Sample Sale" scene.
Window Shopping — In this short featurette the visual effects crew discusses how they captured the animated mannequins in the storefront windows.
Deleted Scenes (2.35:1; 1080p/24) — Four scenes that didn't make the final cut; viewers can choose to "Play All" or select each scene individually:
19 Scarfity Scarf Scarf
Zebra Print Pants
The Unexpected Kiss
Plaid
Bloopers of a Shopaholic (1.33:1; 480i/60) — A little over two minutes of mildly amusing bloopers from Shopaholic
Music Videos (1.33:1; 480i/60):
"Stuck with Each Other" — Shontelle featuring Akon
"Accessory" — Jordan Taylor
"Takes Time to Love" Trey Songz
Sneak Peeks (HD):
Morning Light
The Proposal
Lost On Blu-ray Disc
Digital Copy — A second disc containing access to a standard definition digital copy for transfer to Mac/PC or iPod/Windows Media portable device.
The Definitive Word
Overall: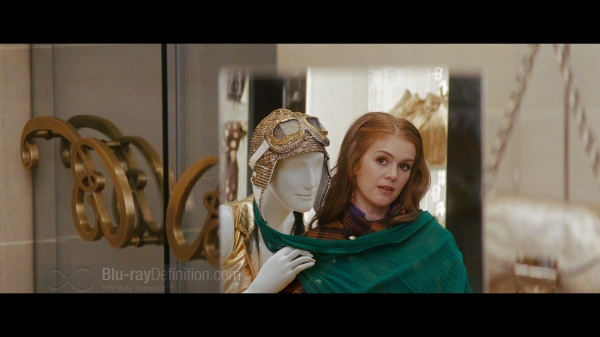 Isla Fisher is pleasant to watch and her star will — or should be anyway — on the rise. Unfortunately that's the one positive in this completely irrelevant film. The irony in that is, the Blu-ray Disc looks as beautiful as Fisher in a Dolce & Gabbana dress, with solid sound to match. I still have to say either rent this one for a throwaway weekend or skip it entirely.