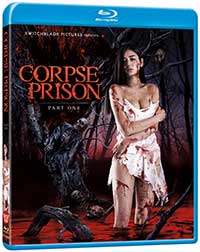 Corpse Prison: Part One starts off with Mikoto (Katayama Moemi), her female classmates and instructor, as they set off on a field trip to a small and reclusive mountainside village called Yasaka. It is said that no female has been born in Yasaka in 50 years. The village's all male inhabitants all carry on in a creepy way that make Mikoto and her classmates a bit nervous.
The men of the village spend their time performing rituals and plotting what to do with this latest group of visitors. Just because the village Yasaka is remote does not mean that there have not been countless visitors throughout the years. It just means that no one has found the bodies.
As the students and instructor settle in we see familiar drama with them, as one of the female students is sleeping with her professor in the next room while her classmates sleep in the other room. Some of these tropes are familiar, but what we want is for the bloodshed to begin. In some of the scenes where blood flows, what would make these scenes more compelling would be if they were actually shot properly. I don't think there was a budget big enough to accommodate the production. The way it was shot makes it look like a cheap soap-opera.
In watching Corpse Prison: Part One I felt that the film could have had plenty to say but could have gone about it in a different way. First off, the film is an adaptation of a popular manga called Shishuugoku from a few years back. This film adaptation is supposedly 95-minutes long, which must be a typo, because the running time, with credits, was only 75-minutes long. As the sub-heading to the film suggests,  it's also part one of a two-part film series. These variables don't help the cause.
Corpse Prison: Part One is disposable Japanese horror fodder. I was neither impressed nor entertained. With that being said, I would not turn down the eventual Part Two release. I've already invested my time in the series, I might as well see how it ends. Yes, I am a glutton for punishment.
The Video
Corpse Prison: Part One is presented in 1080p, 1.78:1. The video presentation has that "PAL" look to it, so I assume it was shot at that faster speed for Japanese audiences. The film has that cheap soap-opera look to it, but it's inherent to the source. Outside of that, contrast, brightness, and sharpness levels are good. The color palette is balanced and I did not detect instances of banding. Crush was not a problem in the night-time scenes of which there are many. I guess the only thing that bugs me is that it looks like a soap opera.
The Audio
Corpse Prison: Part One is presented in DTS-HD MA 2.0. This is a standard 2.0 soundtrack that sounds strong and balanced. It's all front driven – there's no rear surround sound output or LFE (unless I play it back in 2.1, but that would not be truthful to the review). Dialogue, effects, ambience, are all split between the two front speakers and it's fine. It's a well-balanced sound mix and I did not detect instances of clipping, distortion, or anomalies.
The Supplements
There is only one special feature included on the Blu-ray and that is the Japanese trailer.
The Final Assessment
I understand that Corpse Prison: Part One is based on a manga but this film adaptation, so far, isn't very good. Most of the time it played like amateur hour. The Blu-ray has average and above average picture and sound quality, with zero extras of worth. Looks like there's a second part coming soon, so we'll see if that bumps it up as whole.
Corpse Prison: Part One is out on Blu-ray October 2, 2018 from Switchblade Pictures
Leone | Albatros Film | CREi | Switchblade Pictures
Studios & Distributors
Japanese DTS-HD 2.0 Stereo
Audio
Summary
A professor, his assistant, and his female students find themselves trapped on an island where no females have been born for fifty-years. Corpse Prison: Part One is not a great film by any means. The cast of co-eds would be the only redeeming quality to an amateurish production. The Blu-ray has average video and audio, with non-existent extras. Still, I'm almost tempted to stick around for Part Two, whenever that comes out. Almost.
What people say... Login to rate
Be the first to leave a review.
Show more