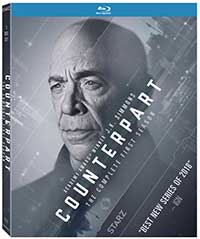 Counterpart, an "original" series from often overlooked premium cable network Starz, which has been quietly building up a catalogue of must-watch series in recent years – is one of the strongest sci-fi thrillers to hit television in recent years and boasts a cast of heavy hitters to back it up.
The series follows one Howard Silk (J.K. Simmons, Whiplash), a low-level employee at a UN spy agency in Berlin who finds out his workplace is really an organization that safeguards a gateway to a parallel dimension that was caused by a cataclysmic event that caused a split in timelines. The other world is almost identical, but there are small differences, and everyone has a counterpart on the other side. Howard "prime" meets his counterpart, the other Howard – a gruff spy from the other dimension, who crosses over to warn of an impending disaster, possible infiltration of spies, and of an assassin, Baldwin (Sara Serraiocco), who is sent to kill Howard prime's wife (Olivia Williams) who lay comatose in a hospital. Without giving too much away, the two Howards and their superiors devise a plan for the Howards to try to save Howard's wife, smoke out the spies, and thwart Baldwin.
On the surface, Counterpart is a that is simply about cloak and dagger intrigue, but going beyond that it handles deep philosophical questions about existence – who are we? Are we products of our environment or nurturing? Can we escape our reality or who we are meant to be? What is time? And lastly, just how much can love and loss change a person's destiny?
The cast, with the always incredible J.K. Simmons, are powerful and bounce off each other brilliantly. We get magnificent performances from supporting cast members Olivia Williams, Harry Lloyd, Ulrich Thomsen, and Nicholas Pinnock and a standout as the emotionally damaged assassin Baldwin from Sara Serraiocco. In addition, the production values are on par with the best TV has to offer outside of perhaps the insanely expensive Game of Thrones.
The Video
While Counterpart would have made for an excellent 4K Ultra HD release with HDR, we get a superb Blu-ray encoded in AVC at 1080p and framed at its original 1.78:1. It's a dark and often de-saturated series, but it never looks murky or flat – the image here is crisp, with wonderful delineation, detail and contrast, and no issues with noise.
The Audio
Counterpart: The Complete First Season gets a solid Dolby TrueHD 7.1 mix on Blu-ray that is one of the best mixes for a sci-fi/thriller series I have heard on disc since the days of 24. It bests the former and squeaks in behind the likes of Game of Thrones (and Westworld for that matter), which has upped the ante with Atmos immersive mixes. While the mix here is slightly less aggressive than GoT, it is more suited to the material and just as atmospheric.
The Supplements
Season Outlook (1.78:1; 1080p/24; 00:01:58)
Inside the World of Counterpart: Episodes 1-10 – A look behind each episode features lots of spoilers – definitely watch these AFTER you've seen the series – and interviews with the creator/executive producer Justin Marks.
The Final Assessment
Counterpart is what intelligent sci-fi is all about. There are three sci-fi series on TV anyone who loves the genre must see right, the more traditional space opera/cyberpunk series Killjoys and The Expanse, and on the other side of spectrum, Counterpart which leans more toward dystopian sci-fi/thriller. Excellent picture and sound, strong writing, and a solid cast.
Counterpart: The Complete First Season is out on Blu-ray and DVD July 31, 2018 from Lionsgate
Fireglory Pictures | Anonymous Content | Gilbert Films | Studio Babelsberg | Starz!
Studios & Distributors
Justin Marks (Creator)
Writer
$39.99
MSRP
English Dolby TrueHD 7.1
Audio
English SDH | Spanish
Subtitles
Spanish Dolby Surround 2.0
Secondary Audio
Summary
A low-level employee(J.K. Simmons) finds out his organization is really the protector of a gateway to a parallel dimension, right before he meets his tough doppelganger from the other side who warns him someone has been sent to kill his comatose wife (Olivia Williams) in this intelligent sci-fi thriller with a powerful cast and slick production values from Starz.
What people say... Login to rate
Be the first to leave a review.
Show more