Aspect Ratio: 1.78:1
Video Codec: VC-1
Audio Codec: English DTS-HD High Resolution 5.1
Subtitles: English
Region: ABC (All Regions)
Discs: 2
Actors: Dame Judi Dench, Lisa Dillon, Philip Glenister

Studio: Warner/BBC
Release Date: April 14, 2009
List Price: $39.98
Overall

The Series

Picture Quality

Audio Quality

Supplemental Materials

Click thumbnails for high-resolution 1920x1080p screen captures
–



The Series
The BBC have an unquestionable adroitness for turning the classics of English literature into superb television drama. Over the years they have done so with their many adaptations of Dickens' numerous novels, Shakespeare's plays; and who can forget their still unmatched and sprawling adaptation of Robert Graves' 1934 novel, I, Claudius?
They have done it once again in this excellent 2007 television adaptation of the writings of Elizabeth Haskell. Combining the novellas Cranford, My Lady Ludlow, and The Confessions of Mr. Harrison into one seamless, multi-threaded five-part television serial. The story chronicles a year in the happenings of the small, fictional town of Cranford in the North West of England in the county of Cheshire during the Victorian era, from 1842 to 1843. With two elderly spinsters, the sisters Matty Jenkyns (Dame Judi Dench) and Deborah Jenkyns (Dame Eileen Atkins) at the focus, the town is a paragon of Victorian virtue; caught in a time warp of sorts and struggling to hold on to its time-honored sense of gentility and etiquette as modern sensibilities slowly begin to creep in, aided in no small part by the coming of a new railway line that will cut right through Cranford.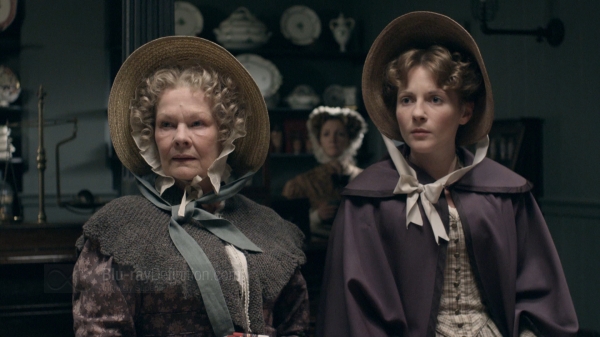 The arrival of the handsome young Dr. Frank Harrison (Simon Woods) into Cranford causes quite a stir, as all of the single ladies begin to vie for the young doctor's affections. But the doctor has eyes for only one, the young rector's daughter Sophy Hutton (Kimberly Nixon). In a classic case of misunderstanding, however, the doctor naively ends up entangled with three of the town's ladies.
In a way, the arrival of Dr. Harrison and the arrival of the railroad in Cranford both symbolize the changing of times in Haskell's writings. Haskell was a well-known activist, believing in equality for women and women's suffrage.  Cranford, My Lady Ludlow, and The Confession's of Mr. Harrison, artfully woven together here, very much capture her beliefs, quite subversively, with an assemblage of colorful characters and multi-layered stories every bit as good as Dickens, in so many ways.
Here, in Cranford, the men quite tellingly, take the background to these wonderfully written female characters played marvelously by the likes of Dame Judi Dench — who has made a remarkable career going effortlessly between film and television, something not many actors can do — and Lisa Dillon as the Jenkyns sister's boarder and newcomer to Cranford, Mary Smith. Once again the BBC have a classic and powerful costume-drama on their hands in this adaptation of Cranford, and it should be welcomed by all who value quality acting, writing, and production.
Picture Quality

Originally shot on Panavision Genesis HD cameras, Cranford arrives on Blu-ray in its original 1.78:1 aspect ratio in a 1080i/60 VC-1 encoding from 2 Entertain and BBC Home Video.  It's a quality presentation that flawlessly captures the lavish production, from the finely detailed patterns of Victorian lace to the wrinkles on skin. The many daylight scenes are vivid, with verdant greens, and sharply detailed foliage, whilst indoor photography in low-light, looks just as good, even given that much of it was captured with natural candlelight and no added artificial lighting.  Video noise is at a minimum, shadow detail is superb, and flesh tones are spot-on.
Audio Quality

The sole option proffered on this release is an English 5.1 mix encoded in the rarely used DTS-HD High Resolution variant. It's not lossless, but given the program material and the 3Mbps of DTS-HD HR, it's nearly as good in these circumstances.
The mix is very front-heavy, and dialogue sounds a little nasally in tone, but clean and intelligible. There is some occasional directional panning across the front to follow on-screen action, but the surround channels are mainly used for atmospheric sound effects, such as birds chirping, crackling fire, horses galloping in the background, etc. There are some occasional but rare discrete sound effects panned into the surrounds, such as a carriage driving by, but they are used so little it seems jarring when it occurs. The surround effects are also mixed at quite a low level, making things all sound a little too dry.
Supplemental Materials

There aren't many supplements offered up on here, but Disc 2 gives a surprisingly in-depth Making-of featurette (1.78:1; 480i/60) that is really quite interesting and Disc 1 offers the pleasant surprise of a High Definition Set-up Guide, which offers test patterns and test tones to calibrate your HD display and home theatre sound system properly. Given the poor results I achieved from the test patterns, however, I would recommend using Digital Video Essentials: HD Basics

instead.

The Definitive Word
Overall:

Cranford offers laughs, tears, great characters, and superb acting — all the things we have come to expect from the BBC. This Blu-ray release has excellent picture quality and acceptable sound and I strongly recommend it be added to any collection.
[amazon-product text="Purchase Cranford Blu-ray on Amazon.com" type="text"]B001MYIQK4[/amazon-product]