– –

The Film
[Rating:4/5]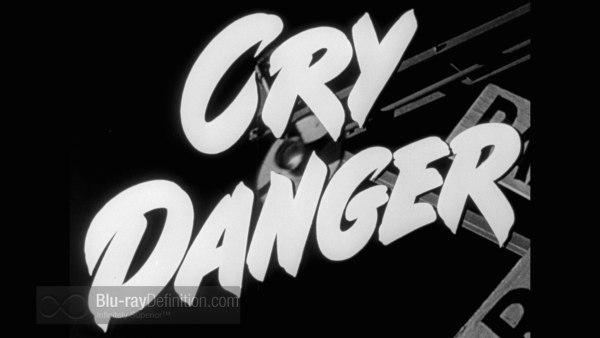 Our hero Rocky Mulloy (Dick Powell) gets off a train and leads us into a suspenseful film noir, Cry Danger. Mulloy has just been released from prison after serving five years for a robbery that he did not commit. He reconnects with new best friend and wounded ex-Marine Delong (Richard Erdman) and his nemesis Detective Gus Cobb (Regis Toomey). Delong has provided a "cooked up" alibi that led to Rocky's release and is interested in getting a cut of the money. However, Detective Cobb still believes that Rocky pulled off the caper and promises to keep an eye on the ex-con.
Rocky and Delong rent a run-down trailer from ukelele-playing park manager Williams (Jay Adler). Platinum-blonde Darlene  LaVonne (Jean Porter) offers to fix Rocky up with a girl but he is only interested Nancy Morgan (Rhonda Fleming), the wife of his former partner Danny, is still in prison for the same robbery.  The back story is that Nancy and Rocky were once a number before she married Danny and there are still plenty of sparks flying between them.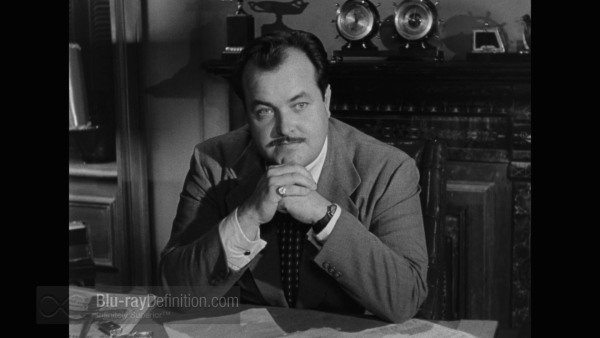 Rocky seeks out bookmaker Louie Castro (William Conrad) who was the real mastermind of the robbery. Castro who offers him a fraction of the $100K that was stolen but this will not keep Rocky off his back for long. As this dark tale progresses, someone takes a shot at Rocky, a harbinger of more things to come. As Rocky tries to work his way through his old case, he meets the usual film noir cast of characters: bookies, cigarette girls, counterfeiters and the like. There are enough plot twists to stoke the dramatic tension so essential to crime thrillers and carry us to a somewhat surprising conclusion.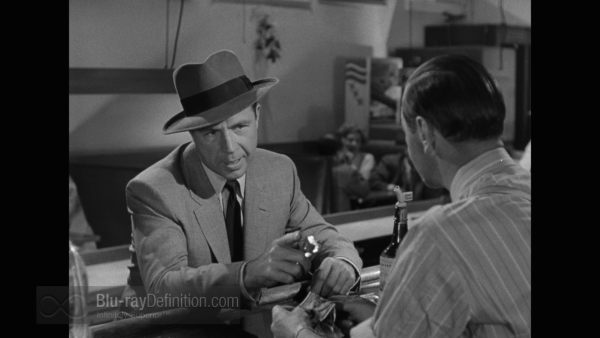 Leading man Powell was a multi-talented performer whose deadpan delivery in this film contrasts with his usually more outgoing persona. Nicely partnered with film veteran Fleming, there is sufficient chemistry to make their relationship, central to the story, quite credible. Director Robert Parrish was well versed in this film genre puts his cast admirably through its paces.
Video Quality
[Rating:3.5/5]
Restored by the UCLA Film and Television Archive, this vintage film looks much better than it has a right to look given its advanced age. The details are reasonably crisp, with only occasional blurry moments to remind us that this is a pretty old movie. Contrasts are well managed with very good blacks. Joseph Biroc's cameras draw us into the action and make the actors quite palpable.
Audio Quality
[Rating:3/5]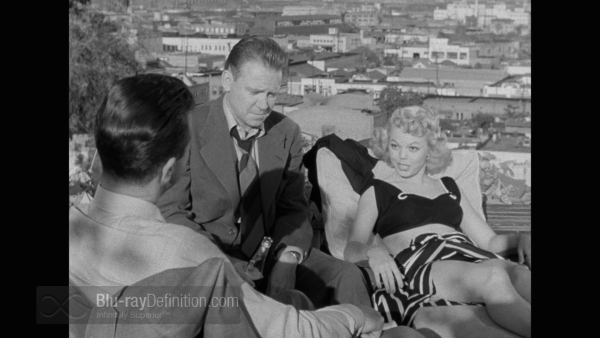 The DTS-HD Master Audio mono soundtrack has the expected boxiness for a film of this era. Climaxes sound a tad compressed, but the dialogue that drives the action forward is quite clear.
Supplemental Materials
[Rating:0/5]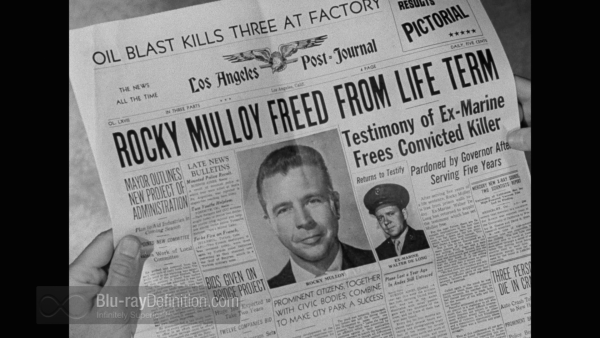 Nothing doing here, which is a bit of pity since details on the restoration process would have been quite welcome.
The Definitive Word
Overall:
[Rating:3.5/5]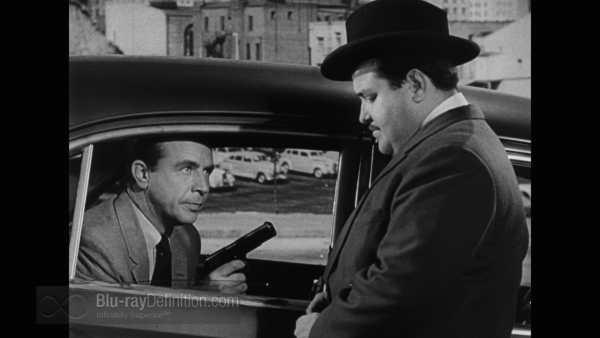 Fans of the tough-talking, fast-paced film noir genre will most assuredly get their due with Cry Danger. No frills but simply a well directed, well shot, and well acted film that maintains a taut story line that will make an hour and a quarter pass by in no time flat.
 Additional Screen Captures
[amazon-product]B00EL6A9CI[/amazon-product]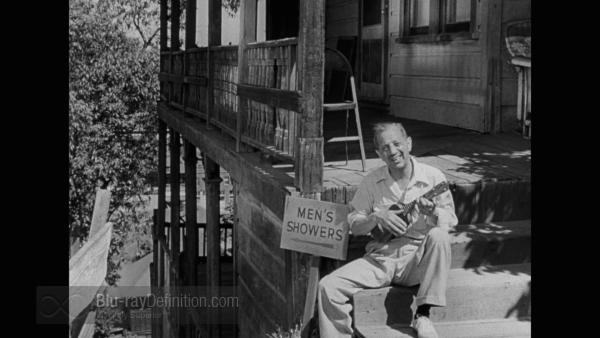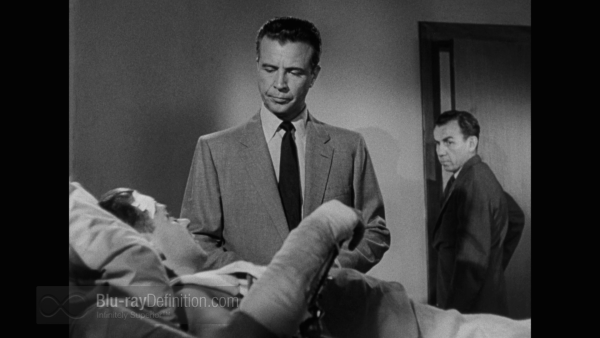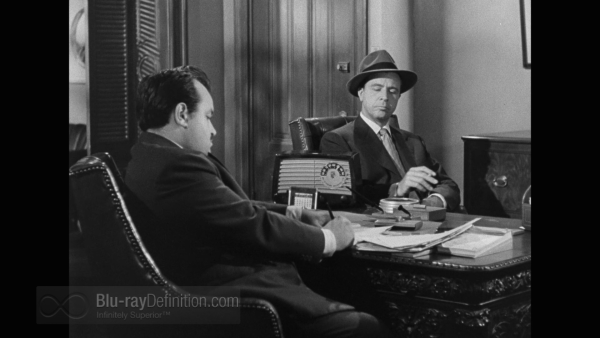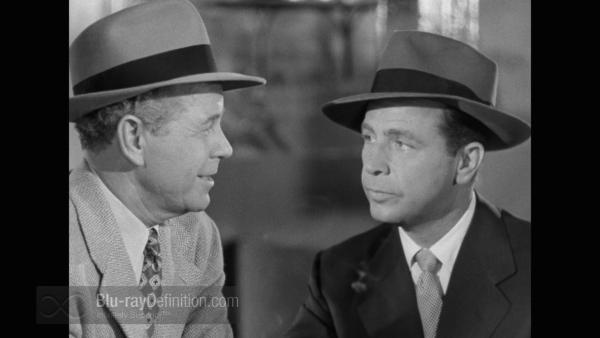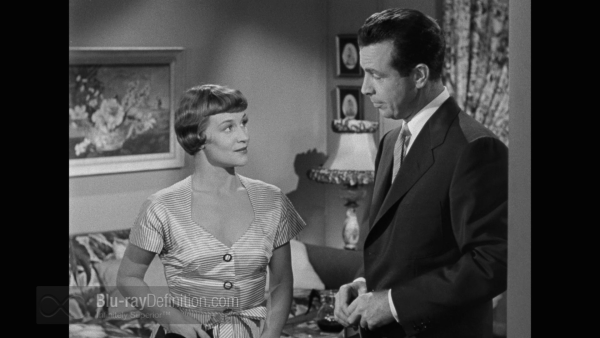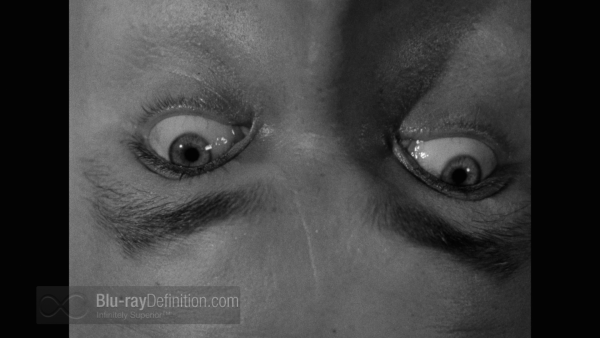 [amazon-product]B00EL6A9CI[/amazon-product]