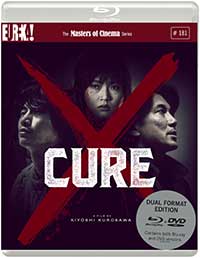 Cure is the 1997 breakout film from Japanese author/screenwriter/director Kurosawa Kiyoshi (Tokyo Sonata, Pulse, Bright Future) who is most known for his J-horror genre films. While this film doesn't quite fit into the typical J-Horror genre, it shares many similarities with its ominous tone and that there is a central villain, but that villain in this circumstance is human and not supernatural.
When a series of gruesome murders committed by normal people all claiming to have no control of their actions occur, detective Takabe Kenichi (Yakusho Kôji, 13 Assassins, Tokyo Sonata) begins to investigate and uncovers one connection linking them all – a mysterious stranger who came into contact with the suspects and their victims. Takabe begins to suspect that this stranger can exert some sort of hypnotic control over people and he puts himself at risk to uncover the truth and end the killings.
Cure is a slow-burning, visceral thriller that, like the best horror often is, uses the horror of humanity and not the fear of the unknown to instill its sense of fear. Kurosawa's direction is taut, the acting reserved – there are no unnecessary soliloquies, no movements out-of-place. This is a film that takes the terror of catching a dangerous sociopath and strips it down to its core, even as the narrative device of a criminal who can control his victims and make them commit brutal murders may seem unusual.
Kurosawa's film is the winner of 9 awards including Best Actor for Yakusho Kôji at the 1998 Blue Ribbon Awards, 1997 Hochi Film Awards, and 1997 Tokyo Film Festival.
This slideshow requires JavaScript.
The Video
Cure comes to Blu-ray in an AVC 1080p encodement framed at 1.85:1. The image looks very organic with a crisp layer of grain, good contrast and natural color reproduction. The picture is clean with little dirt or print damage.
The Audio
Cure comes with the original Japanese audio in LPCM 2.0 stereo and a DTS-HD Master Audio 5.1 mix. There is little difference between the two, other than the dialogue in the 5.1 mix is a little fuller and clearer and it is a little more atmospheric carrying some ambience in the surround channels. The 5.1 mix is still rather front-heavy and dry, however, so either mix works just as well.
The Supplements
While this Masters of Cinema release for Cure from Eureka Entertainment is a bit barebones compared to their typical releases, what is included is interesting and informative to watch.
Kim Newman Interview (1.78:1; 1080i/24; 00:14:16)
Archival Interview with Director Kiyoshi Kurasawa (1.78:1; SD; 00:19:37)
Kiyoshi Kurasawa on Cure (1.78:1; 1080p/24; 00:16:53)
Trailer (1.33:1 window-boxed; SD; 00:01:40)
The Final Assessment
A pure, seething, horror/thriller that is atmospheric and has a powerful performance from Yakusho Kôji, this release of Cure from Eureka's Masters of Cinema imprint is a must for fans of Japanese film.
Cure is out on Dual Format Edition from Eureka Entertainment's Masters of Cinema on April 23, 2018
Daiei Studios | Eureka Entertainment
Studios & Distributors
Kurosawa Kiyoshi (novel) | Kurosawa Kiyoshi (screenplay)
Writer
Japanese DTS-HD MA 5.1
Audio
Japanese LPCM 2.0 Stereo
Secondary Audio
Summary
A detective tries to uncover the mystery behind a string of gruesome murders committed by normal people who all claim to have no control over or no recollection of their actions and who have all come into contact with the same mysterious stranger. A winner of 9 awards including Best Actor for Yakusho Kôji (1997 Tokyo Film Festival) this taut thriller from director Kurosawa Kiyoshi is a seething, slow-burning, and atmospheric horror film that deals in the darker side of the human condition rather than the paranormal.
What people say... Login to rate
Be the first to leave a review.
Show more