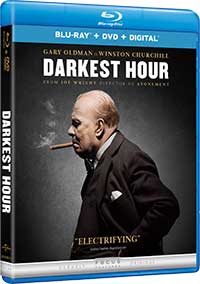 In Darkest Hour writer Anthony McCarten (The Theory of Everything) and director Joe Wright (Atonement) have collaborated to give us an account of Sir Winston Churchill's (Gary Oldman) first month in office that culminates in the historic evacuation of the British army from Dunkirk's beachfront. Parliamentary intrigue abounds when Neville Chamberlain (Ronald Pickup) gets the axe for his failed attempt to appease Hitler and Churchill becomes the compromise candidate recommended for Prime Minister.
After getting a reluctant nod from King George VI (Ben Mendelssohn) who recalls that Churchill supported the abdication of the King Edward VIII, George's brother,  although he was absolutely right about Hitler's maleficent intentions. Winston has a limited circle of support including friend Anthony Eden (Samuel West) and wife Clementine "Clemmy" (Kristin Scott Thomas). The new Prime Minister wisely includes his rivals Halifax and Chamberlain in his new War Cabinet that will decide the best course to take: to negotiate with Hitler or to wage war against the Fuhrer. After the German forces surround 300,000 British troops at Dunkirk, Halifax and Chamberlain press for a negotiated peace while Churchill remains steadfastly committed to war. As a further drawback, American President Franklin Delano Roosevelt essentially refuses Churchill any additional military aid. The film reaches its dramatic finale as Churchill delivers the speech of his life: "we shall fight them on the beaches…we shall never surrender."
British actor Gary Oldman has made a successful career out of taking on plenty of protean roles and the prosthetics and makeup crew that transformed him into a likeness of Sir Winston must also be given great credit. While not the spitting image of Sir Winston, Oldman's portrayal of Churchill's humanity whether smoking one of his constantly lit cigars or swilling Scotch whisky and champagne is absolutely brilliant. As is the case in numerous recent British films, this one has a robust cast with standout contributions from Lily James as his pretty secretary Elizabeth Layton and Kirsten Scott Thomas as his steadfast Clemmie. The script Anthony McCarten handed to Joe Wright contains very credible dialogue shared by the characters since little or nothing was either recorded or written down at the time. Bruno Delbonnel's cameras render a stunning visual presentation of the Houses of Parliament, the War Rooms, and the Churchill home. Darkest Hour is a stirring account of historical events that ultimately changed the world and the larger than life legend that was Sir Winston Churchill.
The Video
The original ARRIRAW 3.4K source was obtained from Arri Alexa cameras and Cooke 54 and Angenieux Optimo lenses and the 2K DI is the beneficiary of this technology. The Blu-ray disc is quite sharp, particularly during its few daytime scenes, and although many of the indoor shots are understandably dark there is excellent maintenance of details, contrasts, and color palette. Even though this is 1080p resolution, it rivals some of the 4K Ultra HD discs that I have recently seen, right down to the wrinkles and blemishes on the Churchill face.
The Audio
The Dolby Atmos (compatible with  Dolby TrueHD 7.1) soundtrack occasionally comes into play during the Parliamentary sessions and the limited number of battle scenes. For the most part, sound is upfront with excellent reproduction of the dialogue that drives most of this film. The dramatic score supplied by veteran film composer Dario Marianelli (Atonement) gets very spacious reproduction.
The Supplements
The film comes as a Blu-ray Disc, a standard DVD, and an UltraViolet HD digital download. Both discs have the same special features:
Into Darkest Hour (English Dolby Digital Stereo) (8:16): brief behind-the-scenes feature on the making of the film.
Gary Oldman: Becoming Churchill (English Dolby Digital Stereo) (4:19): Oldman's view on taking on this complex and challenging character
Feature Commentary with Director Joe Wright
 The Final Assessment
Having seen Darkest Hour on the big screen last summer, I was quite favorably impressed by how well this Blu-ray disc compared when viewed on my home display in regard to both its sights and sounds. Since this video was released Oldman and his makeup team have won Academy Awards. Darkest Hour is a top recommendation that belongs in everyone's video library.
Darkest Hour is out February 27, 2018 on Blu-ray + DVD + Digital Combo Pack from Universal
[amazon_auto_links id="109135"]
PG-13 (intense war experience and language)
Rating Certificate
Perfect World Pictures | Working Title Films | Focus Features | Universal Pictures Home Entertainment
Studios & Distributors
English Dolby Dolby Atmos (compatible with Dolby TrueHD 7.1)
Audio
English | Spanish | English SDH | French
Subtitles
English DD 5.1 | Spanish DD 5.1 | French DD 5.1
Secondary Audio
Summary
An historical drama that is graced with an Oscar-winning performance of the title role and top-notch production values, this now Oscar-winning film (Best Actor, Gary Oldman) hits Blu-ray in a solid release from Universal.
What people say... Login to rate
Be the first to leave a review.
Show more