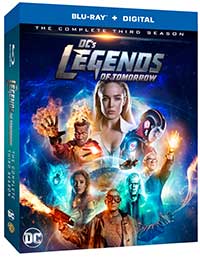 Out of all the DC TV series, this one is the one that takes itself the least seriously. Even when DC's Legends of Tomorrow: Season 3 gets dark, it does it with a sense of humor, such as when the Legends go back to the 1980s or 1930s Hollywood and come across Helen of Troy.
This season of the series finds itself dealing with some major consequences of time travel. Because the legends broke the rule of never going back to a moment in time they already visited, they fractured the timeline and now must repair anachronisms that are appearing all across time. In one they must avoid the Vietnam War from causing World War III. The season also has the Legends confronting Gorilla Grodd, and contains the epic 4-episode crossover event "Crisis on Earth-X", with Arrow, The Flash, and Supergirl – all of which are contained in this collection as well.
This proves to be a fun, action-packed season with a few surprises concerning some of the characters we have grown familiar with over the past three years. While DC's Legends of Tomorrow: Season 3 could hardly be considered a huge leap forward for the series, it maintains an even level of quality and is a fun distraction, sort of the comedic relief of the DC television universe.
The Video
DC's Legends of Tomorrow: Season 3 hits Blu-ray in an AVC 1080p encodement framed at 1.78:1. The picture is solid, with good detail and vivid colors. There is slight color banding in spots, but not enough to hinder the overall satisfying image.
The Audio
DC's Legends of Tomorrow: Season 3 comes to Blu-ray with an English DTS-HD Master Audio 5.1 audio mix. Like the other Warner/DC TV series, the audio is very underwhelming, even for TV standards. Sound effects don't sound very clear and there aren't many solid sound effects mixed into the surrounds. There is a lot of ambience, but that's about it. A Castilian Spanish Dolby Digital 2.0 dub is also included.
The Supplements
This is an average collection of special features for these DC series. The deleted scenes are cool supplements, the Comic-Con panel appears on the other DC CW series from this past season as does the Inside the Crossover featurette. For fans of this series in particular, the featurette The Time Calibrators, will be of the most interest.
Digital Copy
Deleted Scenes (HD)
Inside the Crossover: Crisis on Earth-X (HD, 41:59) – The executive producers from hit DC shows Arrow, The Flash, Supergirl, and DC's Legends of Tomorrow engage in a spirited discussion about the fundamentals of a great story and bringing this monumental effort to the screen.
The Time Calibrators: Legends Assemble! (HD, 17:52) – A fun and exciting look at how the mythos of DC's Legends of Tomorrow is imagined, as executive producer Phil Klemmer discusses the anachronisms in three of this season's most memorable episodes.
Post Production Theater (HD, 06:12) – Witness the lengths the production team goes through to bring you all the thrilling superhero action week after week.
Gag Reel
The Best of DC TV's Comic-Con Panels San Diego 2017 (HD, 58:27)
The Final Assessment
DC's Legends of Tomorrow: Season 3 is a fun season with lots of action. This series is a great popcorn series for DC fans and fans of the DC television universe. The Blu-ray collection is satisfying despite a lackluster audio mix.
DC's Legends of Tomorrow: Season 3 is out on Blu-ray & DVD September 25, 2018 from Warner Bros.
Berlanti Productions | Bonanza Productions | DC Entertainment | Warner Bros. Television
Studios & Distributors
Creator: Greg Berlanti | Marc Guggenheim | Phil Klemmer
Writer
$39.99
MSRP
English DTS-HD MA 5.1
Audio
English SDH | French | Spanish (Castilian & Latino) | Dutch | Danish | Finnish | Swedish
Subtitles
Spanish (Castilian) DD 2.0 Stereo
Secondary Audio
Summary
The Legends battle Grodd and time anachronisms in another action-packed and fun season of this DC series. The Blu-ray release offers a fine picture and good set of special features.
What people say... Login to rate
Be the first to leave a review.
Show more