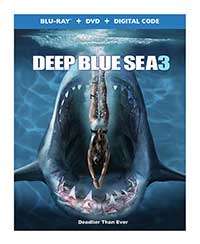 Deep Blue Sea 3 – the third film in one of the most unlikely franchises running – arrives helmed by John Pogue, who has previously directed some underwhelming horror/thriller films like The Quiet Ones and Blood Brother. It's not surprising then that Pogue would be tapped to bring this film to fruition. Let's get some thigs out in the open – the original film was certainly no testament to great filmmaking, but it was a fun popcorn flick that pushed the boundaries of visual effects for its time. Two films later (and I find it difficult to fathom who is asking for more of these films) and the idea doesn't even feel fun anymore. Furthermore, the production values have dropped off tremendously. Right from the opening scene there is a sequence of tacky CGI effects that only serve to remove one from the fantasy.
This story from a Dirk Blackman (Underworld: Rise of the Lycans) screenplay follows marine biologist Emma Collins (Tania Raymonde) and her team off the coast of Mozambique studying the effects of climate change on Great White sharks and she finds herself and her team confronted by a group of three bull sharks that have been genetically modified to be hyper-intelligent and super-aggressive.
From the standpoint of horror and action, Deep Blue Sea 3 provides little sustained terror on either count, although the strengths of the underwater diving sequences are where the film lies, it throws some gore in your face in the most expected places. The subplots about 'big pharma' and the experiments on the sharks as a means to population control seem just tacked on as a strained way to push the narrative forward when the film slows down – and there are plenty of slow bits.
Ultimately, however, given the bad dialogue ("You not shark!"), the obviously low-quality CGI effects, and messy story arc, this is just a sequel that really flops even as mindless entertainment. There are plenty of other better movies in this shark genre that build up tension, have better visual effects, and much better action and kinetic energy, such as The Meg that would be time better spent.
The Video
The film comes to Blu-ray Disc with a reference-quality AVC 1080p encodement from Warner Bros. The bright and sunny daylit scenes look appropriately warm like one could feel the sunlight on one's skin. Underwater, things look a bit murky, but that is an unavoidable consequence of underwater photography. There are no issues with compression noise or edge enhancement, but some of the CGI effects show a bit of noise and aliasing.
The Audio
Deep Blue Sea 3 comes with an English DTS-HD Master Audio 5.1 audio mix that offers some deep low end, clear dialogue, and a great, aggressive mix of sounds that fully utilize the surround channels. The underwater sequences ironically yield some of the best aural moments.
The Supplements
Deep Blue Sea 3 comes with only two on-disc bonus features that go behind the scenes on the production, offering up some interviews with the cast and crew and a look at the making of the film. There is also a DVD and Digital Code included.
Deep Blue Sea 3: Fight to the Death (1080p)
Sinking Sets and Sharks: Making Deep Blue Sea 3 (1080p)
The Final Assessment
This third film in what is one of the most unlikely film franchises around is full of plot holes, an uninspired screenplay, and unbelievable visual effects. This Blu-ray release continues to prove what the format has been proving for 14 years now, that it can provide fantastic picture and sound even for a not so great movie.
Deep Blue Sea 3 is out on Blu-ray August 25, 2020 from Warner Bros.
---
The Creative Content: 1.5/5
The Video: 4.0/5
The Audio: 4.0/5
The Supplements: 2.0/5
Rating Certificate: R (for some violence, bloody images, and language)
Studios & Distributors: Roserock Films | Warner Home Entertainment
Director: John Pogue
Written By: Dirk Blackman
Run Time: 100 Mins.
Street Date: 25 August 2020
Aspect Ratio: 2.39:1
Video Format: AVC 1080p
Primary Audio: English DTS-HD MA 5.1
Secondary Audio: French DD 5.1 | Spanish DD 2.0
Subtitles: English SDH | French | Spanish