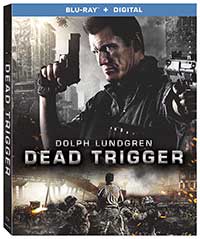 Dead Trigger is the 2017 action flick based on the videogame starring Dolph Lundren. Pretty much all you need to know about the story happens in the first twenty-minutes. A mysterious virus kills billions and causes the zombie apocalypse. A nefarious corporation develops a videogame, "Dead Trigger," to simulate the zombie outbreak as a means to secretly recruit soldiers to fight the zombies. Mercenary Kyle Walker (Dolph Lundgren) and his team are brought in to lead a crew of these recruits into the heart of the zombie outbreak to rescue a doctor who supposedly has a cure and their commanding officer's daughter. Mayhem and bloodshed ensue.
There is not much else to Dead Trigger. It lacks the gravitas of a zombie series like The Walking Dead or the wit of Z Nation and sticks to all of the tropes of the zombie and videogame genres. The issues are that videogame play doesn't quite keep one's attention in a low budget movie with no real storyline when one cannot be involved in the gameplay and the zombie tropes are so cliché that nothing is surprising. Dolph Lundgren is the only real reason to watch this movie, if you're a big enough fan of his form of action films, but even Lundgren can't seem to rescue a screenplay that is woefully confused and obviously messed about with too much, or carry a cast of well-meaning actors who ham it up way too much.
The Video
Dead Trigger is pretty straightforward, low budget film visually, so nothing really stands out in its digital production on this 2.40:1 AVC 1080p encodememt. Colors look natural and detail and contrast are solid. Some banding can be seen, but there is no digital noise and no motion artifacts.
The Audio
Dead Trigger comes with an English DTS-HD Master Audio 5.1 mix as the sole audio option. For an action flick it is a rather subpar mix that does not do much with the surround channels or LFE channel. Apart from that, the dialogue is clear and stereo imaging is good, although the high frequencies on the gunshots could have been scaled back a tad.
The Supplements
This Blu-ray Combo release comes only with a digital code and DVD, but there are no on-disc special features beyond trailers for other Saban/Lionsgate home video releases.
The Final Assessment
There are no real surprises and no great special effects in this zombie flick that seems more like an excuse to market a videogame and put Dolph Lundren in something. The Blu-ray from Lionsgate is barebones, looks and sounds good, but not great, a step above streaming, but maybe not exactly worth purchasing.
Dead Trigger is out on Blu-ray Combo & DVD July 2, 2019 from Lionsgate
---
R (for bloody violence throughout)
Rating Certificate
Aldamisa Entertainment | Badhouse Studios Mexico | Distant Shore Films | Madfinger Games | Tadross Media Group | Voltage Pictures | Saban Films | Lionsgate
Studios & Distributors
Mike Cuff | Scott Windhauser
Director
Heinz Treschnitzer (story & screenplay) | Mike Cuff (screenplay) | Scott Windhauser (rewrite) | Madfinger Games (based on the videogame created by)
Writer
$21.99
MSRP
English DTS-HD MA 5.1
Audio
English SDH | Spanish
Subtitles
Summary
When a viral outbreak causes the zombie apocalypse, a nefarious corporation creates a videogame called "Dead Trigger" mirroring the terrible events to recruit people to fight the zombies. Kyle Walker (Dolph Lundgren) and his team from CSU are called in to lead a group of these recruits to go into the heart of the zombies to rescue a doctor with a cure for the outbreak in this low budget movie based on the videogame that has a confusing screenplay, not much of a story, and obviously low budget visual effects.
What people say... Login to rate
Be the first to leave a review.
Show more