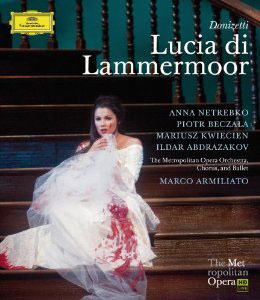 Click thumbnails for high-resolution 1920X1080p screen captures
(The below TheaterByte screen captures were taken directly from the Blu-ray Disc and losslessly compressed in the PNG format. There should be no loss of picture quality with this format. All screen captures should be regarded only as an approximation of the full capabilities of the Blu-ray format.)
The Performance
[Rating:4/5]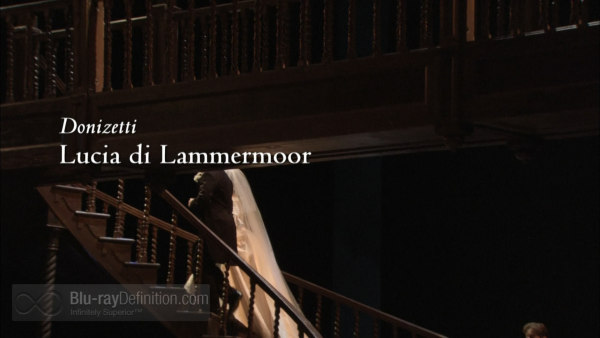 The Metropolitan Opera has a long performance history with Gaetano Donizetti's Lucia di Lammermoor and the title role has been essayed by some of the greatest sopranos who have ever graced its stage. This 2009 Mary Zimmerman-directed production was to have been a star-studded vehicle for soprano Anna Netrebko (returning to the Met after giving birth to her first child) and tenor Rolando Villazon. Unfortunately, Villazon encountered serious vocal problems and was replaced by Piotr Beczala who took over the role of Lucia's lover, Edgardo. The remaining cast features some rising young voices in the roles of Enrico, Lucia's brother (baritone Mariusz Kwiecien) and Father Raimondo (bass Ildar Abdrazakov). The Metropolitan Opera Orchestra and Chorus receive tender loving care from the baton of Maestro Marco Armiliato.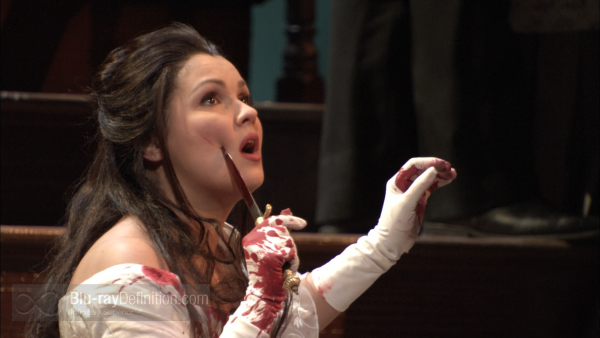 Based on Sir Walter Scott's novel, The Bride of Lammermoor, the opera opens on the Scottish moors where an intruder (actually Edgardo) has been spotted. Enrico is determined to end his sister's love affair. Lucia awaits her beloved Edgardo who pledges his love as the couple exchange rings, hoping to mend the rift between their families when he returns from France.
Enrico has arranged for Lucia to marry the wealthy Arturo Bucklaw (tenor Colin Lee) to save their family fortunes. He shows Lucia a forged letter stating that Edgardo has found a new lover. Father Raimondo adds his support to this arranged marriage. Arturo arrives at the castle and, along with a reluctant Lucia, signs the wedding contract. Edgardo suddenly appears but when he finds out that Lucia is to marry Arturo, he curses her and tramples his ring.
Later, not fully satisfied with the outcome of his schemes, Enrico challenges Edgardo to a duel at dawn in the Ravenswood cemetery. The wedding celebration is in progress when Lucia enters. She has gone insane and has murdered her bridegroom. At the conclusion of her famous "mad scene," Lucia collapses amidst the wedding guests. Among the tombs of his ancestors, Edgardo has resolved to die at Enrico's hand but when Raimondo tells him that Lucia has died, he stabs himself with his dagger.
Video Quality
[Rating:4/5]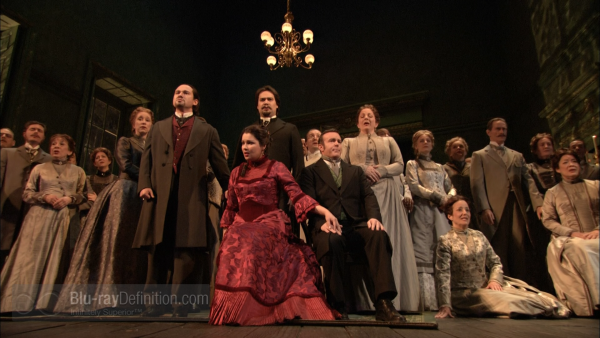 Gary Halvarson who has assumed the video director's reins favors very frequent close ups and angled stage shots. These points aside, the cameras do follow the action reasonably well. The picture was a little softer than expected while the colors seemed a little muted, probably due to the set lighting. Costumes are mostly Victorian and, in the Met's tradition, beautifully realized. There were some visually campy touches: the famous Act II sextet staged as an uncomfortable bridal group photo session or the spectral girl at the fountain in Act I. What absolutely did not work was having Lucia's ghost show up to assist Edgardo's suicide in the final scene.
Audio Quality
[Rating:4.5/5]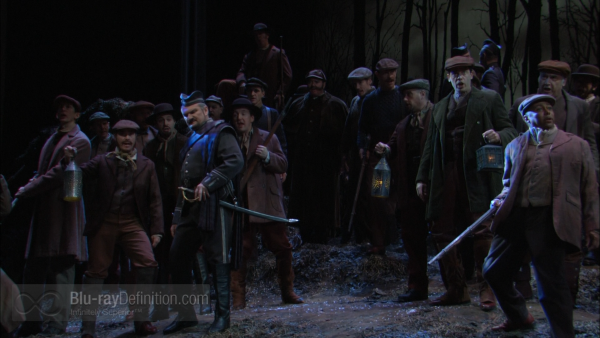 This is a very natural sounding DTS-HD Master Audio 5.1 surround track. The spacious acoustic of the Met's huge house is given its due. The 2-channel option is good but not as atmospheric. Hearing the unusual sound of the glass harmonica during Lucia's mad scene yielded the creepy accompaniment that this aria needs.
Supplemental Materials
[Rating:2.5/5]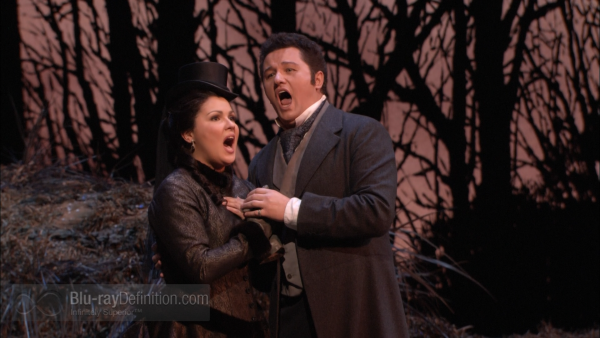 There is a brief spoken introduction by soprano Natalie Dessay who debuted as Lucia when this production was new in 2007.  Eighteen minutes of intermission interviews hosted by Ms Dessay follow with cast members Netrebko, Beczala, Kwiecien, Abdrazakov, maestro Armiliato, director Zimmerman, and technical director Paul Masck and master electrician Paul Donahue. A program booklet provides a background essay about this production, a synopsis with vocal tracks, and cast listing.
The Definitive Word
Overall:
[Rating:4/5]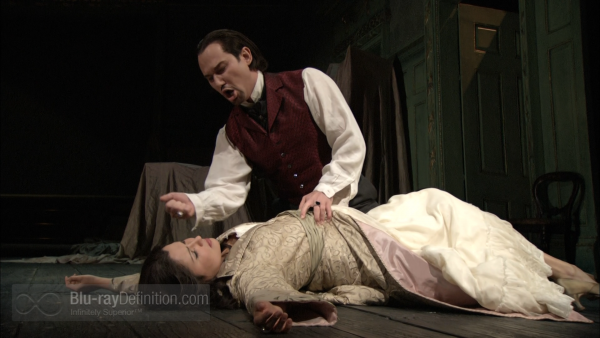 The Zimmerman production drew some criticism for its stage design and excessive dramatic "business" two years before this "Live in HD" Met performed was recorded. Having seen this production both live and on the big screen, I can attest that, while rather dark (quite suited to the opera's mood) it really works quite well. The Netrebko voice and dramatic style are quite solid, although she tossed in a couple of extraneous and unfortunate high E's at the end of her big Act III area. What makes this Lucia di Lammermoor, the only available Blu-ray version, really worth getting are the unusually strong contributions of the male leads who were making their role debuts at the Met and maestro Benini's sympathetic musical leadership from the pit.
Additional Screen Captures
[amazon-product region="uk" tracking_id="bluraydefinit-21″]B00BJGXRP4[/amazon-product]
[amazon-product region="ca" tracking_id="bluraydefinit-20″]B00BJGXRP4[/amazon-product]
[amazon-product]B00BJGXRP4[/amazon-product]
Purchase on Blu-ray at CD Universe
Shop for more Blu-ray titles at Amazon.com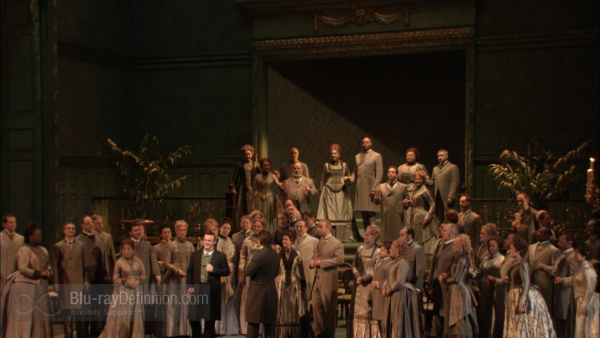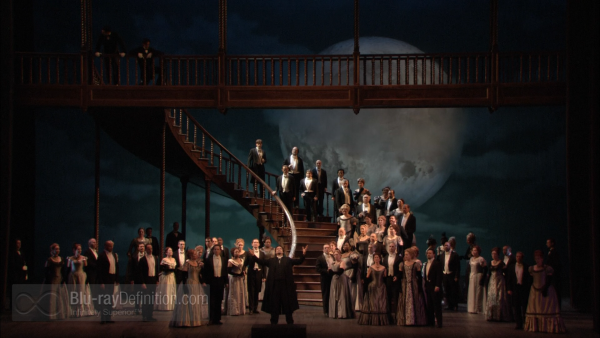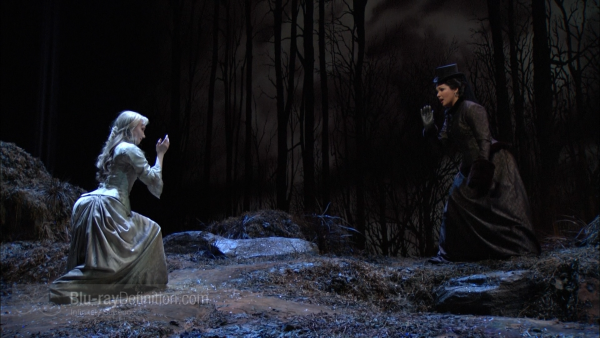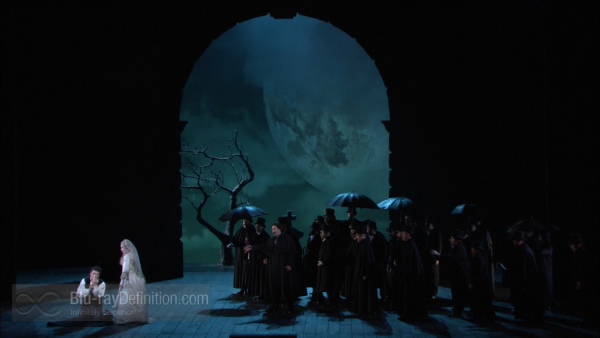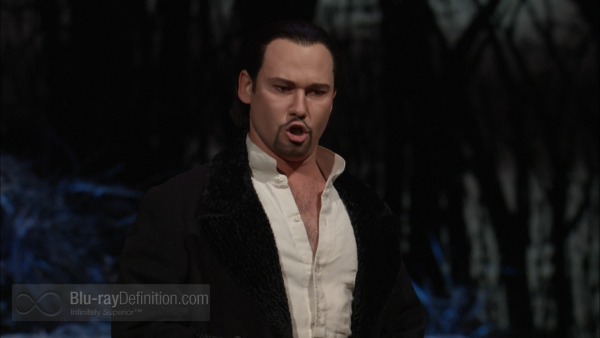 [amazon-product region="uk" tracking_id="bluraydefinit-21″]B00BJGXRP4[/amazon-product]
[amazon-product region="ca" tracking_id="bluraydefinit-20″]B00BJGXRP4[/amazon-product]
[amazon-product]B00BJGXRP4[/amazon-product]
Purchase on Blu-ray at CD Universe
Shop for more Blu-ray titles at Amazon.com
Overall
[Rating:4/5]
The Performance
[Rating:4/5]
Video Quality
[Rating:4/5]
Audio Quality
[Rating:4.5/5]
Supplemental Materials
[Rating:2.5/5]