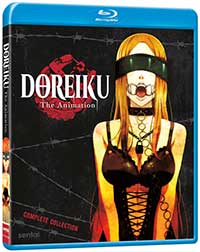 Doreiku: The Animation is based on the Japanese novel series Dorei-ku: Boku to 23-nin no Dorei (Japanese: 奴隷区 僕と23人の奴隷, lit. "Slave District: 23 Slaves and Me") written by Okada Shinichi. There is also a manga series illustrated by Ōish Hiroto based on the novels.
Doreiku: The Animation is a twelve-episode psychological thriller with elements of science fiction set in Tokyo that follows two main characters, the streetwise female Arakawa Eia and the somewhat dubious hustler, male character Ohta Yūga. The two meet each other in a restaurant and become entwined in an underground, cult-like game involving a mysterious gadget called an SCM (Slave Control Method). Worn in the mouth like a retainer, there are two parts to the device. Two people each place one in their mouth and agree to a game or duel, agreeing upon what the duel will be and what the rules are. Once it is agreed the duel has begun, they each feel the device vibrate; the loser then becomes the slave of the winner of the duel, unable to disobey their commands. Attempting to remove the SCM results in painful withdrawal for the slaves, madness, and eventually death.
Yūga convinces Eia to partner with him on his journey through the world of SCMs when he sees how perceptive and streetwise she is although she is not an SCM user herself. She wants her to act as a failsafe, should he ever use a duel to rescue him, promising that he only wants to test himself and he will release any slaves he obtains. Eia eventually agrees, but it isn't long before she realizes that Yūga is more maniacal and obsessed with SCMs than he originally let on. The pair eventually come up against other mastermind SCM users who want to battle and gather as many slaves as possible for unknown endgames, and Eia ends up more drawn into the underworld than she initially planned.
From the cover art of this Blu-ray release, one might expect to get a full-on ecchi series, and while there are a few moments where Doreiku: The Animation dabbles with some light S&M, it pretty much avoids that obvious trope and dives more into an exploration of obsession over ultimate power and the combatants motives for using SCMs, whether they be trying to force someone to love them, to get revenge, or just power for power's sake.
The mystery and duels are what keep Doreiku afloat even as the halfway point of the series takes a turn that puts it on a cliché story arc, and flips the script changing the power dynamic between the protagonists, which is simultaneously enjoyable, but not unforeseen, but a plot twist is squandered, especially the ultimate baddy pulling the strings that our two protagonists are being manipulated by. There's something very anticlimactic about how the series resolves itself.
The Video
The digital animation for Doreiku: The Animation comes to Blu-ray in what looks to be a pristine 1.78:1 AVC 1080p encodement from Sentai Filmworks. I had no complaints about the color saturation, details, noise, or any sort of aliasing or motion artifacts.
The Audio
Both the original Japanese-language mix and an English dub for Doreiku: The Animation are provided in DTS-HD Master Audio 2.0. From a purely audio perspective, the sound on the stereo mixes is fantastic. The stereo imaging on sound effects and the audio score is so wide and well placed with such good dynamic range, there more than a few times I had to check to make sure my system wasn't accidently up-mixing the audio to surround. The effects and balance for the dialogue sounds consistent across both tracks. I usually prefer the Japanese to English dubs, but in this case I will say that the Dub, while not better than the Japanese, is almost equally enjoyable and well-performed.
The Supplements
Only the clean opening & closing animations plus additional Sentai Filmworks trailers are included.
The Final Assessment
If you haven't read the novels or manga, then Doreiku: The Animation will not what you'll be expecting just based on the cover art. It's an enjoyable psychological thriller, but certainly not one that ever rises to the level of something like Death Note or Psycho-Pass, just as examples. There's a lot of potential left unexplored here, especially the central conflict, that said it's a good distraction with excellent animation.
Doreiku: The Animation is out on Blu-ray April 23, 2019 from Sentai Filmworks
---
Zero-G | TNK
Animation Studio
Sentai Filmworks (North America)
Distributor
$69.98
MSRP
Japanese DTS-HD MA 2.0 Stereo
Audio
English DTS-HD MA 2.0 Stereo
Secondary Audio
Summary
Perceptive and streetwise Arakawa Eia meets the somewhat dubious hustler Ohta Yūga who possesses a device that allows one to take complete control over someone else, making them a willing -- or unwilling -- slave should they lose in a duel, the SCM. Yūga convinces Eia to be his partner as he tests himself in the underground world of SCM duels, acting as his failsafe and her powers of perception will be pushed to their limits even as she begins to regret ever learning of the devices. A psychological thriller that skips the obvious chances for ecchi, Doreiku also leaves a lot of potential wasted, despite being a somewhat clever exploration of power dynamics and the ability of ultimate power to corrupt. THe Blu-ray release from Sentai Filmworks is top-notch.
What people say... Login to rate
Be the first to leave a review.
Show more