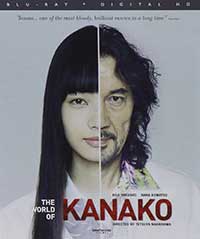 Nakashima Tetsuya's (Confessions, the 2011 Japanese submission for the Academy Award) The World of Kanako can only be described as a visceral, modern film noir thriller. Relentlessly unforgiving, violent, uncompromising, and visually mesmerizing courtesy of director of photography Atô Shôichi, the film traces the story of ex-detective Akikazu (Yakusho Kôji, 13 Assassins, Babel) who, at the behest of his estranged wife, is on the hunt for his teenage daughter Kanako (played incredibly by the young newcomer Komatsu Nana) who has been missing for four days. Akikazu is a drunkard who, as we soon find out when he rapes and beats up his wife as payment for tracking down their daughter, is an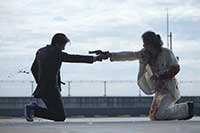 abusive lowlife. Ironically, he's exactly the kind of person suited to pursue his daughter, because as he further investigates her missing, he finds himself deeper and deeper in a shady underworld of yakuza, drugs, and sex trade, finding that the daughter he thought innocent was leading a double life right under his nose.
The World of Kanako is a twisting, mind-boggling psychological journey that is powered by an A+ performance from Yakusho who is appropriately unhinged. This is sort of like a modern-day Alice through the Looking Glass, if the former were a decent into the underbelly of society. Kanako is subversive, using sexuality to expose corruption and drug abuse in the highest orders of Japanese society.
The Video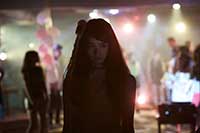 The World of Kanako was shot in 4K on the Sony CineAlta PMW-F55 with Zeiss Master Prime, Fujinon Premier and Angenieux Optimo lenses. It arrives on Blu-ray in a gorgeous 1080p AVC encodement from Drafthouse Films that is detailed and crisp without being noisy, filmic without an excesses of video noise, and has deep blacks without giving way to black crush.
The Audio
The Japanese DTS-HD Master Audio 5.1 soundtrack is rich in sound effects and atmospherics, has good low-end extension and clear, full dialogue. The gunshots (and there are plenty) ring out through the soundstage authoritatively without sounding harsh or fatiguing, punches land with solid thuds, and the balanced, subtle yet engaging mix really places us into this chaotic and surreal world.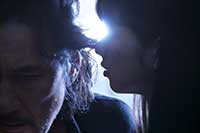 The Supplements
28-page booklet with essay, artwork and credits
DRM-free 1080p Digital Copy
Reversible Sleeve Art
Exclusive, eye-popping 11×17″ fold-out poster by comic superartists Tradd Moore and Felipe Sobriero
The Making of The World of Kanako (1.78:1; 1080p/24; 00:31:25)
Interview with actress Nana Komatsu (1.78:1; 1080p/24; 00:34:46)
Interview with author Akio Fukamachi (1.78:1; 1080p/24; 00:07:51)
Trailers:

Theatrical Trailer
Teaser Trailer
Additional Drafthouse Films Trailers
The Final Assessment
The World of Kanako grabs you by the throat, holds you down, and punches you in the gut. It's a virtually nonstop thrill ride artfully crafted in a world of its own where the lines blur between good, bad, and the really bad. Newcomer Komatsu Nana puts on an incredible display of seething, manipulative sexuality and holds her own on screen against veteran actor Yakusho Kôji in this visually stunning offering.
The World of Kanako (TheaterByte Blu-ray Review)
Drafthouse Films
Studios & Distributors
Nakashima Tetsuya
Director
Fukamachi Akio (novel), Nakashima Tetsuya, Miako Tadano, Monma Nobuhiro
Writer
$29.93
MSRP
Japanese DTS-HD MA 5.1
Audio
Summary
The World of Kanako is a mesmerizing and visceral modern film noir that draws you into its violent and off-kilter world. The Blu-ray release from Drafthouse Films is top notch.
What people say... Login to rate
Be the first to leave a review.
Show more