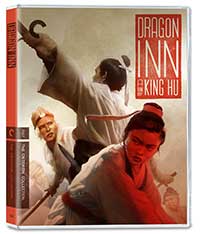 King Hu left his contract in Hong Kong with the famed Shaw Brothers studio and moved to Taiwan where, by 1967, he went on to write and direct what many consider one of, if not the, definitive wuxia film, Dragon Inn. Hu's film pretty much laid the ground work for the many archetypes that still populate the genre today, from the Eunuch, the Swordsman, and the Family of Murdered Loyal Officials. It also helped to break down the boundaries of what roles could be inhabited by a female performer.
Set in the middle of the Ming Dynasty, the powerful eunuch Cao (Ying Pai) kills the Loyal Minister Yu and exiles his two children to a border town. But Cao isn't done with them yet; he intends to end the Minister's bloodline once and for all by assassinating his two children at the Dragon's Gate Inn, but the plans go awry when Xiao (Jun Shih) the honorable swordsmen loyal to Minister Yu turns up at the Dragon's Gate Inn and thwarts his plans.
From that point, Xiao engages in a series of epic and bloody battles against the deadly forces of the ruthless eunuch. Dragon Inn is a masterpiece of cinematography and martial arts choreography, touching on all the classic elements of wuxia filmmaking, most of them begun right here. The swordplay is very skillful and the characters are allowed an amount of depth that, while certainly not on the level of any serious drama, is beyond that of the usual for these sorts of films.
Dragon Inn is a must for any serious fan of Asian Cinema and wuxia films.
The Video
This Criterion Collection release is the same 2013 restoration that was previously released by Masters of Cinema in the UK. It is a 2013 restoration commissioned by the Ministry of Culture and Chinese Taipei Film Archive as part of the Taiwan Films Classics Digital Restoration and Value-Adding Project. The new digital restoration was undertaken under the supervision of cinematographer Hua Hui-ying in 4K resolution on an ARRISCAN Archive GUI film scanner from the original 35mm camera negative. L'Immagine Ritrovata in Bologna, Italy restored the picture element using Revival from DeVinci/Blackmagic and Digital Vision's Phoenix.
The restoration of Dragon Inn looks breathtaking in this AVC 1080p encodement on Blu-ray from the Criterion Collection. Colors are wonderfully saturated without being excessively done, the image is bright, shadows have extended detail, and we get a crisp, organic layer of grain without noise. If you haven't already purchased the UK edition from Masters of Cinema, then definitely pick this one up, but if you have the Masters of Cinema and don't need the supplements or aren't a completist, then you can also be fine with the identical video and audio on that edition as well. Either one is a pleasing rendition.
The Audio
The original monaural soundtrack was restored from the 35mm original sound negative on a COSP Xi- 2K optical scanner and remastered by L'Immagine Ritrovata. The soundtrack is provided in Mandarin LPCM 1.0  (the Masters of Cinema release comes with a LPCM 2.0 Mono track of the same remaster). Sound is as good as to be expected given the age and genre. While dynamics are a bit constrained, the sound is basically clean and there isn't too much clipping.
The Supplements
This is where this Criterion Collection edition excels. While this release isn't as abundant in extras as many other releases from Criterion, the quality of what is on the disc is superb and outstrips the 2015 Masters of Cinema release in quantity as well.
The Phoenix Rises (1.78:1; 1080p/24; 00:10:29) – Conducted in 2018 by the Criterion Collection, this interview features actor Shangkuan Ling-fung recalling her work on Dragon Inn with director King Hu
Making History (1.78:1; 1080p/24; 00:10:59) – Filmed in 2016, this Criterion Collection program featuring Shih Chun details the actor's experiences making this film.
Art in Action (1.78:1; 1080p/24; 00:25:41) – In this 2018 Criterion Collection program, Grady Hendrix, author and cofounder of the New York Asian Film Festival, discusses director King Hu's aesthetic sensibility via analysis of a scene from this classic wuxia film.
Premiere Newsreel (2.35:1; 1080p/24; 00:01:50) – Filmed in 1967 in Taipei, this newsreel footage details he box-office success and cultural impact of Dragon Inn upon its release.
Trailer (2.35:1; 1080p/24; 00:01:59)
Essay by film critic Andrew Chan printed on a foldout "poster"
The Final Assessment
Watch this 1967 classic and see where most of what you know about wuxia films today got their spectacular start. This beautiful 4K restoration from 2013 provided on Blu-ray by Criterion Collection is a must for genre fans.
Dragon Inn is out on Blu-ray & DVD July 10, 2018 from the Criterion Collection
Union Film Company | Janus Films | Criterion Collection
Studios & Distributors
Summary
An honorable swordsman (Chun Shih) fights numerous battles to save the lives of a family ordered dead by a corrupt Eunuch of the emperor in this visually stunning and innovative film from King Hu, which gave birth to the modern wuxia martial arts genre. This 2013 4K restoration out of Taiwan, provided here by the Criterion Collection on Blu-ray breaths new life into the film with a vivid array of colors, warmth, and natural film textures.
What people say... Login to rate
Be the first to leave a review.
Show more