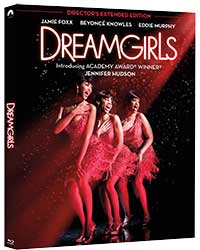 In 2006 Bill Condon brought his adaptation of the smash hit Broadway musical Dreamgirls to the big screen. Paramount now reissues Dreamgirls Director's Extended Edition in a Blu-ray Combo Gift Set with. The new version of the film adds in 10-minutes of additional and extended scenes included one new performance previously cut from the theatrical release and an immersive DTS:X audio mix.
Dreamgirls starred Beyoncé, Golden Globe Winner Eddie Murphy, Jennifer Hudson in her Academy Award-winning breakout role, and Jamie Foxx. The story closely mimics the story of Diana Ross and the Supremes and the founder of Motown Records, Berry Gordy. Set in the 1960s, it follows a trio of black female friends and singers in Detroit — Effie (Hudson), Lorell (Anika Noni Rose), and Deena (Beyoncé Knowles) who rise to success when an ambitious manager, Curtis Taylor, Jr. (Foxx) discovers them at a talent show and gets them a job as backup singers for successful R&B artist James "Thunder" Early (Murphy in a role that seems an amalgamation of James Brown, Marvin Gaye, and Stevie Wonder). Eventually as their own act, The Dreams, with Effie as the lead singer, the women start to find even greater success, but troubles arise as Curtis makes Deena the lead singer to water down their sound and get them to crossover to the pop charts (read: appeal to white audiences). More personal problems arise as personal relationships get in the way, Curtis' new label grows, and jealousies break the group apart.
Having seen Dreamgirls on Broadway with its original cast with Jennifer Holiday (who scored a hit with "I Am Telling You I'm Not Leaving") in the role of Effie, I can say that Hudson did a darn good job filling those shoes. That said, bringing a Broadway musical to the screen is always a tricky proposition, and Dreamgirls is not entirely successful. The storyline about a girl-group trio that is suspiciously like the Supremes and a cutthroat record exec very similar to Berry Gordy loses the immediacy of a live event and becomes more kitschy, especially once one sees the added bonus of a Jackson 5 knockoff who also perform music that is the most authentic sounding for the era the film is set in.
The standout at every turn is Jennifer Hudson who puts in not only a wonderfully nuanced acting performance, but also lays down a stunning version of what is the production's signature ballad, "I Am Telling You I'm Not Going," proving she not only had the pipes, but that she had the acting chops.
Visually, Dreamgirls is stunning on the screen thanks to cinematographer Tobias A. Schliessler, production designer John Myhre, and costume designer Sharen Davis. This is a glitzy, lavishly lit and costumes glitter against magnificent detailed backdrops.
The Video
This 2006 film version of the Broadway hit is one that really deserves a 4K Ultra HD with HDR update giving its dazzling visuals. That said, Dreamgirls on Blu-ray in this AVC 1080p encodement looks gorgeous nonetheless. It was originally shot on 35 mm Kodak Vision2 200T 5217 and Vision2 500T 5218 film stock in the Super 35 format and the film grain is nicely preserved. Colors are well saturated and contrast strong with nothing looking overblown. The black levels are inky with the slightest hint of crush, but overall shadow detail remains strong.
The Audio
Dreamgirls Director's Extended Edition gets a fantastic new immersive DTS:X mix on Blu-ray from Paramount. This is a musical, so one should not go into this expecting an aggressively discrete sound mix like an action movie. What it is a wonderfully balanced mix with deep and musical low-end and 'X' channels that add in lots of atmosphere and sense of space and height. There's one scene where the sound of news reports and sirens are aggressively panned around the room and through the height channels in a circular pattern. The vocals are all clean and full and instrumentation is detailed, well separated and dynamic.
The Supplements
The auditions and screen tests of Jennifer Hudson are interesting inclusions on the Dreamgirls Director's Extended Edition, but the booklet with song lyrics is the best addition to this release.
Digital HD UltraViolet
DVD
Jennifer Hudson Auditions and Screen Tests:

Audition: Can He Even Sing (1.33:1; 1080p/24; 00:00:48)
Audition: What About Me (1.33:1; 1080p/24; 00:02:04)
Audition: And I Am Telling You I'm Not Going (1.33:1; 1080p/24; 00:04:04)
Screen Test: And I'm Telling You I'm Not Going (1.78:1; 1080p/24; 00:04:42)

Booklet with song lyrics, photos, and a note from the director in a "Blu-ray Book" gift set packaging.
The Final Assessment
Dreamgirls looks superb and sounds even better. The film plays just as well with the additional 10-minutes, so I can't really say the Director's Extended Edition makes it much stronger film – it's still a flawed guilty pleasure sort of work. The sound and visuals are the strengths of this film and it sounds amazing in this new DTS:X version. The HD looks beautiful, but one would hope a 4K Ultra HD with HDR would be issued someday.
Dreamgirls Director's Extended Edition Blu-ray Combo Gift Set Available From Paramount October 10, 2017
[amazon_auto_links id="105334"]
PG-13 (for language, some sexuality and drug content) (Theatrical) | Not Rated (Director's Extended Cut)
Rating Certificate
DreamWorks | Paramount Pictures | Laurence Mark Productions | Paramount Home Entertainment
Studios & Distributors
Tom Eyen (based on the original broadway production book by) | Bill Condon (screenplay)
Writer
130 Mins. (Theatrical) | 140 Mins. (Director's Extended Edition
Run Time
$16.99
MSRP
English DTS:X (DTS 5.1/7.1 Compatible)
Audio
English | English SDH | French | Spanish | Japanese
Subtitles
English DTS Headphone:X | French DD 5.1 | Spanish DD 5.1 | Japanese DD 5.1
Secondary Audio
Summary
Three black female friends from Detroit rise to stardom as a singing group in the 1960s with the help of driven manager who starts his own music label, but fame, the pressures of crossing over to a white audience, and personal relationships eventual lead to the group's disintegration in this original Broadway smash hit that closely mirrored the story of the Supremes and Berry Gordy. The film garnered an Oscar award for then newcomer Jennifer Hudson, fresh off her appearance on American Idol and also starred Jamie Foxx and Eddie Murphy in a role that was an amalgamation of R&B icons James Brown, Marvin Gaye, and Stevie Wonder.
What people say... Login to rate
Be the first to leave a review.
Show more