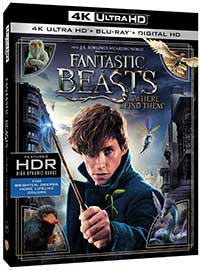 Just as it was inevitable that The Lord of the Rings franchise would eventually reach back to Tolkien's The Hobbit to extend that colossus of a money-making franchise for Warner Bros. it was also inevitable that the juggernaut that was J.K. Rowling's Harry Potter would find itself being resurrected by Warner Bros. Not to pick on Warner Bros., because every studio does it with their major franchises, just look at Disney now that Star Wars is in their fold. So, some five years after the final Harry Potter film, Harry Potter and the Deathly Hallows: Part 2, we get Fantastic Beasts and Where to Find Them from J.K. Rowling's book of the same name.
Fantastic Beasts is a prequel of sorts to the world of Harry Potter, taking viewers back to 1926, New York. We're no longer in Scotland at Hogwarts, but now in a more grown up world, perhaps leveraging the fact that many of Rowling's YA readers have now grown up as well. The story follows magizooligist Newt Scamander who travels to New York as part of his efforts to collect and in some cases reintroduce into their natural habitats rare magical beasts that are facing extinction. He keeps the beasts in his magical suitcase, which on the outside appears like any ordinary leather case, but on the inside is a vast world capable of holding thousands of beasts – think Doctor Who and the TARDIS. Unfortunately, Newt's briefcase gets opened and some of his creatures get loose in New York City, a place that is already on the brink of disaster, where the magical world and the No-Maj's (the American word for Muggles, or people with no magical abilities) are about to bleed into one another. Making the tensions rise are a group of heredity magical people, The New Salemers, who have purposely bred all the magic out of themselves and are protesting against all magic and the wizarding world. Meanwhile, a magical terrorist threatening to expose the wizarding world to the world of the No-Maj's is on the loose.
Scamander comes under the scrutiny of a disgraced wizard, Tina Goldstein (Katherine Goldstein) who wants to arrest him and bring him in to the magical authorities to help raise her status, but instead she and her sister, the alluring Queenie (Alison Sudol) get involved with helping Scamander and Kowalski, a hapless No-Maj who's entangled in the whole affair after he mistakenly swaps suitcases with Scamander, in trying to recover the magical creatures while also trying to solve the sudden spate of dark magical attacks occurring across the city that authorities believe are linked to Scamander's beasts, but he is adamant can't be.
Fantastic Beasts does contain some of the darkness that was pervasive in the last two or three Harry Potter films, but it is also a film that is sort of like two different films in one. There is the happy-go-lucky fantasy film with newt Scamander and his clueless sidekick Kowalski tracking down his funny beasts like a rhinoceros-like creature who falls heavily in love, let's say, after a vial of pheromones is unleashed, then there is the darker undercurrent of dark magic and something nefarious afoot as personified by the character portrayed by Colin Farrell, whose very name "Graves" alludes to something wicked to come.
Fantastic Beasts is best when Newt Scamander, Tina Goldstein, and Kowalski are off on a quick-paced adventure and the fun and visual effects are allowed to take prominence. Director David Yates, who directed a few of the Harry Potter films, seems more than capable of delivering the world anew and bringing a freshness yet maintaining some familiarity, yet the screenplay from Rowling is a bit unfocused, perhaps owing to the unclear path the characters are meant to take. This is no longer a coming of age story and we already know what happens decades later across the proverbial pond. The mistake was trying to wedge a more mature story explaining some of the wizarding world things, like the taboo of romance between "No-Maj's" and wizards and the laws governing performing magic in public set against a pre-World War II backdrop with something more appealing to youngsters to draw in a new future stream of revenue. It didn't quite click, but it wasn't also a total failure. It just never reached the same magical heights of the Harry Potter films, although there is plenty of magic to be found here.
The Video
Fantastic Beasts was shot on the Arri Alexa XT Studio at 3.4K resolution in the anamorphic format and a 4K DI (Digital Intermediate) was used for post-processing effects. The 4K Ultra HD Blu-ray arrives in a 2.40:1 framed 2160p HEVC encodement with HDR10 HDR (High Dynamic Range). Like a typical world of Harry Potter film, this one is set in a rather dark world with desaturated colors that don't exactly 'pop', but this 4K transfer looks gorgeous and apt for the so-called 'wizarding world'. The detail is impeccable and there is a clear filmic quality in the image. The HDR is applied beautifully. While there is come subtle crush in the darkest of scenes some of it is due to artistic intent, such as when Colin Farrell and Ezra Miller have a conversation in a dark alley; this scene is an example of how beautifully the HDR is applied throughout. They stand completely silhouetted and blacked out while bright lights peek out around the edges and light up corners. Other places show some great dynamic contrast as well, especially during the magical fights with the wands.
The Audio
Fantastic Beasts gets a Dolby Atmos mix that is spacious and encompassing. There is a fine balance between the front channels, Atmos channels, and surround and surround back channels. There are lots of atmospherics and a great sense of added depth and height as the action commences. Dialogue remains clear through all the intense scenes. It has good low-end extension that rattles the floorboards without overwhelming the other frequencies. The big battle between Scamander and Graves is one highlight scene as is the scene where Scamander and friends try to round up the giant serpent-like Occamy.
The Supplements
This set is packed with "making of" featurettes and deleted scenes all in HD on the Blu-ray Disc. The Ultra HD Blu-ray contains only the feature film. While these featurettes are interesting to watch for their interviews with the director, author and cast, they are very promotional in feel.
Digital HD Ultra Violet
Before Harry Potter: A New Era of Magic Begins! (1.78:1; 1080p/24; 00:15:31) – Author J.K. Rowling and the crew speak of the author's Wizarding World and the new magical saga that begins with Fantastic Beasts.
Characters:

The Magizoologist – (1.78:1; 1080p/24; 00:04:14) – A look at the character played by Eddie Redmayne.
The Goldstein Sisters (1.78:1; 1080p/24; 00:05:04) – This featurette takes a look at the magical sisters at the center of Fantastic Beasts.
The No-Maj Baker (1.78:1; 1080p/24; 00:04:42) – This "No-Maj" baker who stumbles into the wizarding world is the subject of this brief featurette.
The New Salemers (1.78:1; 1080p/24; 00:04:42) – This featurette follows the nefarious family of anti-wizarding people that become the center of the story in Fantastic Beasts.
The President and the Auror – (1.78:1; 1080p/24; 00:05:37) – Two sides of the same coin, these powerful magical leaders control the wizarding world in America.

Creatures – These featurettes explore the various "fantastic beasts" in the film:

Meet the Fantastic Beasts
Bowtruckle
Demiguise
Erumpent
Niffler
Occamy
Thunderbird

Design:

Shaping the world of Fantastic Beasts (1.78:1; 1080p/24; 00:05:54)
New York City (1.78:1; 1080p/24; 00:07:25)
MACUSA (1.78:1; 1080p/24; 00:07:07)
Newt's Magical Case (1.78:1; 1080p/24; 00:04:59)
The Final Assessment
Going strictly by its production values, Fantastic Beasts and Where to Find Them is an awesome, jaw dropping film that has advanced the world of Harry Potter by leaps and bounds. That said, the story here is just a bit unfocused, but still offers plenty of magical moments. And if you watch it on this 4K Ultra HD Blu-ray you will be amazed by the video and audio quality.
[amazon_auto_links id="98468"]
PG-13 (for some fantasy action violence)
Rating Certificate
Heyday Films | Warner Bros.
Studios & Distributors
$44.95
MSRP
HEVC (H.265) 2160p (UHD) | AVC 1080p (BD)
Video
English Dolby Atmos (Compatible w/ Dolby TrueHD 7.1)
Audio
English SDH | French | Portuguese | Spanish (Latino)
Subtitles
DTS-HD MA 5.1 | English Descriptive Audio | French DD 5.1 | Portuguese DD 5.1 | Spanish (Latino) DD 5.1
Secondary Audio
Summary
The wizarding world of Harry Potter comes alive again and is expanded in this prequel that is as frustrating as it is magical, but always fantastic, eye-catching and awesome to watch.
What people say... Login to rate
Be the first to leave a review.
Show more