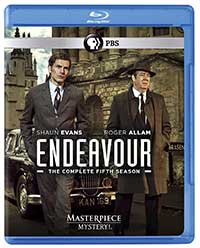 The fifth season of this always enjoyable British crime drama about the early years of 'Inspector' Morse (Shaun Evans), Endeavour, arrives with six new feature-length mysteries in Oxford for Morse and Thursday (Roger Allam) to deal with. With their department shutting down at the end of the year, both detectives are looking toward the future, Thursday with an eye toward retirement and Morse toward advancement and another department. But crime never sleeps, and quiet Oxford finds itself embroiled in a gangland turf war and a string of strange murders, including a mysterious dead woman with no shoes on a train at an abandoned rail station and a sniper shooting during a town race where a a young boy is shot. While Morse is now reluctantly mentoring a new recruit, he and Thursday must keep the sleepy town of Oxford from turning into a war zone and solve these strange murders.
As always, Endeavour is a clever balance of crime and mystery, and the personal issues of its characters. Morse is an intriguing, complex character and as we learn with each season, so is Thursday. Their personal lives are often as interesting as the incredible crimes they need to solve.
The Video
Endeavour arrives on Blu-ray in an AVC 1080p encodement of its digital source framed in its original 1.78:1 aspect ratio. As with previous seasons, it's an acceptable presentation with good color reproduction, detail, and nuance with little noise, but there are some occasional issues with banding.
The Audio
The basic 5.1 DTS-HD Master Audio mix for the series presents the sound with the audio mixed mostly across the front three channels and very little mixed into surrounds. Dialogue is clear and full.
The Supplements
Endeavour Season 5 comes with three brief featurettes that are enjoyable, but really don't add much value given the approximately 5:30 minutes total they run. One is a look a Morse and his new protégé, one is an examination of a few of the season's best scenes, and the last is a look at the costume design.
Odd Couple (1.78:1; 1080p/24; 00:02:25)
Favourite Scenes (1.78:1; 1080p/24; 00:01:32)
Costume Design (1.78:1; 1080p/24; 00:01:35)
The Final Assessment
Here's hoping for a sixth season of this always well written, character-driven mystery series. Endeavour Season 5 caries on the strength of the earlier seasons and grows the characters. The Blu-ray is a bit barebones but satisfying nonetheless.
Endeavour: The Complete Fifth Season is out in Blu-ray & DVD June 10, 2018 from PBS
Mammoth Screen | ITV Studios Global Entertainment | BBC | Masterpiece | PBS
Studios & Distributors
Brady Hood | Andy Wilson | Jim Field Smith | Robet Quinn | Geoffrey Sax | Gordon Anderson
Director
$49.99
MSRP
English DTS-HD MA 5.1
Audio
Summary
Six new intriguing mysteries and gang violence find Morse and Thursday busy trying to keep the peace in Oxford even as their lives are about to be disrupted by the shuttering of their department. The Blu-ray is barebones, but satisfying and the series continues to be well written and acted.
What people say... Login to rate
Be the first to leave a review.
Show more