Aspect Ratio: 1.85:1

Video Codec: AVC/MPEG-4

Resolution: 1080p/24

Audio Codec: English DTS-HD Master Audio 5.1 (48kHz/24-bit), French Dolby Digital 5.1
Subtitles: English SDH, French, Spanish

Region: A

Rating: R

Discs: 1

Studio: Miramax Films

Release Date: December 22, 2009

List Price: $39.99

[amazon-product align="right"]B002RFX8DC[/amazon-product]
BestBuy.com:


Purchase Extract on Blu-ray at CD Universe



Shop with us for more Blu-ray releases at Amazon.com

Overall
[Rating:3/5]
The Film
[Rating:4/5]
Video Quality
[Rating:3.5/5]
Audio Quality
[Rating:4/5]
Supplemental Materials
[Rating:1.5/5]
Click thumbnails for high-resolution 1920X1080p screen captures
More Screen Captures (12 Total)
(Screen captures are lightly compressed with lossy JPEG  thus are meant as a general representation of the content and do not fully reveal the capabilities of the Blu-ray format)
The Film
[Rating:4/5]

After spending years working on the animated series Beavis and Butt-head, which aired on MTV's segment Liquid Television and chronicled two awkward metalhead teenagers who make fun of the world outside of their circle of two, writer/director Mike Judge branched out into live-action filmmaking. 1999 saw the release of his film Office Space that chronicled the world of white-collar workers and the doldrums of their daily, cubicle existence. Office Space was a box office flop, but the home video market would turn it into a lasting cult success.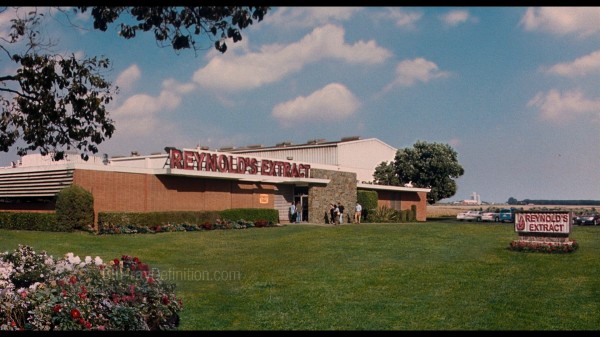 Judge would also go on to create the animated series The Goode Family and, probably more familiar to readers, King of the Hill. But now, returning to live-action and the workingman genre, Judge has given us Extract. If Office Space showed the frustrations of white-collar workers with their jobs and their employers, Extract reverses the theme and gives a peek at the other side of the equation. It offers a look at the working class business owner who has attained a modicum of success, but still hasn't found what he's looking for (apologies to U2).
Jason Bateman (Arrested Development) plays Joel, the owner of Reynold's Extract, a company that makes food-flavoring extracts. It's not exactly a glamorous business, but Joel has built the company into a successful business using an innovative process he developed and he has a house in a gated community and a very nice 7-series BMW to show for it, one of his few extravagances.
Joel is not a happy man, however. He's caught in a sexless marriage with his wife Suzie (Kristen Wiig), who has an 8:00 "sweat pants" deadline for doing the deed. Joel is also a bit stressed out over trying to get his company sold to General Mills. Things start to become even more stressful for Joel when one of his factory workers, Step (Clifton Collins, Jr.) has an accident that makes him lose one of his, ahem, balls. That's where Cindy (Mila Kunis) comes in.
We don't know much about Cindy at all, other than she is a con artist. The first time we see Cindy, she is conning two store clerks in a guitar store out of their very pricey instrument. She reads about Step's accident and immediately swoops in to charm Step into suing Reynold's Extract so she can, naturally, con him out of his payout — and step isn't the brightest candle on the cake either. She takes a job at Reynold's Extract where Joel immediately becomes smitten with the sexy scam artist.
Meanwhile, all of this pressure has been getting to poor Joel, so he seeks solace at his friend Dean's (Ben Affleck) bar, where they get to talking about Joel's sexless love life and how Joel might not feel guilty about sleeping with Cindy if his wife Suzie actually cheated first. Under the influence of a horse tranquilizer that Dean mistakenly slipped Joel, Dean actually convinces Joel to hire a gigolo to tempt Suzie to cheat on him.
Extract's cast of supporting characters is brilliant, from Kristen Wiig to J.K. Simmons as Joel's floor manager who can't remember anyone's name and calls everyone "dinkus." Jason Bateman's comedic timing, perfected on Fox's Arrested Development, is spot on as usual, but Extract's comedy is hardly overt. It is not a "laugh out loud" sort of comedy, but, rather, a subtle and reserved comedy. It relies on equal parts stupidity and intelligent insight to get across its subdued humour. For instance, when Joel says "But they always just end up laughing at whatever the good looking stupid guy says." And Dean laughs in response not realizing Joel is making an observation about how women always claim to want intelligent men.
I suspect that most people will not "get" the humor in Extract at first, but like Office Space, it may in fact find a second life and garner a cult following. It is a companion piece of sorts to the former, but comparisons are a bit unfair. Extract stands alone. It is witty, quirky, and even a bit dark. I'd classify it as "downer humour," but it is amusing nonetheless.
Video Quality
[Rating:3.5/5]
Extract's 1.78:1 1080p/24 AVC/MPEG-4 encoding on Blu-ray is only average at best. The image never quite looks as sharp and detailed as Blu-ray is capable of. Background and distance shots often drift into absolutely soft focus. These are not necessarily flaws in the transfer itself, but they do keep Extract from being one of the one of the better-looking films on Blu-ray. On a positive note, flesh tones look absolutely accurate, colors are vivid, especially blues and reds, and there are no compression or post-processing artifacts to mention.
Audio Quality
[Rating:4/5]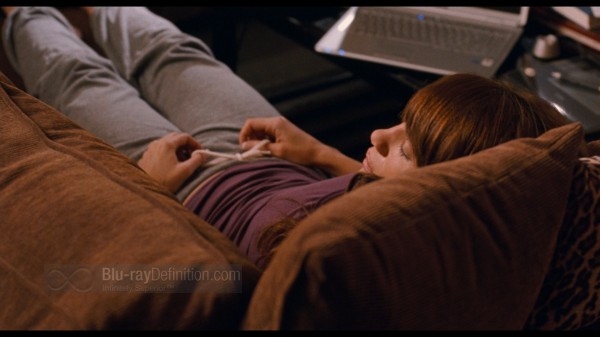 As a dialogue-driven comedy, Extract does not come with an aggressive 5.1 mix full of whiz-bang gimmickry, but its English DTS-HD Master Audio 5.1 (48kHz/24-bit) soundtrack is very good nonetheless. It offers a lot of subtle atmospheric sound effects in the surround channels that make a good argument for lossless codecs and when the film's soundtrack kicks in, it sounds full and spacious. Dialogue is clean and there is some good directional panning across the front three channels.
Supplemental Materials
[Rating:1.5/5]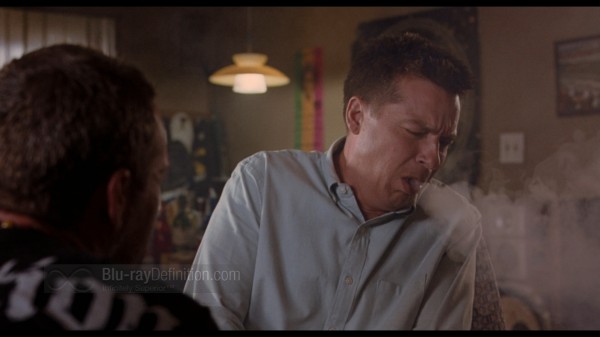 The supplements on Extract are thin and barely worthy of mention, unfortunately. Not even the making-of featurette entitled, Mike Judge's Secret Recipe, yields much information on the film itself.
The supplements provided on this release are:
Mike Judge's Secret Recipe (1.78:1; 1080p/24; Dolby Digital 5.1; 0:10.48) — The cast and filmmakers discuss working on location in a water bottling plant in LA to film Extract.
Extended Scenes (1.33:1; 480i/60; Dolby Digital 5.1; 0:04.29)
Deleted Scene (1.33:1; 480i/60; Dolby Digital 5.1; 0:00.40)
Sneak Peeks:

On Blu-ray Disc
When in Rome
Surrogates
The Boys are Back
The Definitive Word
Overall:
[Rating:3/5]
Extract's strong cast and quirky humour make it an easy recommendation despite the weak supplements on Blu-ray. The real reasons to pick up Extract, however, are the superb comedic performances by Jason Bateman and Kristen Wiig as well as the excellent audio mastering and competent 1080p transfer from Miramax.

BestBuy.com:


Purchase Extract on Blu-ray at CD Universe






Shop with us for more Blu-ray releases at Amazon.com