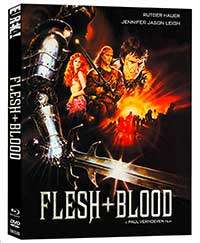 One can never accuse Dutch filmmaker Paul Verhoeven of failing to pander to the audience's lowest common denominator, and with the 1985 medieval epic Flesh + Blood, that pandering comes in droves. The story may be set in the Middle Ages, differentiating it from other Verhoeven works such as RoboCop, Total Recall, and Showgirls, but that doesn't stop the filmmaker from loading it with plenty of campiness and Verhoeven's signature superfluous nudity and sex scenes.
Set in the vague "Western Europe" of 1501, a rowdy band of mercenaries led by Martin (Rutger Hauer, Blade Runner) help reclaim a heavily fortified castle for its owner Arnolfini, who subsequently betrays them, withholding their payment and diving them out of his village by force. The mercenaries vow revenge, leading a violent rebellion and assault on Arnolfini who has by now taken his son Steven (Tom Burlinson) to meet his betrothed, the beautiful Agnes (Jennifer Jason Leigh) whom he has never met before. Steven is angered that his father has tricked him into meeting Agnes and rides away, but Agnes follows on Arnolfini's horse and in the process the pair come across two corpses hanged from a tree. Agnes digs up a mandrake root for the two to eat and magically fall in love and they return to their party. There they are seized upon by Martin and his band mercenaries. Arnofilni is injured and Agnes is carted off where she is brutalized by the gang.
In classic Verhoeven fashion, he twists a violent sexual assault on Agnes into some sort of erotic titillation that was uncomfortable in 1985 and still uncomfortable today. Agnes eventually seduces Martin to be her protector and aids him toward his goal of defeating Arnolfini, but is she really just playing him and working from the inside as best she can to save herself and get back to Steven?
In the hands of a less ham-fisted director, Flesh + Blood would have been a very interesting look at the morally grey and violent dark era of the Middle Ages, filled with anti-heroes, violent clashes, and dripping with danger, especially for woman perpetually cast into second class roles. But Verhoeven manages to make a visually interesting adventure that verges on the comedic with lines like "It's a damn beer barrel, Steven!" spit out with so much melodrama it may be talent night at the local junior high.
That said, there's much to admire in this film, like the gloomy cinematography, the score, and Rutger Hauer's revenge-seeking, morally ambiguous anti-hero.
The Video
Although this is not a new restoration of Flesh + Blood, the 1080p AVC encodement of the film framed at 2.35:1 on Blu-ray that is presented by Eureka Entertainment on their Eureka Classics imprint is a solid presentation. The opening credit sequence may give one pause given the noise, dirt, and flicker, but once we get past that opening sequence things clear up and we get a clean and detailed presentation with a satisfying grain structure, good brightness and contrasts, and natural looking colors.
The Audio
The film hits Blu-ray with a LPCM 2.0 stereo sound mix that presents clear audio with a reasonable amount of dynamic range. It's free from clipping and sounds natural.
The Supplements
The biggest strength in this Eureka Classics release is the solid set of special features that includes a number of interviews, an excellent audio commentary, and, in the first pressing, a limited-edition slipcase and collector's booklet.
Featuring a LIMITED EDITION 'O' Card Slipcase & Collector's Booklet featuring new writing on the film (on the first print run only)
DVD w/ feature film in standard definition
Audio Commentary by director Paul Verhoeven
Verhoeven Versus Verhoeven (1.78:1; 1080p/24; 00:46:11)
Paul Verhoeven In the Flesh (1.78:1; 1080p/24; 00:22:44) – An interview with the director
Audio Interview with Rutger Hauer (1.78:1; 1080p/24; 00:24:00)
Interview with Screenwriter Gerard Soeteman (1.78:1; 1080p/24; 00:18:27)
Composing Flesh + Blood (1.78:1; 1080p/24; 00:13:10) – This featurette dives into the musical scoring of Basil Poledouris
Theatrical Trailer (1.78:1; 1080p/24; 00:02:35)
The Final Assessment
This is a film that is definitely for genre lovers. There's gratuitous violence, nudity, and hammy acting, and melodrama up the wazoo, but it has a certain B-movie charm that only Verhoeven and this cast, which includes the inimitable Rutger Hauer and a young Jennifer Jason Leigh in one of her earliest major roles, could pull off. The Eureka Classic Blu-ray may not be a new restoration, but it looks satisfying for a film of its vintage.
Flesh + Blood is out on Dual Format Edition Blu-ray + DVD and Limited Edition Blu-ray + DVD 6 August 2018 from Eureka Entertainment
Riverside Pictures | Impala | Eureka Entertainment
Studios & Distributors
Gerard Soeteman (story & screenplay) | Paul Verhoeven (screenplay)
Writer
English LPCM 2.0 Stereo
Audio
Summary
During the Middle Ages, a violent band of mercenaries betrayed by a nobleman whom they helped recapture his castle kidnap a young noblewoman (Jennifer Jason Leigh) and plan their violent revenge, but she plots to undermine them while seducing their leader (Rutger Hauer) in this campy B-movie epic from Dutch filmmaker Paul Verhoeven. It bears his signature gratuitous nudity, violence, and melodrama, but also has rich cinematography and settings. Eureka's transfer doesn't provide a new restoration but the 1985 film looks satisfying in this edition.
What people say... Login to rate
Be the first to leave a review.
Show more