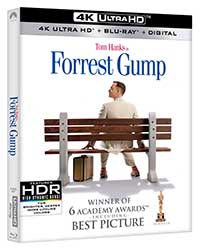 Robert Zemeckis' 1994 multiple Academy Award-winning drama/romance (Best Picture, Best Director/Zemeckis, Best Actor/Tom Hanks) Forrest Gump was not only a heartwarming tale of a mentally challenged man who serendipitously finds himself involved in some histories major events, but it was a visual effects marvel.
Hanks plays the eponymous character who narrates his life story to a stranger on a bus stop bench. "Life is like a box of chocolates, you never know what you're gonna get" he tells her referencing an expression his mother (Sally Field) always told him, or "Stupid is as stupid does" he says when discussing his low IQ. But regardless of his abnormally low IQ, Gump manages to find himself the center of the latter half of the twentieth century's most pivotal moments – he teaches an up and coming Elvis Presley how to dance, he gets a football scholarship thanks to his natural ability to run, winds up meeting three presidents, Kennedy, Johnson, and Nixon, goes to Vietnam where he makes a friend who, regrettably dies in combat, but inspired him to start a shrimping boat that helps him build a fortune along with his commanding officer from Vietnam (played by Gary Sinise). He speaks at an anti-war rally at the Washington Monument, crashes a Black Panther meeting, and spots the Watergate break-in that would bring down Richard Nixon. In the 1970s he invests his money in a "fruit company," Apple Computer, Inc., that makes him extremely wealthy by the time the 80s roll around.
Through all of his adventure, Forrest never forgets his childhood sweetheart Jenny (y (Robin Wright), the girl he loved as a boy and he only friend he had when he was growing up. The one who stood up to the town bullies and told him to "run, Forrest, run!" when they were coming to beat up on him, something that would have implications later in his life when he was playing football and on his way to becoming a war hero in Vietnam, but Jenny's issues with an abusive father would set her off on a path that would keep them on separated for most of their lives, only seeing other occasionally until meeting one last time in the 1980s when she finally matured in her mid-30s.
Forrest Gump may seem an unlikely, but this is such a heartwarming story whatever deficiency in plot are easily wiped out by the pacing, the stellar performances, and the sweet love story at the center of the film bring this one home and allow for total suspension of disbelief. It's also worth pointing out that Zemeckis, who has always been at the forefront of technological advances in filmmaking — Who Framed Roger Rabbit? and Beowulf are just two examples – used what was then the latest in digital technology to place actor Tom Hanks in some historical events. Most of these still hold up surprisingly well, although at least one scene with President Johnson definitely looks a little weird.
The Video
Forrest Gump is a 35mm anamorphic production shot on Eastman EXR 100T 5248, EXR 500T 5296 and 250D 5297 film stock on the Panavision Panaflex Platinum camera with Panavision C- and E-Series lenses. The new 4K Ultra HD Blu-ray arrives in a 2.39:1 HEVC 2160p (4K) encodement with Dolby Vision HDR. The colors rally come to life in this new reissue. Forrest's baseball cap 'pops' vibrantly, the explosions in battle sequences have an array of vivid oranges that leap from the screen and the nighttime scenes have excellent shadow nuance and 'pop' in the highlights. Fine detail is crisp and the film structure looks wonderfully organic.
The Audio
Forrest Gump hits 4K Ultra HD with an English Dolby Atmos immersive audio mix. This isn't an aggressive mix by any means, but it is suitable for the sort of film. The score sounds much more expansive and benefits from atmospherics in the height channels. The battle sequences in Vietnam ae also brought to life more effectively thanks to the addition of the height channels.
The Supplements
This edition comes loaded with hours of material including an interview with the original author Winston Groom. There are two audio commentaries, a featurette on the advanced-for-the-time visual effects and archival behind-the-scenes featurettes.
Blu-ray with Feature Film and some Special Features
iTunes Digital Copy + UltraViolet Digital
Commentary with Robert Zemckis, Steve Starkey, and Rick Carter
Commentary with Wendy Finerman
Greenbow Diary (1.78:1; 1080p/24; 00:25:59)
The Art of Screenplay Adaptation (1.78:1; 1080p/24; 00:26:58)
Getting Past Impossible – The Visual Effects Revolution (1.78:1; 1080p/24; 00:27:04)
Little Forrest (1.78:1; 1080p/24; 00:14:48)
An Evening with Forrest Gump (1.78:1; 1080p/24; 00:55:08)
Archival Special Features:

The Make-up
Sound Design
Building the World of Gump – Production Design
The Visual Effects
Screen Tests
Trailers
The Final Assessment
This film is fun, funny, heartwarming and at moments a real tear-jerker. This fantastic Oscar-winner is given a breath of new life in this new 4K Ultra HD release from Paramount. While it may not be the sort of film that one reaches for to show off the home theater, it is definitely worth owning and it has never looked better.
Forrest Gump is out on 4K Ultra HD Combo Pack June 12, 2018 from Paramount
PG-13 (for drug content, some sensuality and war violence)
Rating Certificate
Paramount Pictures (presents) (A Steve Tisch/Wendy Finerman Production by) (A Robert Zemeckis Film) | Paramount Home Entertainment
Studios & Distributors
Winston Groom (novel) | Eric Roth (screenplay)
Writer
$31.99
MSRP
HEVC (H.265) 2160p (4K) | AVC 1080p (Blu-ray)
Video
Dolby Vision (Compatible w/ HDR10)
HDR Format
English Dolby Atmos (Compatible w/ Dolby TrueHD 7.1)
Primary Audio
English Original DD 5.1 | English DTS-HD MA 5.1 (Blu-ray) | English Audio Description | French DD 5.1 | Spanish DD 5.1 | Italian DD 5.1 | Japanese Dolby 2.0 | Portuguese (Brasil) DD 2.0
Secondary Audio
English | English SDH | French | Spanish | Portuguese (Brasil) | Danish (UHD) | German (UHD) | Italian (UHD) | Japanese (UHD) | Dutch (UHD) | Norwegian (UHD) | Finnish (UHD) | Swedish (UHD)
Subtitles
HDR Effect (If Applicable)
Summary
A man (Tom Hanks) with an abnormally low IQ serendipitously finds himself at the center of major events of the latter half of the 20th century including anti-war protests at the Washington Monument, becoming a war hero in Vietnam, meeting three presidents, and spotting the Watergate break-in. All the while he remembers and pines for his childhood sweetheart Jenny (Robin Wright) who breezes in and out of his life. Director Robert Zemeckis' heartwarming, Oscar-winning film (Best Picture, Best Director for Zemeckis and Best Actor for Tom Hanks) was also noted for its then cutting edge visual effects that placed actor Tom Hanks in historical situations. This new 4K Ultra HD release with Dolby Vision and Dolby Atmos breathes new life into the film.
What people say... Login to rate
Be the first to leave a review.
Show more