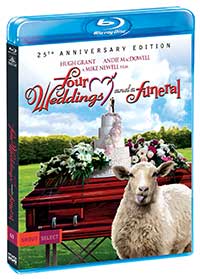 One of the classic British rom-coms from the 1990s, Four Weddings and a Funeral was infamous in its time for its opening sequence of the usually  charming Hugh Grant (Bridget Jones's Diary) firing off a still somehow charming rapid-fire volley of F-bombs as his character, the perennially late to weddings  bachelor Charles is hurrying to get to yet another wedding, in this case the first one of this story wherein he is the best man.
There's much more to Four Weddings and a Funeral than that, however. The story follows our charming yet committed bachelor Charles over the course of – you guessed it – four weddings and a funeral – as he finds himself coming to terms with the very pressing issue that he may well have fallen in love with the most unexpected of people, an American socialite named Carrie (Andie MacDowell, Groundhog Day).
While Charles and Carrie play hard to get with each other and deny each other's mutual attraction, both pairing off with other people over the course of their courtship, director Mike Newell and writer Richard Curtis give us a delightful English comedy of manners around them as Charlie's friends and family all suffer the pitfalls of love and courtship themselves during these five separate social gatherings. All of this is set against a gorgeous backdrop worthy of a Merchant Ivory film, courtesy of cinematographer Michael Coulter.
The film also stars a bang-up cast of noteworthy Brits including Kristin Scott Thomas as Charlie's lovelorn friend Fiona and Simon Callow and John Hannah as a gay couple – very progressive for the '90s – among others.
The Video
Four Weddings and a Funeral comes to Blu-ray restored afresh from a new 4K scan. It has been transferred in an AVC 1080p encodement framed at 1.85:1. The opening credit, as are often the case, give one pause with some source damage and a bit of lens dirt, but after that is clear up and we are presented with clear and crisp detail, thin, organic grain structure and vibrant but not overdone colors.
The Audio
Four Weddings and a Funeral comes to Blu-ray with a rather inconspicuous DTS-HD Master Audio 5.1 mix as well as a DTS-HD Master Audio 2.0 stereo mix. Take your pick of the two, because the 5.1 track doesn't do much the audio other than blend in some very mild atmospherics and barely there low end. The dialogue is clean, however, and dynamics adequate for what is a dialogue-driven film.
The Supplements
While there are no DVD or Digital Copy included, there's a solid collection of special features, including a strong audio commentary with the filmmakers and a new interview with cinematographer Michael Coulter.
Audio commentary with Director Mike Newell, Producer Duncan Kenworthy, and Writer/Co-executive Producer Richard Curtis
The Wedding Photographer (1.78:1l; 1080p/24; 00:26:31) – An Interview with Director of Photography Michael Coulter
The Wedding Planners (1.78:1; SD; 00:29:41)
Four Weddings and a Funeral…In the Making (1.33:1; SD; 00:07:34)
Two Actors and a Director (1.78:1; SD; 00:05:33)
Deleted Scenes (1.78:1; SD; 00:09:58)
Promotional Spots (1.78:1; SD; 00:03:27)
Theatrical Trailer (1.85:1; 1080p/24; 00:02:08)
The Final Assessment
As a romantic comedy, Four Weddings and a Funeral is right up there with When Harry Met Sally, and is even the stronger of the two, proving a "rom-com" doesn't have to brainless or frivolous. This is a witty even heartfelt at times film that is well acted and beautifully filmed. Shout! Factory has given it a gorgeous new restoration on Blu-ray.
Four Weddings and a Funeral [25th Anniversary Edition] is out on Blu-ray February 12, 2019 from Shout! Factory
[amazon_link asins='B07KCFYW11′ template='ProductCarousel' store='theaterbyte-20′ marketplace='US' link_id='3157dc03-72ed-4b6b-bd2c-af0881c98e77′]
---
R (for language, and for some sexuality)
Rating Certificate
PolyGram Filmed Entertainment | Channel Four Films | Working Title Films | MGM | Shout! Factory
Studios & Distributors
$34.93
MSRP
English DTS-HD MA 5.1
Audio
DTS-HD MA 2.0 Stereo
Secondary Audio
Summary
A committed bachelor (Hugh Grant) confronts his worst fear -- falling in love -- when he crosses paths with an American socialite (Andie MacDowell) over the course of five social gatherings in this charming, witty, and beautifully filmed 1990s romantic comedy. Four Weddings and a Funeral also features a cast of fantastic British supporting actors including James Fleet, Simon Callow, John Hannah, and Kristin Scott Thomas. Shout! Factory brings the film to Blu-ray in a sparkling transfer from a new 4K scan.
What people say... Login to rate
Be the first to leave a review.
Show more