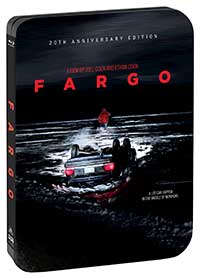 Many Americans are probably unfamiliar with our extreme Northern states like Minnesota and North Dakota, and, banking on this observation,  writer/director brothers Joel and Ethan Coen concocted their own version of a "true story" that they later admitted was entirely fictitious.
Jerry Lundegaard (William H. Macy) is a debt-ridden Minneapolis car salesman whose dowdy wife Jean (Kristin Rudrüd) is the daughter of his boss Wade Gustafson (Harve Presnell). A desperate Jerry drives to Fargo (the only time this town actually appears in the film) with a getaway car in tow, and hires a couple of goons, motor-mouth Carl Showalter (Steve Buscemi) and laconic, chain-smoking Gaear Grimsrud (Peter Stormare), to stage Jean's kidnapping. He agrees to split an $80,000 ransom with them that Jean's father will surely pay. A bit later, Jerry pitches a real estate deal to Wade that the old man surprisingly agrees to buy int0. Suddenly expecting a financial windfall, Jerry tries to stop the kidnapping but Showalter and Grimsrud have already carried out their bumbling abduction, unleashing a series of unintended consequences for all concerned.
The kidnappers unwittingly seal their own fate when Grimsrud blows away a state trooper during a routine traffic stop and then mercilessly guns down the only two eyewitnesses to the murder. Things "perk up," if that is possible in Brainerd, Minnesota (Paul Bunyan's alleged hometown), when pregnant Police Chief Marge Gunderson (Frances McDormand) investigates the previous night's bloody crime scene. The kidnapping continues, powered by the "no honor among thieves"principle, as the ransom stakes have now risen to a cool million dollars. Fargo chugs through a typically bleak Minnesota winter, leaving behind a trail of graphic violence and dead bodies that culminates in the unforgettable wood chipper scene.
The Coen brothers had already made six feature-length films, including classics like Blood Simple and Raising Arizona, before they returned to their Minnesota roots for Fargo. By this point in their careers, the pair had already perfected the black comedy-tinged crime thriller and viewers are the lucky beneficiaries of their experience. A cast that is mostly non-Minnesotan   (only Kristin Rudrüd and Melanie Peterman (Hooker #2) are area natives) demonstrates uncanny mastery of the local accents, bolstered by the "Minnesota niceness" that provides a stark contrast to the the nasty kidnappers.
The Video
Twenty years might not seem like a long time, but image reconstruction has improved considerably since this film was first released. There are occasional patches of grain and etching but, for the most part, we get crisp visuals with a great color palette. Roger Deakins's cameras do a fabulous job of convey the vistas of Minnesotan tundra, devoid of any lifeforms and extending as far as the eye can see.
The Audio
The DTS-HD Master Audio 5.1 soundtrack is immersive, dialogue is clear, and Federico Jusid's relentless pounding score is well reproduced.
The Supplements
A digital HD download is included as is running commentary with director Brian Goodman and co-writer Marc Frydman. In addition to the extras found in the 2009 Blu-ray initial release is the Charlie Rose interview segment as follows:
A Minnesota Nice Featurette (DTS-HD MA Stereo 48kHz/24-bit) (27:48). The Coen brothers draw on their childhood to create a "Siberia with family restaurant" environment to their groundbreaking film.
Interview with Joel and Ethan Coen (DTS-HD MA Stereo 48kHz/24-bit) (20:32). Charlie Rose gives insightful interviews the brothers and Frances McDormand.
Theatrical trailer (Dolby Digital 5.1 48kHz/16-bit) (2:20)
Commentary with Roger A. Deakins, Director of Photography
Television Spot
American Cinematographer Article
Still Photography Gallery
The Final Assessment
Fargo was a groundbreaking film that called attention to middle-America and its ordinary people with their ordinary lives.  After receiving numerous awards, including two Oscars (Best Actress, Best Original Screenplay), this 1996 film opened doors to its many indie studio successors that have been open ever since. Highest recommendation.
[amazon_auto_links id="103013"]
R (Strong violence, language, sexuality)
Rating Certificate
Lionsgate Premiere | Shout! Factory
Studios & Distributors
Joel Coen | Ethan Coen
Director
Joel Coen | Ethan Coen
Writer
$22.97
MSRP
English, French, & Spanish DTS-HD MA 5.1
Audio
Summary
A landmark independent film that has achieved classic status and gets the star treatment in this 20th anniversary re-release.
What people say... Login to rate
Be the first to leave a review.
Show more