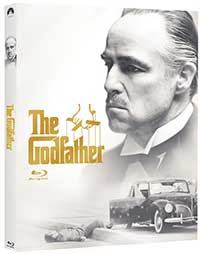 When writer/director Francis Ford Coppola joined forces with author Mario Puzo, The Godfather, the epic saga of an Italian-American crime family was born 45 years ago. As can be seen, the cast is a group of Hollywood A-listers. Don Vito Corleone (Marlon Brando) is about to attend the wedding between his daughter Constanza "Connie" (Talia Shire) and Carlo Rizzi (Gianni Russo) with vocal entertainment by Mama Carmela Corleone (Morgana King) and godson, the popular crooner Johnny Fontaine (Al Martino). This occasion reunites the Corleone sons: hot-headed Santino "Sonny" (James Caan), chicken-hearted Frederico "Fredo" (John Cazale) and decorated WW II Marine Michael (Al Pacino) who brings his girl friend Kay Adams (Diane Keaton). Adopted son Tom Hagen (Robert Duvall) serves as the family's consigliere while the Don's lieutenants include Peter Clemenza (Richard Castellano), and Salvatore "Sally" Tessio (Abe Vigoda). Don Corleone is considering retiring from the "family business" and turning over the reins to one of his children.
The famous "horse-head-in-the-bed" scene occurs early in these proceedings, as Hollywood producer Jack Woltz (John Marley) is made an offer that he cannot "refuse" and casts Johnny in a major film. Drug dealer Virgil "The Turk" Sollozzo (Al Lettieri), an ally of Don Phillip Tattaglia (Victor Rendina) tries to get Vito to fund his heroin distribution network but when the Godfather rejects Sollozzo's offer, he is gunned down by Bruno Tattaglia (Tony Giorgio) yet survives in a permanently weakened condition. The Corleones regroup and Sonny has a brief turn as Don and takes out Bruno, while Michael does in Sollozzo and crooked police Captain Mark McCluskey (Sterling Hayden). For his own protection, Michael abruptly leaves for Sicily while Fredo travels to Las Vegas where he becomes the stooge of gambling magnate and Corleone casino partner, Moe Greene (Alex Rocco).
The consequences of the war between the five families that control the New York crime scene have been devastating and after Sonny is assassinated, Don Corleone calls a meeting of the other Dons led by Emilio Barzini (Richard Conte). Michael has returned home and marries Kay. Eventually he replaces his father as Don and in a fast-paced choreography of controlled vengeance, there is a wholesale changing of the guard.
This 1972 multiple-Oscar winner (Best Picture, Best Actor, Best Adapted Script) opened the floodgates for other crime sagas like Once Upon a Time in America and Goodfellas. In terms of breadth and depth, The Godfather is like no other American film,  then or now.
The Video
Shot in 35 mm, the digital restoration was supervised by Robert A. Harris's team in 4K resolution on a SPIRIT 4K console with ARRI film recorders. Using the best negatives that were available, there is residual grain and black crush that could not be eliminated. This is basically the same film restoration that was available in the 2008 Blu-ray Godfather trilogy.
The Audio
The Dolby TrueHD 5.1 option recreates a mono source and only expands into the additional channels when Nino Rota's soundtrack is playing. The dialogue so important to the film is quite clear.
The Supplements
There is a digital download of The Godfather: Family Dynasty and the Director's Commentary.
The Final Assessment
This reissue celebrating the 45th anniversary of a groundbreaking movie is self-recommending. At its entry-level price tag, The Godfather is well worth the purchase unless you already own the restored trilogy package.
[amazon_auto_links id="100674"]
R (violence, language, sexual situations)
Rating Certificate
Paramount Pictures
Studios & Distributors
Francis Ford Coppola
Director
Mario Puzo | Francis Ford Coppola
Writer
$14.99
MSRP
English Dolby TrueHD 5.1
Audio
English | Spanish | French | Portuguese
Subtitles
English Mono Dolby Digital | Spanish Dolby Digital | French Dolby Digital
Secondary Audio
Summary
An American cinematic masterpiece that is re-released in essentially the same restored version as in 2008 and at a bargain price.
What people say... Login to rate
Be the first to leave a review.
Show more