–
The Collection
[Rating:3.5/5]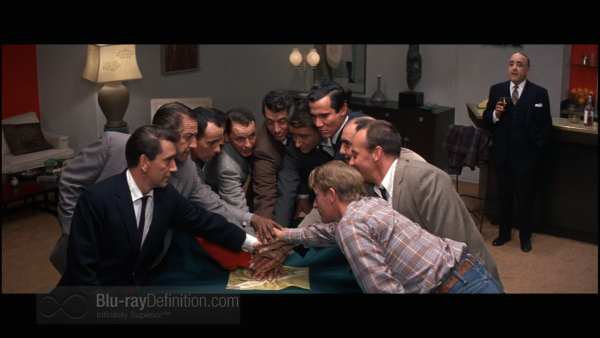 Francis Albert Sinatra AKA "Old Blue Eyes" or "Chairman of the Board" would have had his 100th birthday celebration this year. Sinatra's career was launched in the 1940s by the Dorsey Brothers Band and then hit the skids until his 1953 Oscar winning performance in From Here to Eternity. The next two decades were a golden era for this performer; his many Las Vegas gigs elevated him into the pantheon of popular artists.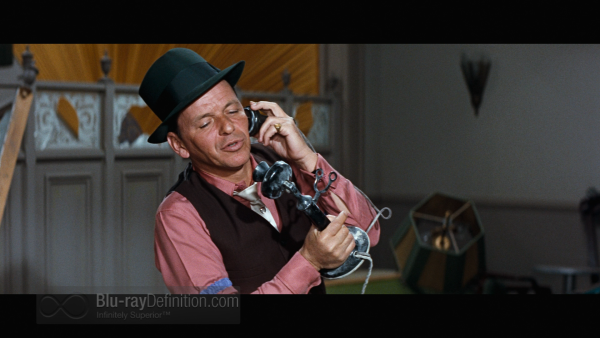 The present five-disc collection is curated from the nearly sixty films that Frank Sinatra made during his long and successful career in Hollywood. Although film critics might argue that this set, Frank Sinatra 5-Film Collection, does not represent his best work, the five that are included are fair representatives of Sinatra's cinematic output. This set also features Blu-ray premieres of Anchors Aweigh, On the Town, and Robin and the 7 Hoods.

Anchors Aweigh (1945)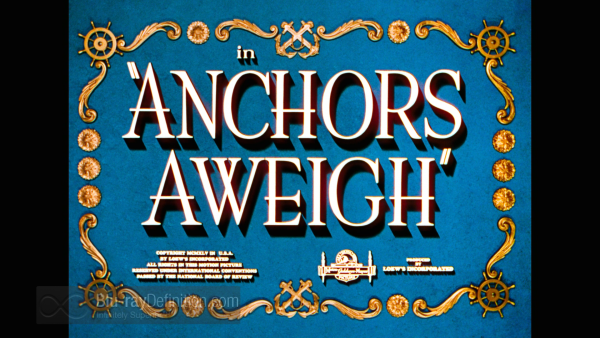 This WW II film stirs up gobs of patriotic spirit while taking a light-hearted look at what happens when our sailors come ashore. Joe Brady (Gene Kelly) and Clarence Doolittle (Frank Sinatra), both decorated Navy men, get a four-day leave in Hollywood. They meet Donald (Dean Stockwell), a precocious boy who hopes one day to join the Navy.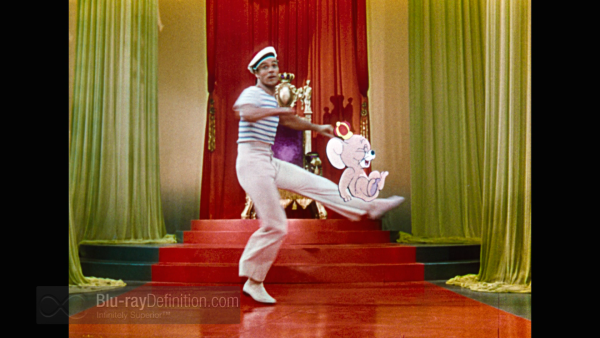 The shy Clarence asks the worldly Joe to help him get women. After a misunderstanding with the police, Joe and Clarence meet Donald's Aunt Susie (Kathryn Grayson), an aspiring singer who hopes to meet famed Spanish conductor/pianist José Iturbi in an attempt to boost her career.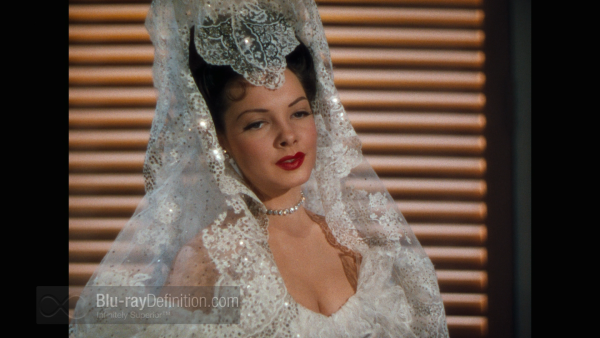 To get Clarence in Susie's good graces, Joe tells her that Clarence is Iturbi's friend and has gotten her an audition. When Joe and Clarence visit the MGM studios, they are unable to meet Iturbi in person. The pair then confesses to Susie that they made up everything but this being a formula-driven rom-com, happy coincidences prevail and it all ends for the best. Among the film's big songs are "Anchors Aweigh," "If You Knew Susie," "Jealousy," and "I Fall in Love Too Easily."

On the Town (1953)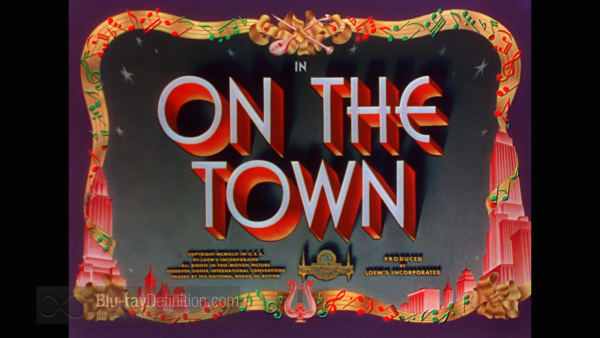 A film based on a 1944 stage play by ace writers Adolph Green and Betty Comden had its original musical score by Leonard Bernstein supplemented by Roger Edens's music. A very well received movie, On the Town won two Academy Awards.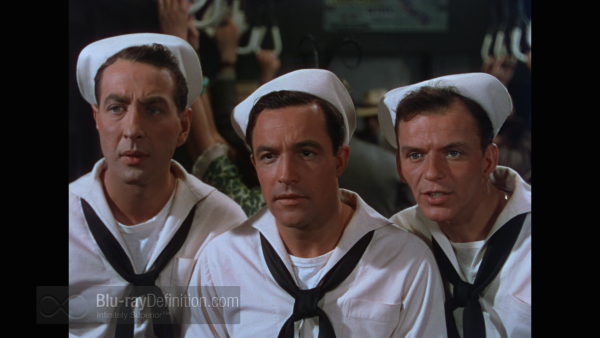 The action is compressed into a single day as three sailors, Gabey (Gene Kelly), Chip (Frank Sinatra), and Ozzie (Jules Munshin) begin their leave in the Big Apple. Gabey is smitten by a picture of "Miss Turnstiles," Ivy Smith (Vera-Ellen),  and the trio sets out to find her. Ozzie hooks up with anthropologist Claire Huddesen (Ann Miller) while Chip connects with taxi driver Hildy Esterhazy (Betty Garrett). Finally, Gabey does find his Ivy and the three couples ascend to the top of the Empire State building.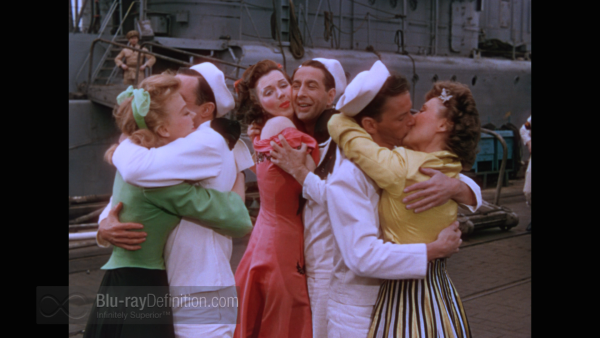 The story continues at a typically frenetic New York City pace, as the sailors and their sweeties try to make the most of their limited time together. The couples enjoy a last romantic reunion at Coney Island before the sailors must return to their ship, departing to the strains of "New York, New York."

Guys and Dolls (1955)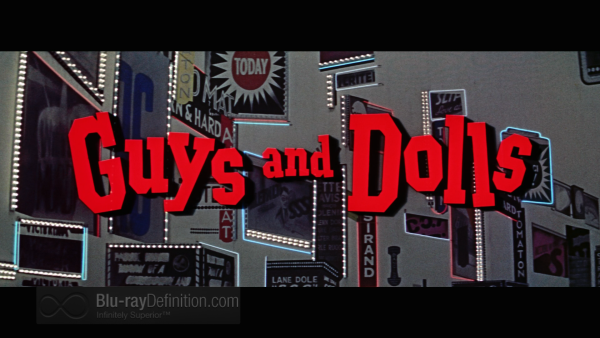 Adapted from Frank Loesser's stage play, and loosely based on two Damon Runyon stories, Guys and Dolls examines the demi-monde of gamblers and petty criminals.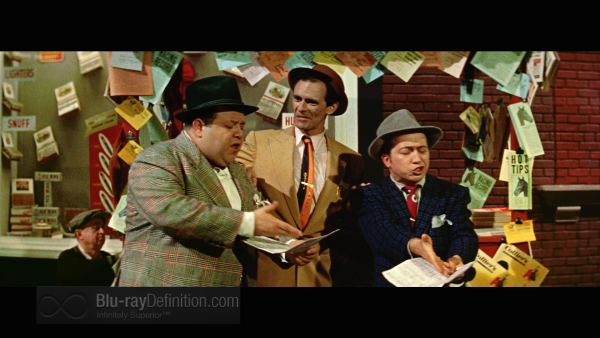 This film focuses on two gamblers Nathan Detroit (Frank Sinatra) and Sky Masterson (Marlon Brando) and their women, nightclub singer Miss Adelaide (Vivian Blaine) and mission worker Sarah Brown (Jean Simmons), respectively. Nathan tries to organize a floating crap game but is thwarted by pesky police Lieutenant Brannigan (Robert Keith). Adelaide, Nathan's long-suffering fiancee, pressures him to quit gambling and to marry her. Nathan bets Sky that he won't be able to take Sarah out to dinner in Havana, Cuba. Of course, he succeeds and, after many drinks, the couple becomes romantically involved.  Masterson promises to save her mission by delivering a dozen "sinners."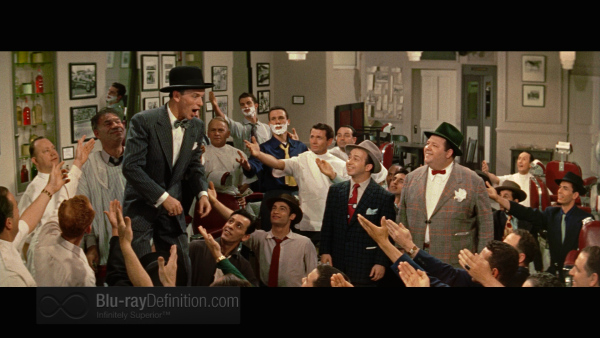 The crap game is finally held at the empty mission but it does not end well for Nathan. After Sarah finds out that Sky was also involved in the game, she breaks up with him. The course of true love never did run smooth and we are treated to the two couples' efforts to reconcile and reunite.  Laden with one hit after another, Guys and Dolls offers up "A Bushel and a Peck," "If I were a Bell," "Luck Be a Lady,"and "Sit Down, You're Rockin' the Boat." The choice of Brando, a definite non-singer and non-dancer, for the male lead was controversial but overall, this was a well-cast and well-received film that conveys the essence of this classic musical.

Oceans 11 (1960)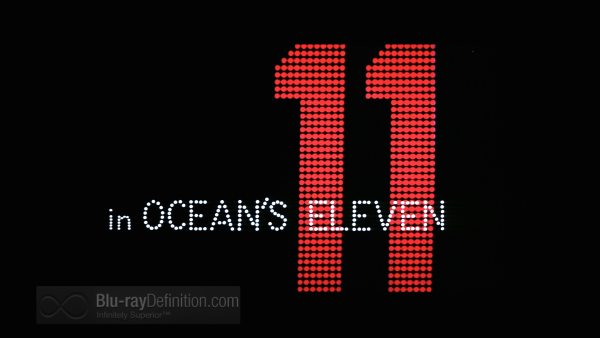 One of the many "Rat Pack" films,  Oceans 11 enlists RP members Frank Sinatra (Danny Ocean), Dean Martin (Sam Harmon), Peter Lawford (Jimmy Foster), Sammy Davis, Jr. (Josh Howard), and Joey Bishop (Mushy O'Connors) to pull off an elaborate heist organized by Akim Tamiroff (Spyros Acebos). This gang of WW II veterans are planning to knock over five Las Vegas casinos on New Year's Eve.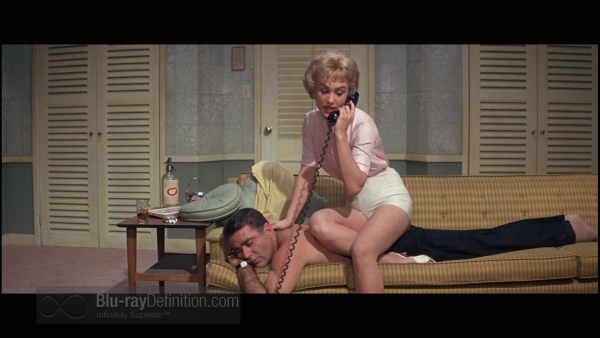 The casino caper requires the taking down of an electrical transmission tower at the stroke of midnight, causing a temporary blackout in the targeted casinos. The key participant is master electrician Tony Bergdorf (Richard Conte) who will take down the electrical tower but, recently released from prison, he finds out that he is terminally ill.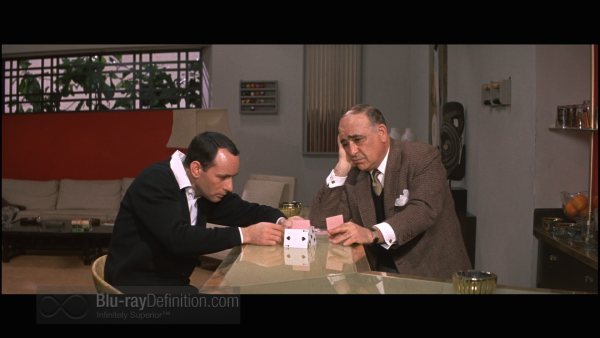 Everything appears to go as intended and the money is hauled away in Harmon's garbage truck. But not so fast. After power is restored, Bergdorf suddenly drops dead on the Las Vegas strip. To further complicate matters, ex-mobster Duke Santos (Cesar Romero), the paramour of Jimmy's much-married wealthy mother,  pitches a deal to the casino owners to get back their money. Santos connects the dots and threatens the gang with full disclosure if they do not split their money with him and in true heist-caper tradition, matters speed forward to a quirky conclusion that delivers true poetic justice.

Robin and the 7 Hoods (1964)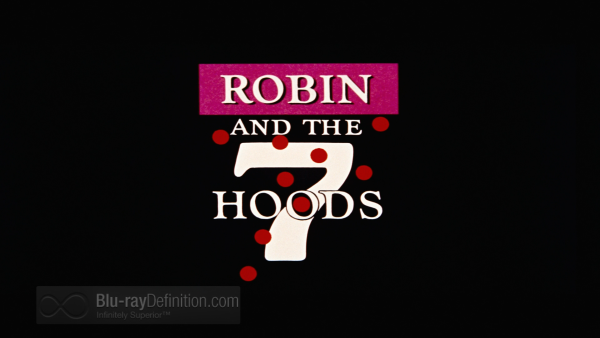 Robin and the 7 Hoods borrows liberally (at least for the characters' names) from the Robin Hood legend. Chicago gangland boss, "Big" Jim Stevens (Edward G. Robinson) gets gunned down by rival gangster Guy Gisborne (Peter Falk) at his birthday party. Big Jim's friend Robbo (Frank Sinatra) balks at Guy's demands for "protection" money, thereby igniting a major gangland war between the two casino owners.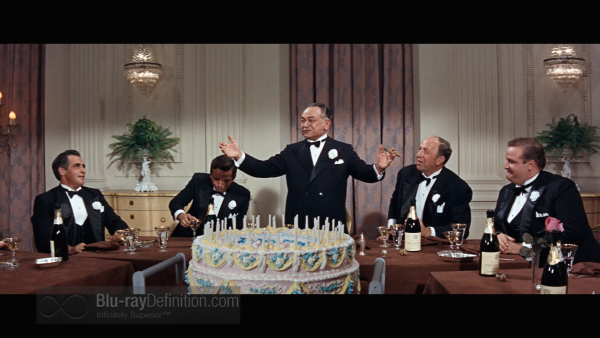 Robbo recruits pool hustler Little John (Dean Martin) and gunman Will (Sammy Davis, Jr.) to his gang. Big Jim's daughter, Marian (Barbara Rush) asks Robbo to avenge her father's death, and tries to buy his loyalty with money that Robbo then donates to Alan A. Dale (Bing Crosby), an orphanage operator. Robbo's gift becomes a public relations coup as he is now considered a criminal who robs the rich and gives to the poor. Dale is hired to head Robbo's foundation and, in short order,  other orphanages and soup kitchens open.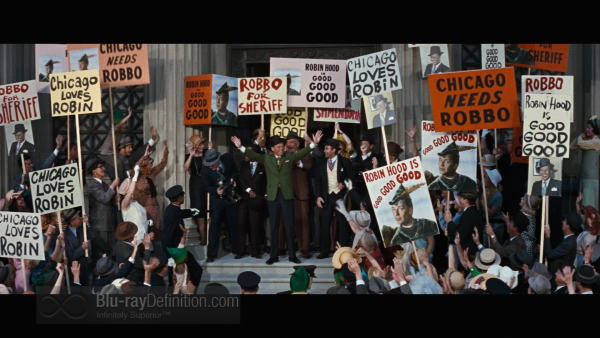 Falsely accused of killing crooked Sherriff Octavius Glick, Robbo eventually beats the rap, but during that time, Marian has converted his charities into fronts for a counterfeiting operation. Very much her father's daughter, Marian starts the downhill slide for Robbo and his not so merry men. This film's big hit tune was "My Kind of Town," and there are some very nice numbers for Crosby, Davis and Martin as well.

Video Quality
[Rating:3.5/5]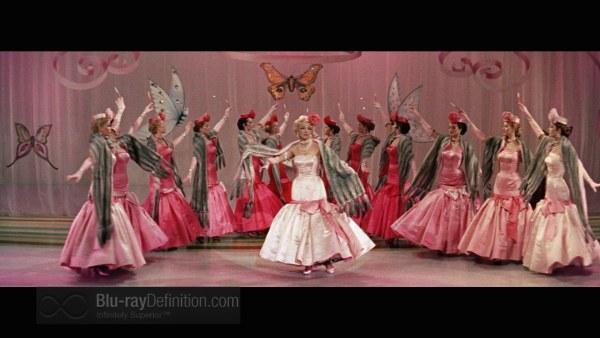 The restoration crew covers themselves with glory, as all of the films look freshly minted. The 1.33:1 aspect ratio of the two earliest films was followed by the widescreen versions of the final three with progressive improvement in both color and detail.

Audio Quality
[Rating:3.5/5]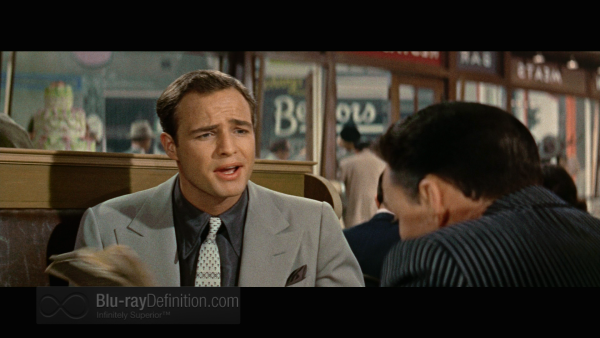 Anchors Aweigh, On the Town, Oceans 11 and Robin and the 7 Hoods have decent mono soundtracks. Surprisingly, the latter film, also the most recent, has the most obvious compression. Guys and Dolls receives glorious sound courtesy of its original 4-channel Western Electric recording.

Supplemental Materials
[Rating:4/5]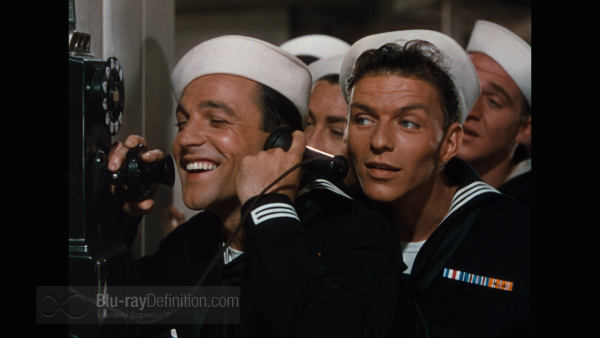 Anchors Aweigh:
Hanna & Barbera on the Making of The Worry Song [From MGM: When the Lion Roars]: (English Dolby Digital Stereo 48k/16b) (2:09): Commentary on Gene Kelly's amazing dance sequence with Jerry Mouse by Joseph Hanna and William Barbera, cartoonists.
Football Thrills of 1944 [1945 MGM Short] (English Dolby Digital Stereo 48k/16b) (8:30) Selected clips from some of the most exciting collegiate games of the year.
Jerky Turkey [1945 MGM Short] (7:32) (English Dolby Digital Stereo 48k/16b): A period cartoon that depicts the pilgrims making their encounter with Plymouth Rock, the first Thanksgiving celebration, and rather insensitive portrayal of Native Americans.
Theatrical trailer.
On the Town:
Mr. Whitney Had a Notion [1949 MGM Short] (English Dolby Digital Stereo 48k/16b) (10:47) A brief feature about the invention of the mass production of muskets by Eli Whitney (Lloyd Bridges), the first use of assembly line technology that changed the history of American manufacturing.
Doggone Tired [1949 MGM Cartoon] (English Dolby Digital Stereo 48k/16b) (7:36) A period cartoon about an overeeager hunting dog in search of rabbits.
Theatrical Trailer
Guys and Dolls:
Guys and Dolls: The Goldwyn Touch (English Dolby Digital Stereo 48k/16b) (23:54): A documentary on this film based on the making of this cinematic classic with clips and commentary by composer's family members.
Guys and Dolls: From Stage to Screen (English Dolby Digital Stereo 48k/16b) (26:41):  More film clips showing the transition from a smash Broadwsay show to the silver screen.
Short Features: More Guys and Dolls Stories:

Adelaide (English Dolby Digital Stereo 48k/16b) (0:51): Tom Mankiewicz remembers Adelaide's famous lament number
Brando Dance Lesson (English Dolby Digital Stereo 48k/16b) (1:34): Choreographer Michael Kidd recalls bringing the famous actor up to speed.
Goldwyn's Career (English Dolby Digital Stereo 48k/16b) (2:38): A brief bio on the legendary filmmaker.
On the Set (English Dolby Digital Stereo 48k/16b) (1:12): Tom Mankiewicz recalls his famous father, director Joseph Mankiewicz.
Rehearsing Adelaide (English Dolby Digital Stereo 48k/16b) (1:29): Michael Kidd describes Frank Sinatra's approach to this song sans rehearsal.

Musical Performances:

Fugue for Tinhorns (English Dolby Digital Stereo 48k/16b) (1:42): a reprise of one of the film's better known numbers.
I'll Know (English Dolby Digital Stereo 48k/16b) (5:01): a duet featuring Brando and Simmons.
Guys and Dolls (English Dolby Digital Stereo 48k/16b) (3:26): the title number trio
Adelaide (English Dolby Digital Stereo 48k/16b) (3:34): Nathan delivers his musical proposal to his long suffering girl.
Luck Be a Lady (English Dolby Digital Stereo 48k/16b) (3:14): Sky Masterson implores the gambling spirits to help his chances.
Sue Me (English Dolby Digital Stereo 48k/16b) (3:15): Nathan tries to worm his way out of marrying Adelaide..

Theatrical trailer
Oceans 11:
Behind the Story (English Dolby Digital Stereo 48k/16): Commentary by Frank Sinatra, Jr. and Angie Dickinson.
The Tonight Show with Johnny Carson Featuring Guest Host Frank Sinatra (English Dolby Digital Stereo 48k/16b) (3:45):  Sinatra talks briefly with Angie Dickinson about their roles in Oceans 11.
Tropicana Museum Vignette (English Dolby Digital Stereo 48k/16b) (1:40): a brief film about the gambling industry in Las Vegas and its relationship to Oceans 11.
Vegas Map (English Dolby Digital Stereo 48k/16b) (0:51): A cartoon map of the Strip showing the locations of  the five casinos that played a big role in the film.
Two Theatrical Trailers
Robin and the 7 Hoods:
Audio Commentary by Frank Sinatra, Jr.
What They Did to Robin Hood (English Dolby Digital Stereo 48k/16b) (6:34): A brief behind-the-scenes look at the making of this film.
RobinHood Makes Good [1939 Warner Brothers cartoon] (English Dolby Digital Stereo 48k/16b) (7:47): A whimsical account about the forest animals taking on the parts of Robin and his Merry Men.
Robin Hood Daffy [1958 Warner Brothers Cartoon] (English Dolby Digital Stereo 48k/16b) (6:39): WB  cartoon hero Daffy Duck dons the gay apparel of the famed robber.
Rabbit Hood [1949 Warner Brothers Cartoon] (English Dolby Digital Stereo 48k/16b) (7:57): This time we get comic hero Bugs Bunny as the bandit Robin Hood.
Trailer
There is also a a deluxe photo booklet with numerous shots from each of the five films.

The Definitive Word
Overall:
[Rating:3.5/5]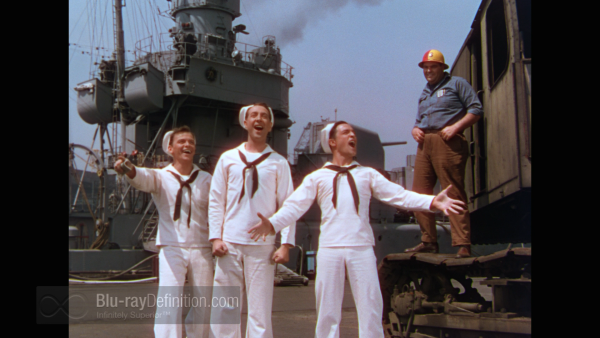 The Frank Sinatra 5-Film Collection demonstrates the relative ease with which this singer-actor moved between musicals, comedies, and dramatic films. The restorations are generally excellent given the age of the source material, ranging from 50 to 70 years old, and will be a great way to introduce younger audiences to one of the 20th century's entertainment legends.

Additional Screen Captures
[amazon-product]B00SIHM7PI[/amazon-product]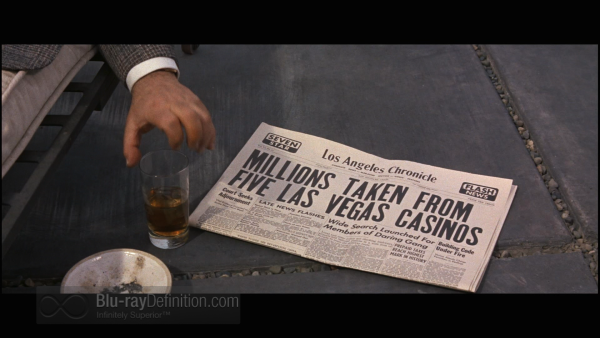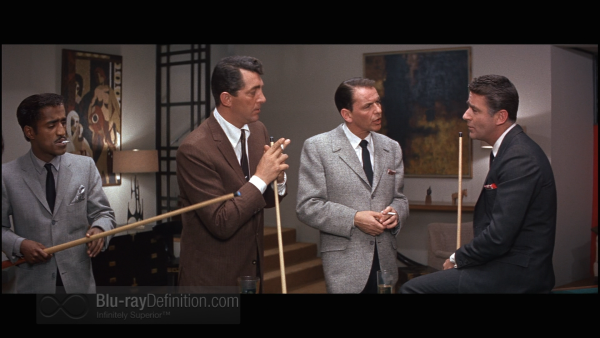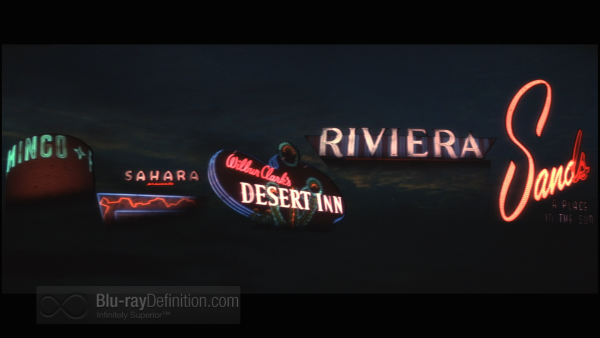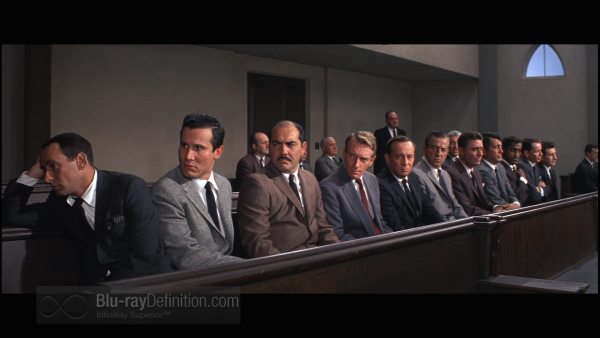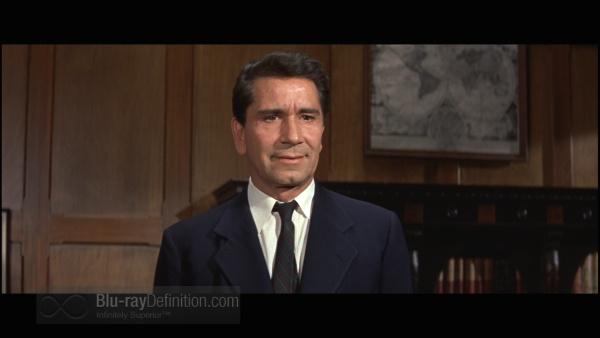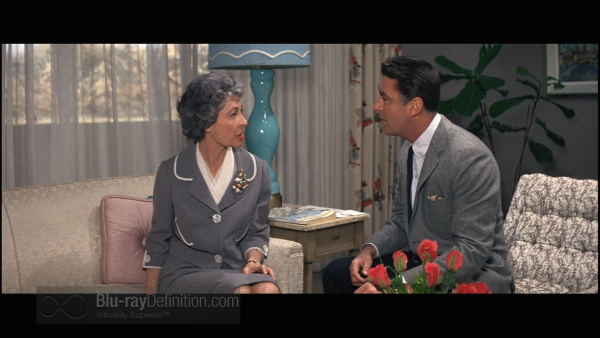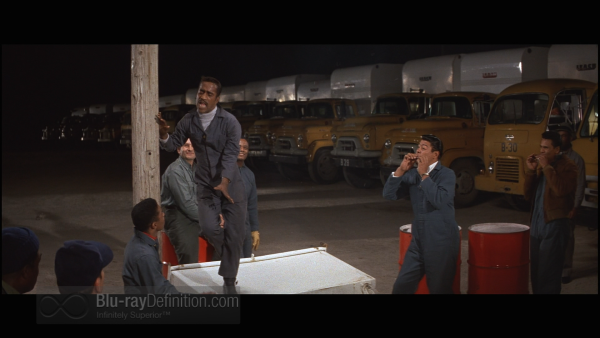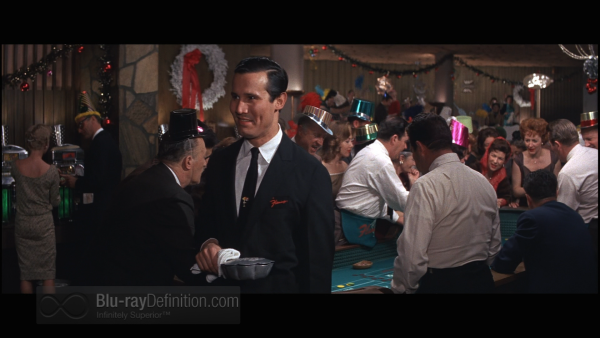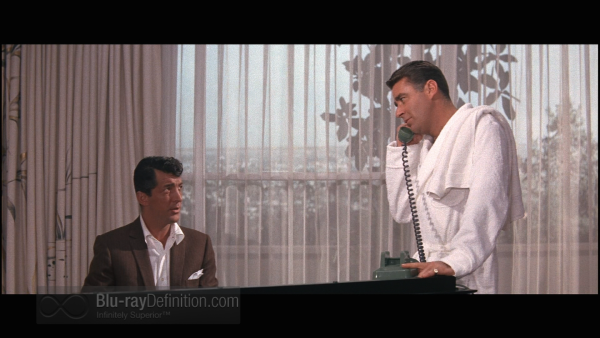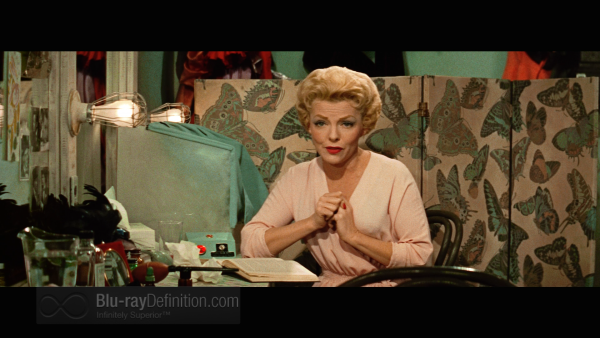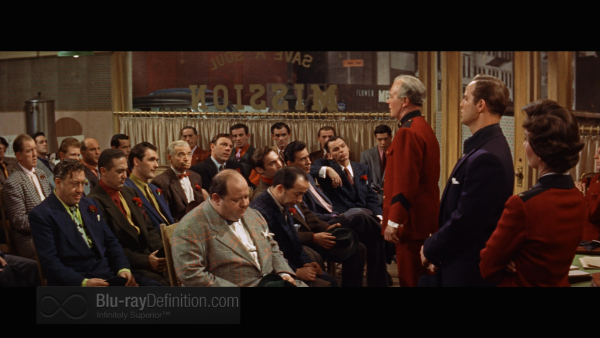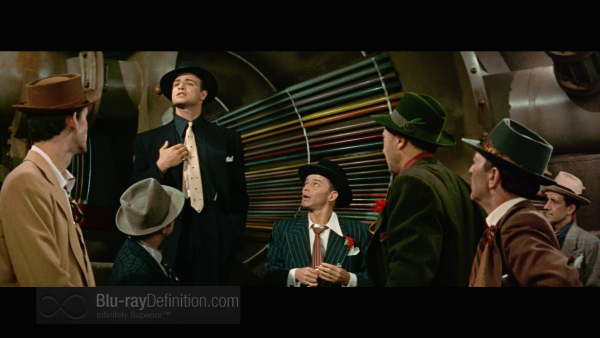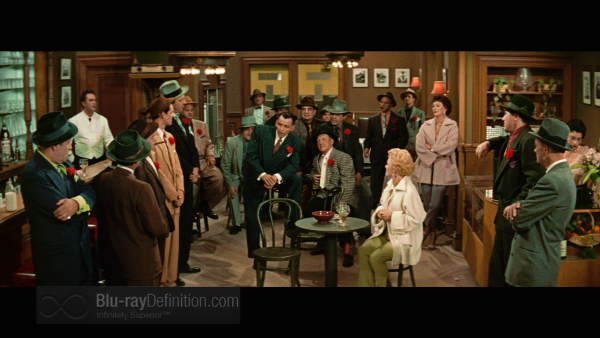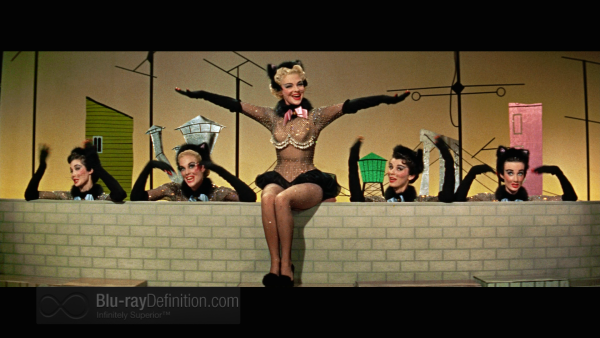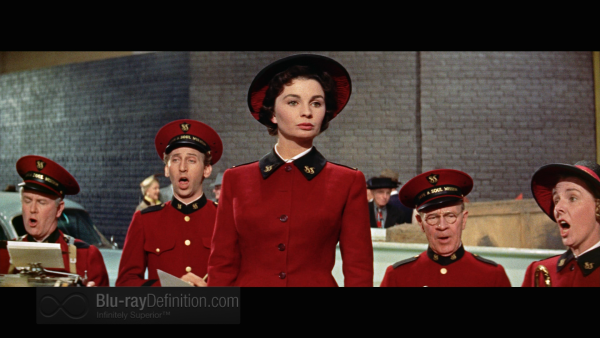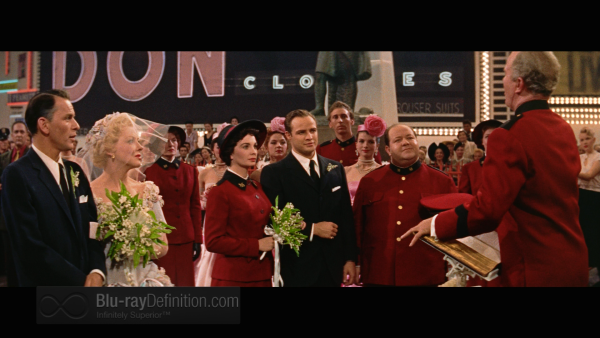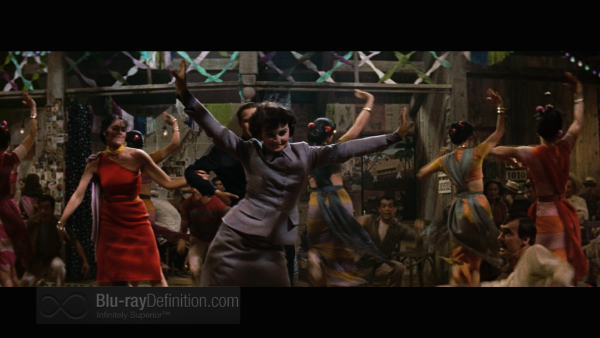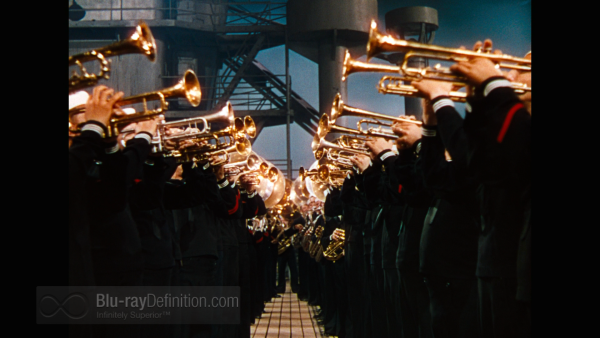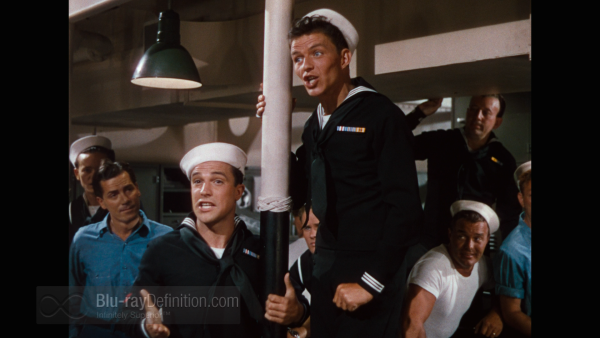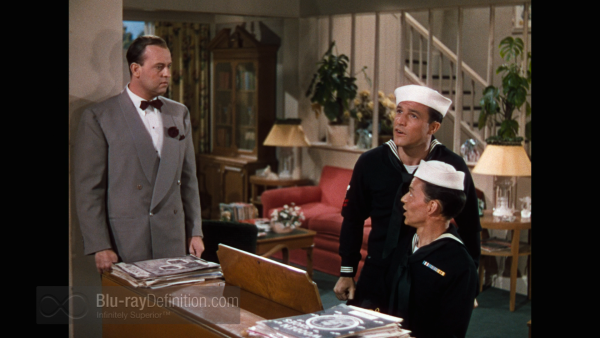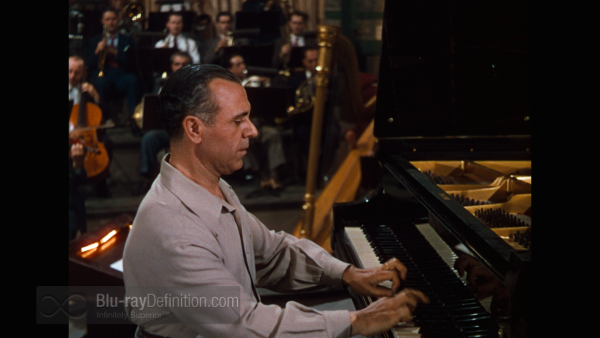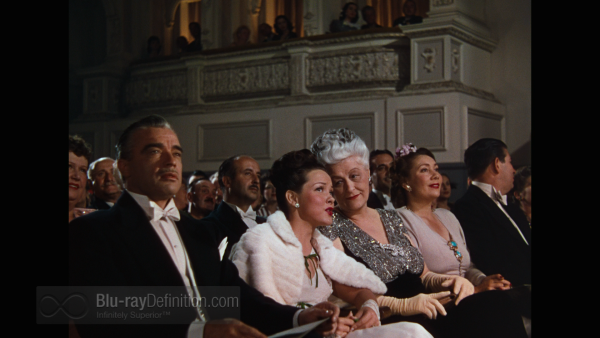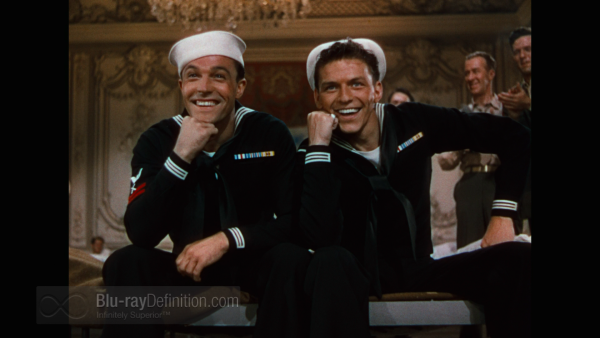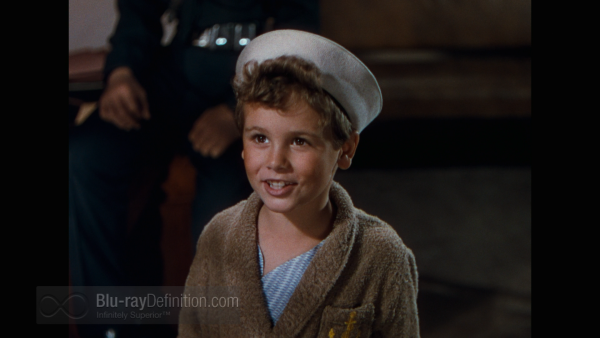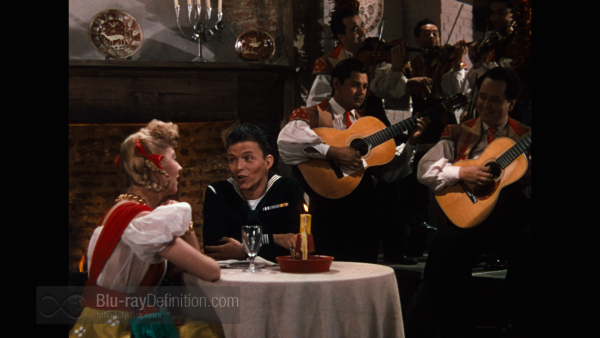 [amazon-product]B00SIHM7PI[/amazon-product]