– –
The Performance
[Rating:3.5/5]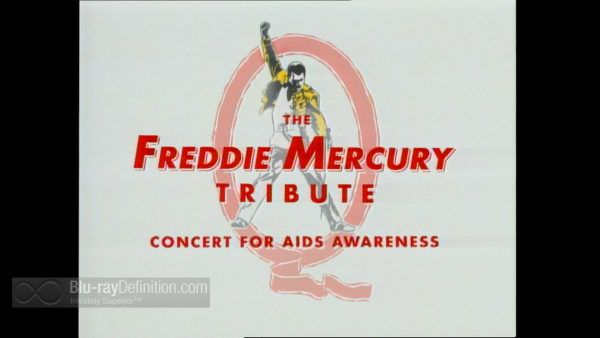 This is the classic concert that took place on April 20th, 1992 at Wembley Stadium featuring the remaining members of Queen and a plethora of rock and pop superstars in order to pay tribute to the then recently deceased Freddie Mercury, frontman for the mega-band. As Mercury had passed away from complications related to AIDS, the concert was not only a memorial to him, but also a benefit for AIDS awareness, and the proceeds from the show and the proceeds for the sales of the show, to this day, go to the Mercury Phoenix Trust – Fighting AIDS worldwide.
Despite the seriousness, the event yielded some classic performances, like Guns 'n' Roses live version of Bob Dylan's "Knocking on Heaven's Door" or the fantastic match up of Queen with David Bowie and Annie Lennox for their Queen/Bowie hit "Under Pressure".
The show is split into two halves, one with "opening acts" featuring performances by Metallica, Extreme, and Guns 'N' Roses, and the main show in which Queen performs their hits with other musicians filling in for Freddie Mercury. While the charismatic frontman's shoes are nearly impossible to fill, some of these performances, such as the Bowie/Lennox match up mentioned above, really click. Robert Plant does an excellent job on the rockabilly tune "Crazy Little Thing Called Love" as well. Some misses, however, include Paul Young doing "Radio Ga Ga" and Elton John and Axl Rose on "Bohemian Rhapsody".
As a tribute to Freddie Mercury and massive concert bringing together some of the biggest names in the music business from the early-90s, this is one concert that certainly cannot be missed.
Track Listing:
Opening Acts:
Intro
Brian May / Roger Taylor / John Deacon Introduction
Metallica Enter Sandman
Metallica Sad But True
Metallica Nothing Else Matters
Freddie Montage (Insert)
Extreme Queen Medley
Freddie Montage (Insert)
Def Leppard & Brian May Now I'm Here
Queen I'm Going Slightly Mad video (Insert)
Bob Geldof Too Late God
Guns n' Roses Paradise City
Guns n' Roses Knocking On Heavens Door
Elizabeth Taylor Speech
Main Concert:
Joe Elliot, Slash & Queen Tie Your Mother Down
Roger Daltrey, Tony Iommi & Queen I Want It All
Zucchero & Queen Las Palabras De Amor
Gary Cherone, Tony Iommi & Queen Hammer To Fall
James Hetfield, Tony Iommi & Queen Stone Cold Crazy
Robert Plant & Queen Crazy Little Thing Called Love
Brian May Too Much Love Will Kill You
Paul Young & Queen Radio Ga Ga
Seal & Queen Who Wants To Live Forever
Lisa Stansfield & Queen I Want To Break Free
David Bowie, Annie Lennox & Queen Under Pressure
Ian Hunter, David Bowie, Mick Ronson & Queen All The Young Dudes
David Bowie, Mick Ronson & Queen Heroes
George Michael & Queen Year Of 39
George Michael, Lisa Stansfield & Queen These Are The Days Of Our Lives
George Michael, London Gospel Choir & Queen Somebody To Love
Elton John, Axl Rose & Queen Bohemian Rhapsody
Elton John, Tony Iommi & Queen The Show Must Go On
Axl Rose & Queen We Will Rock You
Liza Minelli & Ensemble We Are The Champions
Video Quality
[Rating:2/5]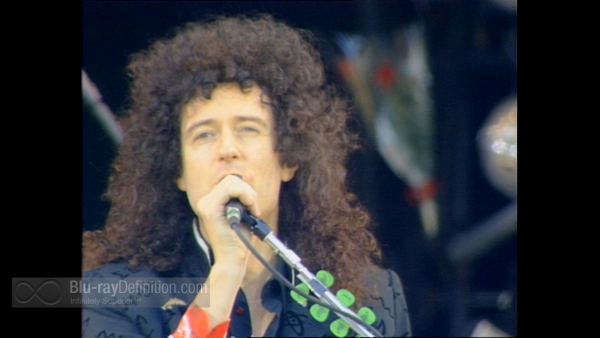 The Freddie Mercury Tribute Concert is part of Eagle Rock Entertainment's new "SD Blu-ray" series of titles taken from standard definition sources and upscaled to high definition for Blu-ray. It is encoded at 1080i/60 in AVC and framed at 1.33:1. The image looks about as good as you can expect for a 20-year-old concert recorded in standard definition. It's a notch or two above what it might look like on DVD, owing to the high end upscaling process and the extra breathing room allowing for a lower compression rate, but it is not even close to being a reference release. One can easily spot artifacts like haloing, stairstepping, and video noise.
Audio Quality
[Rating:3.5/5]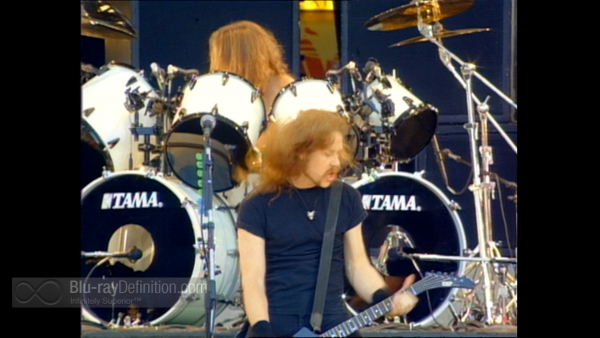 I can understand the benefit of bringing these standard definition concert videos to Blu-ray especially if you gain the benefit of the high resolution audio formats on Blu-ray Disc. Unfortunately, we don't really get that here with The Freddie Mercury Tribute Concert. Sure, the stereo track is offered in LPCM 2.0 (48kHz/16-bit), which is mid-res at best, but the 5.1 track isn't provided in a lossless format. Eagle Rock has included the 5.1 mix in DTS-HD High Resolution (48kHz/24-bit), the lossy version of DTS-HD, as opposed to the lossless DTS-HD Master Audio variety. It's not that the sound is great for this concert to begin with, so the surround track here sounds a bit out of balance, with poor instrumental separation, a little too boomy, and definitely tizzy in the high end. The 2.0 sounds marginally better, but certainly less muddy.
Supplemental Materials
[Rating:2.5/5]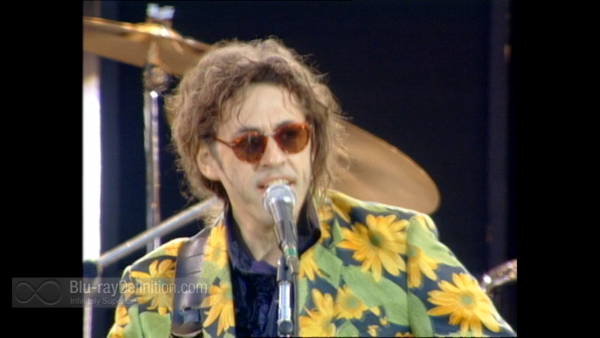 10th Anniversary Documentary (1.33:1; SD; 00:56:44)
Rehearsals:

Under Pressure – Queen + David Bowie and Annie Lennox
These are the Days of Our Lives – Queen + George Michael and Lisa Stansfield
Somebody to Love – Queen + George Michael

Photo Galleries:

Official Photos
Fan Photos

Mercury Phoenix Trust
Booklet with notes, photos, and credits
The Definitive Word
Overall:
[Rating:3/5]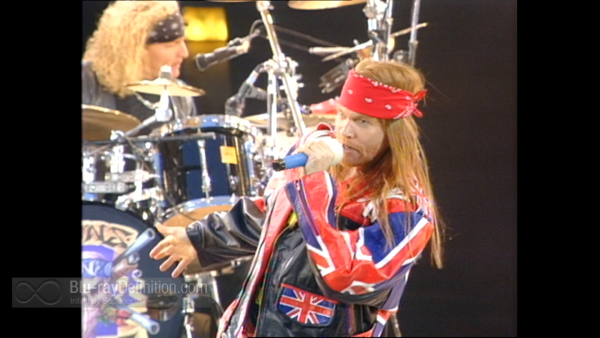 Freddie Mercury Tribute Concert doesn't offer much of an upgrade on Blu-ray Disc, but for those who don't own any version of this concert, this is a difficult one to pass up.
Additional Screen Captures
[amazon-product]B00DPH7V8E[/amazon-product]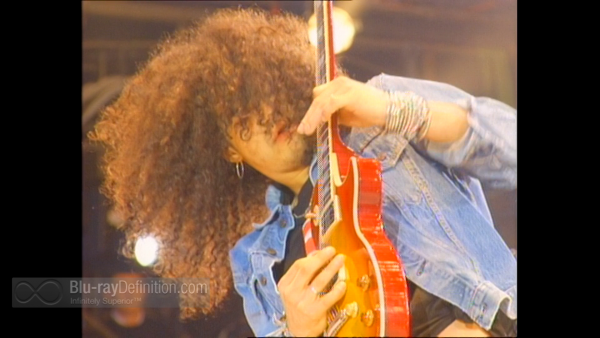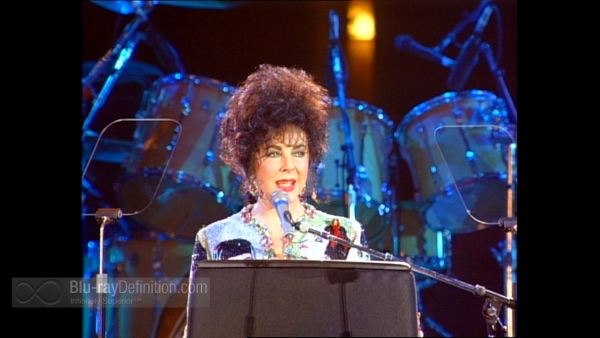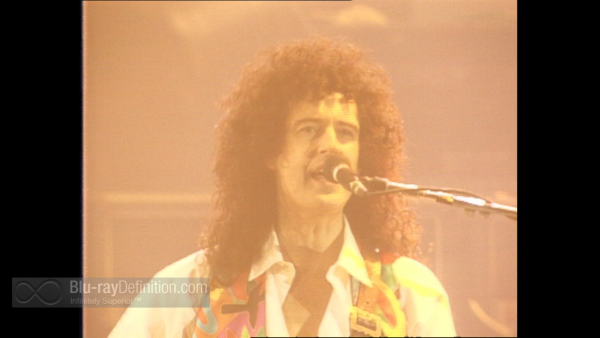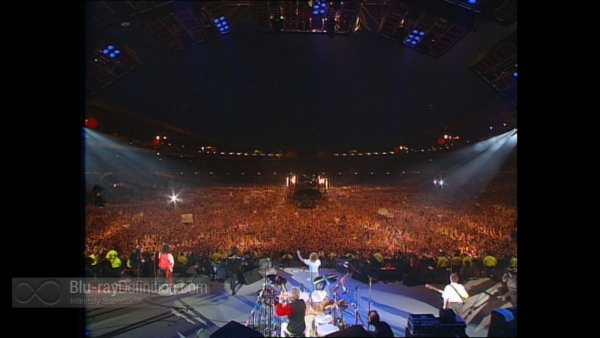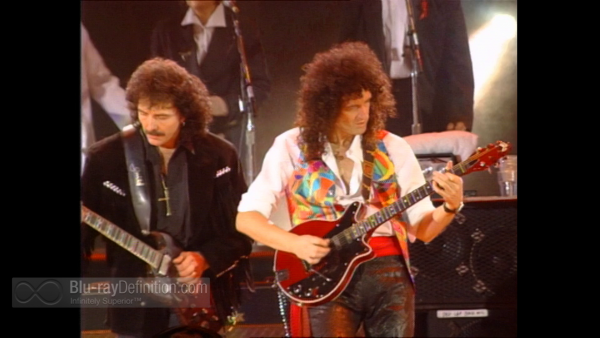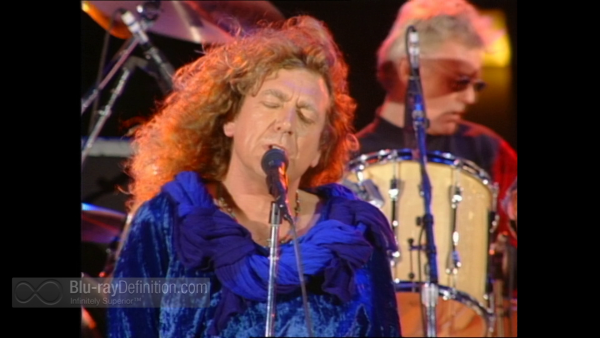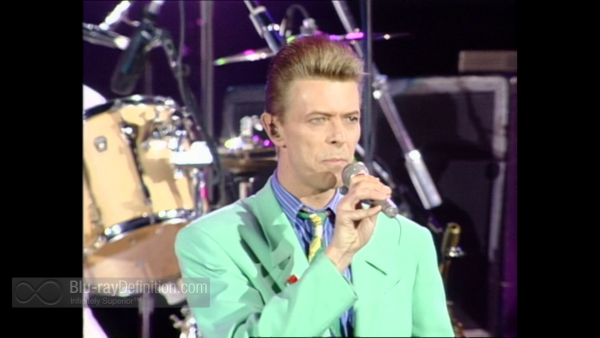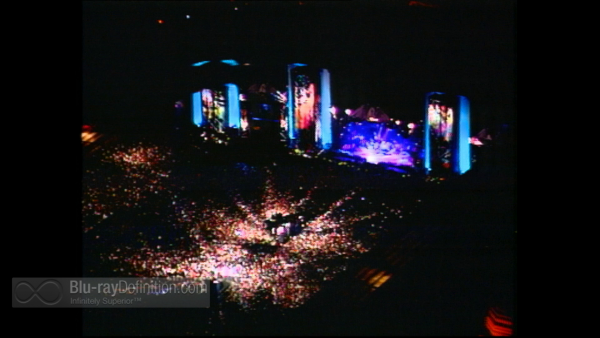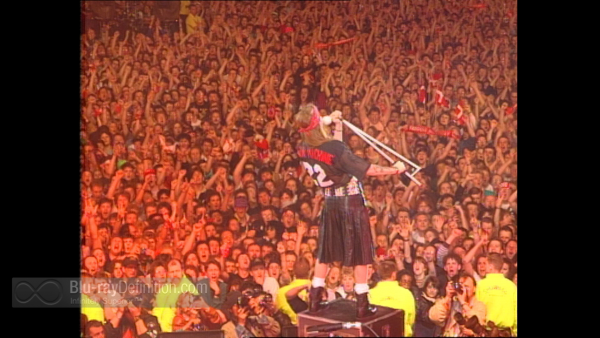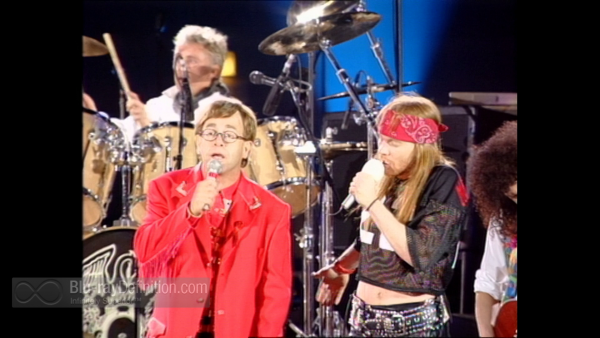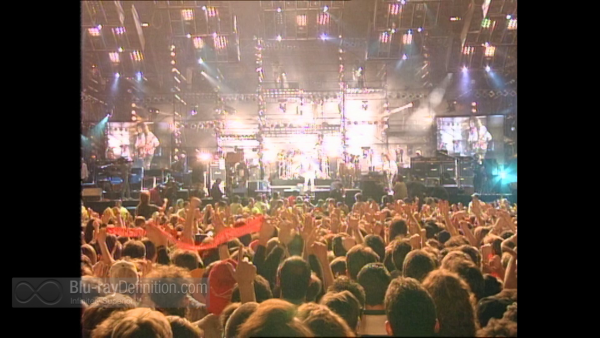 [amazon-product]B00DPH7V8E[/amazon-product]