– –

The Film
[Rating:4.5/5]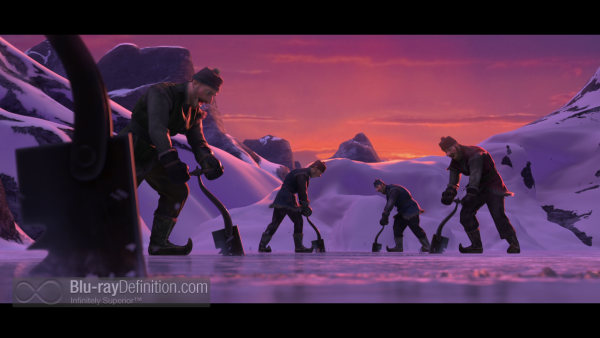 The 2014 winner for Best Animated Feature, Frozen, continues Disney's return to their golden age of animation updated for the contemporary CG era, something that started with their enjoyable update of the German fairy tale Rapunzel, Tangled. This reworking of the Hans Christian Andersen story "The Snow Queen" returns to Disney's strengths of lighthearted, family-friendly stories, beautiful animation, and memorable songs. It also, perhaps, completes the overtaking of the animation department by Disney's acquisition Pixar (John Lasseter is one of the executive producers).
Elsa (Idina Menzel) has grown up set to inherit the thrown of her kingdom, but also with a heavy secret she must protect. She has the power to create ice and snow, an ability that, unchecked, almost led her to accidentally kill her younger sister Anna (Kristen Bell) during one of their playful romps. Now,matured, on the eve of her inauguration, the two sisters grown apart due to Elsa's secret, Anna's impulsive nature leads her to get engaged to a prince she just met. The subsequent confrontation with her sister Elsa leads to Elsa once more releasing her power and throwing the entire kingdom into an endless winter. Afraid that she might harm everyone, Elsa flees into isolation atop an icy mountain in an ice castle. But Anna is not one to leave things be, and with the help of a rugged ice dealer named Kristoff (Jonathan Groff) and an amiably goofy (and strangely alive) snowman named Olaf (Josh Gad), she braves the dangerous cold and winter weather to travel to the top of Elsa's mountain, convinced she can get her sister to end the winter and come back home.
With numerous musical numbers, including the hit and Oscar-winning (Original Song) "Let it Go", Frozen is a wonderfully fun balance of comedy, fantasy, and fairy tale, just the kind of film that kids and parents alike will love. Anna is the sort of go get 'em character that young women of all ages can look up to, and Kristen Bell's voice work really gives her life. Meanwhile, it goes without saying at this point, but the animation is just astounding. From the fractal designs in individual ice crystals to the work on Elsa's snow queen gown, it seems Disney has really gotten their CG act in order, just like their Pixar cousins.
Video Quality
[Rating:5/5]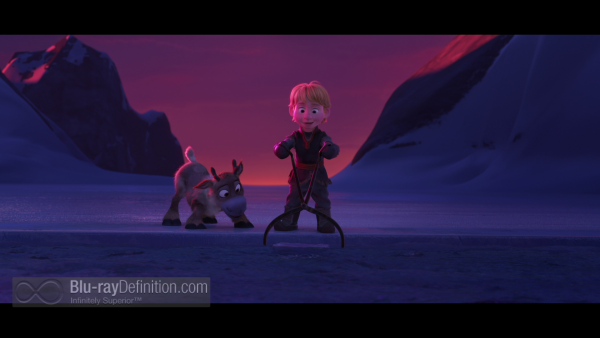 Frozen gets a magnificent, reference-quality release on Blu-ray from Disney in an AVC/MPEG-4 1080p encodement framed at what is listed on the packaging as a 2.24:1 framing. CGI work is flawless with no signs of noise, aliasing or banding, the colors pop vividly and the image shows strong contrast.
Audio Quality
[Rating:5/5]
Frozen sounds just as great on Blu-ray as it looks. Although it may not quite compare to the available Dolby Atmos theatrical mix, the offered English DTS-HD Master Audio 7.1 (48kHz/24-bit) track is fine substitute for the home theatre, with beautiful dynamics, a natural high end, solid extension into the low range, and crystal clear dialogue and vocals. Wonderful use is made of the additional back channels that carry lush amounts of ambience, atmospherics and discrete effects as well.
Supplemental Materials
[Rating:3.5/5]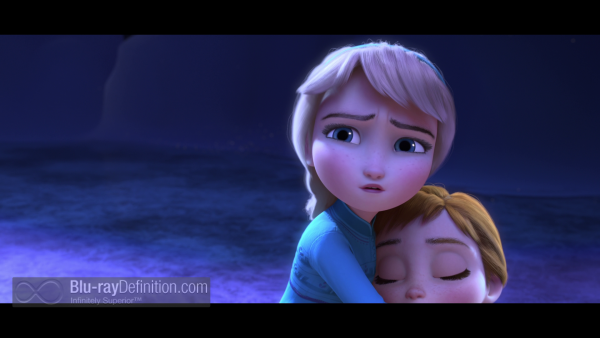 iTunes Digital HD Digital Copy
DVD Copy
Original Theatrical Short: "Get a Horse!" (1080p/24; DTS-HD Master Audio 7.1; 00:06:00)
The Making of Frozen (1.78:1; 1080p/24; 00:03:18) – A musical journey through the making of Frozen
D'frosted: Disney's Journey from Hans Christian Andersen to Frozen ((1.78:1; 1080p/24; 00:07:28)
Deleted Scenes with introductions by directors Chris Buck and Jennifer Lee (1080p/24; 00:06:50):

Never Underestimate the Power of Elsa
The Dressing Room
Meet Kristoff #1
Meet Kristoff #2

Music Videos:

"Let it Go (End Credit Version)" Music Videos: (1080p/24; 00:15:42)

Demi Lovato (English)
Martina Stoessel (Spanish)
Martina Stoessel (Italian)
Marsha Milan (Malaysian)

Original Teaser Trailer (2.35:1; 1080p/24; 00:01:32)
The Definitive Word
Overall:
[Rating:4.5/5]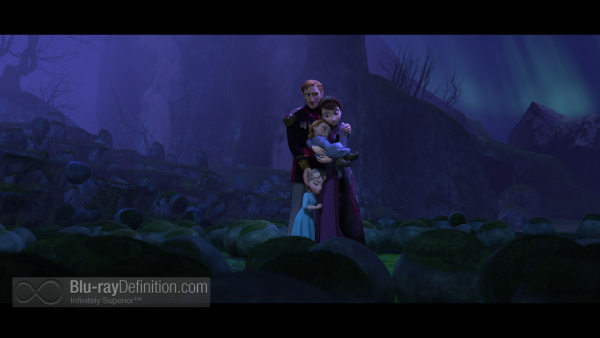 An enjoyable, visually and aurally spectacular journey, Frozen is a statement that Disney is back in their own right, Pixar notwithstanding. This is what we have come to expect and love from the Disney animators – a wonderful musical journey and fantasy based on a classic tale that the entire family can enjoy.
Additional Screen Captures
[amazon-product]B00HV2KU5A[/amazon-product]
[amazon-product]B00G5G7K7O[/amazon-product]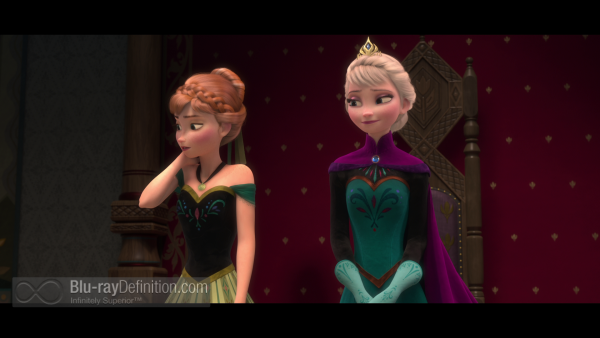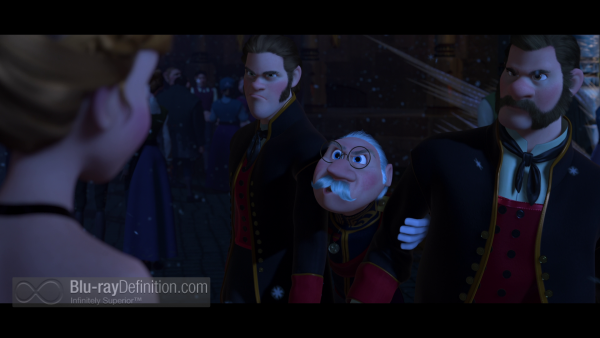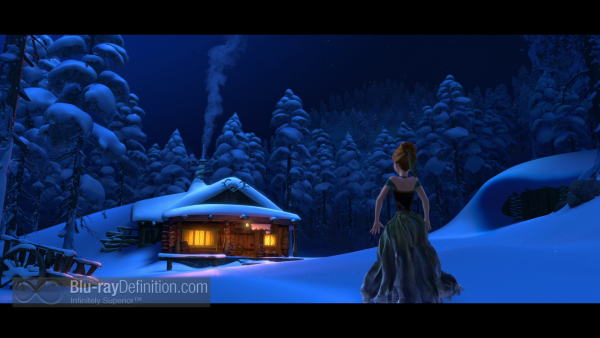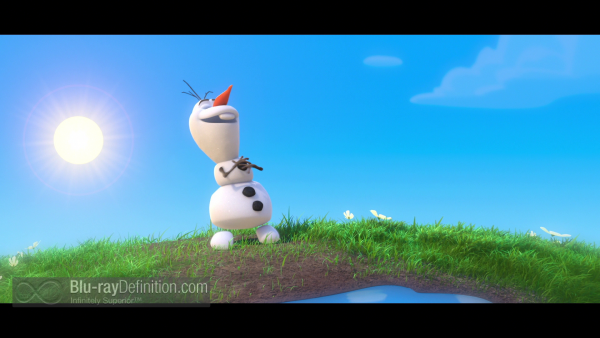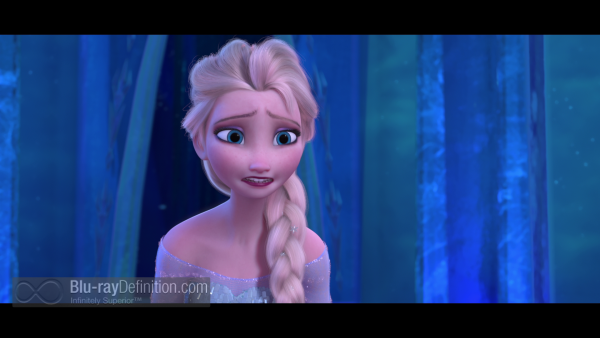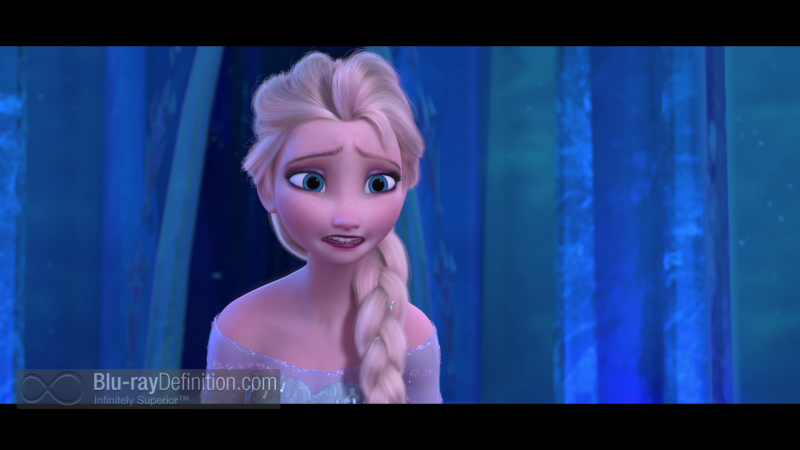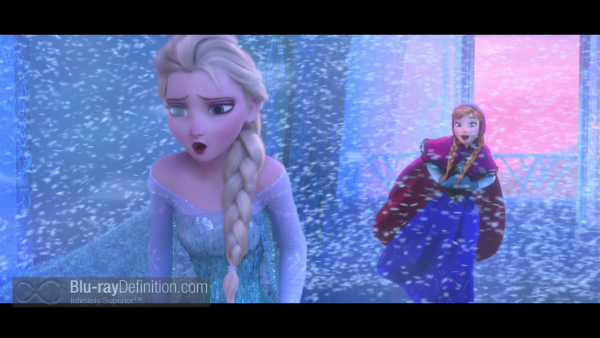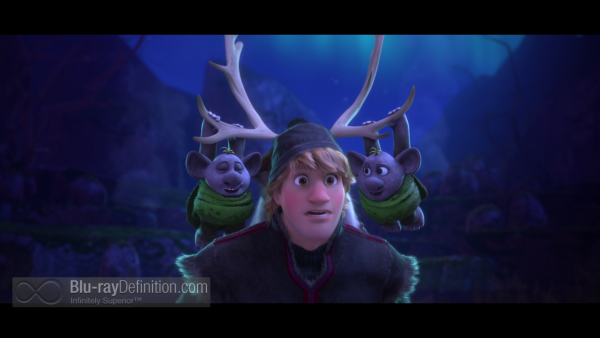 [amazon-product]B00HV2KU5A[/amazon-product]
[amazon-product]B00G5G7K7O[/amazon-product]