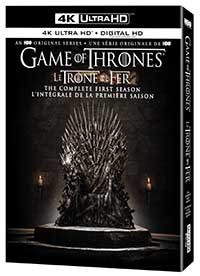 Based on the first book in writer George R.R. Martin's sprawling "epic fantasy" series of novels A Song of Fire and Ice, HBO's Game of Thrones was almost guaranteed to be a success, especially with Martin onboard as one of the executive producers. That the first season remained so faithful to Martin's own writing makes this fantasy for adults all the better. A gritty and vast world that concerns itself with the realities of medieval times more than it does with magic, this is not fantasy for kids – Harry Potter it ain't.
Taking place on a fictionalized Earth on a fictional continent known as Westeros, Game of Thrones begins this first season mainly focused on the intrigue between the heads of the Seven Kingdoms of Westeros and their positioning to lay claim to the Iron Throne in order to rule over the entire kingdom. At the crux of the story is the rivalry between the Starks of the North headed by Eddard Stark (Sean Bean) and the obscenely wealthy Lannisters. When the Mad King is killed by Jaime Lannister (Nikolaj Coster-Waldau) and Eddard's old friend Robert Baratheon (Mark Addy) ascends to the Iron Throne, Eddard is made Hand of the King, basically the King's right hand man. A power struggle between the Starks and Lannisters ensues, as Cersei Lannister (Lena Headey) is married to the King. But, at the root of the troubles is the attempt on the life of Eddard Stark's young son Bran (Isaac Hempstead Wright) who witnessed Cersei and her brother Jaime in the throes of incestuous passion.
Making the story ever more ominous are the beginning of rumours that to the north of The Wall, a great structure of ice built to keep out monstrous creatures that has existed for thousands of years and is guarded by a brotherhood known as The Night's Watch, are the reemergence of what are known as "White Walkers." Deadly, undead creatures that haven't been seen or heard from in millennia and hardly anyone believes in anymore. Could it be true? The Stark family motto "Winter is Coming" may hold more truth in it than ever before this time around, in a world where the cold winters last years with long lulls of summer.
Sexy, brutal, and downright addictive, Game of Thrones is mesmerizing in its depth and expansiveness and so true to its literary source without being bogged down in minutia. This is the fantasy drama we have longed for since Lord of the Rings – and it just may be the equal or surpass it in its efficacy as far as melding realism into the genre.
The Video
Game of Thrones Season 1 has been "redone in 4K format" according to HBO. Whatever that means, exactly, is hard to guess. IMDb lists the season as being shot in the HDCAM SR digital format, which means it should have been possible to achieve at least 1080/24p in 4:4:4. The season arrives on 4K Ultra HD in an upscaled HEVC 2160p (4K) encodement newly color coded in Dolby Vision HDR. While the overall image quality certainly looks a little bit cleaner than previous Blu-ray releases, finer detail is marginally better than where it was before. The biggest gain here is the Dolby Vision that provides stunning shadow details in scenes at The Wall and in the dungeon where Ned Stark is locked away and Varys comes to him with a blazing torch that 'pops' brilliantly against an inky black background, just as two examples. The wide color gamut is also gorgeous to see. King's Landing is particularly benefited by this – the candy-colored stained-glass windows, tera cotta colored walls and sun soaked gardens show an array of colors that aren't as vibrant on the Blu-ray, but the North also gains here, with the maroon leaves of the trees popping against the grey and white backgrounds.
The Audio
Game of Thrones the Complete First Season hits 4K Ultra HD with the same English Dolby Atmos immersive mix that the Limited Edition Steelbook reissue came with. The series has always had excellent surround mixes on Blu-ray, intitially in DTS-HD Master Audio 5.1, and now these new Atmos mixes kick them up with the addition of the height and back surround channels, so now when the lift goes up and down at the The Wall, for instance, the sound is engulfing and really comes from above.
The Supplements
There are hours of special features included, including audio commentaries with cast & crew, but there's nothing that hasn't been included in GoT releases before and most notably the in-episode extras have been excised. Instead, the Histories & Lore is included only as a stand-alone.
iTunes Digital HD & Digital HD UltraViolet
Audio Commentaries
Character Profiles (1.78:1; 1080p/24; 00:30:42)
Anatomy of an Episode – Watch episode 6 with in-depth, behind-the-scenes interviews, picture-in-picture commentary and analysis by cast & crew and more (1.78:1; 1080p/24; 01:00:31)
Making of Game of Thrones (1.78:1; 1080p/24; 00:30:02)
From the Book to the Screen (1.78:1; 1080p/24; 00:05:15)
Creating the Show Open (1.78:1; 1080p/24; 00:05:07)
Creating the Dothraki Language (1.78:1; 1080p/24; 00:05:27)
The Night's Watch (1.78:1; 1080p/24; 00:08:07)
Histories & Lore (1.78:1; 1080p/24; 01:09:04)
Cast Auditions (1080p/24; 00:10:37):

Harry Lloyd (Viserys Targaryen)
Rory McCann (Sandor Clegane)
Jason Momoa (Khal Drogo)
Sophie Turner (Sansa Stark)
Maisie Williams (Arya Stark)
Miltos Yerolemou (Syrio Forel)
The Final Assessment
Game of Thrones: The Complete First Season has never looked (or sounded) better. This is how this epic fantasy series should be consumed. Recommended for all fans with 4K & HDR capability.
Game of Thrones: The Complete First Season is available on 4K Ultra HD Combo Pack June 5, 2018 from HBO
Home Box Office (HBO) | Television 360 | Grok! Television | Generator Entertainment | Bighead Littlehead
Studios & Distributors
HEVC (H.265) 2160p (4K) | AVC 1080p (Blu-ray)
Video
Dolby Vision (Compatible w/ HDR10)
HDR Format
English Dolby Atmos
Primary Audio
English DD 5.1 | French DD 5.1 | Spanish DD 2.0 | Spanish (Castilian) DD 5.1 | German DD 5.1 | Italian DD 5.1 | Portuguese (Brasil) DTS Surround 2.0 | Czech DTS Surround 2.0
Secondary Audio
English SDH | French | Spanish | Castilian | German | Italian SDH | Portuguese (Brasil) | Czech
Subtitles
HDR Effect (If Applicable)
Summary
In the first season of HBO's powerhouse fantasy series, the families of the Seven Kingdom's clash over the Iron Throne and winter is still coming. The series has never looked or sounded better than it does in this new, spectacular 4K Ultra HD edition w/ Dolby Vision and Atmos.
What people say... Login to rate
Be the first to leave a review.
Show more