– –

The Collection
[Rating:4/5]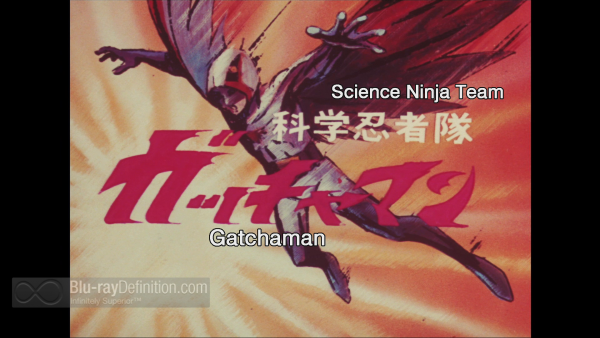 I was absolutely mad about Science Ninja Team Gatchaman when I was a kid growing up in the late '70s/early '80s. Well, to be more specific, I was mad about Battle of the Planets, the revised version of Gatchaman for American audiences that edited out much of the "violent" sequences, added in some oddly out of place robot named 7 Zark 7, and additional animated sequences in outer space. But, what did I know? This was years before I'd even heard of the term "anime" or even knew that this series was being repurposed from a foreign country. I was only six-years-old when it started running, after all, and I would eat it up on the local TV station in the mornings as I was getting ready for school, along with Speed Racer.
Many years later when anime came onto my radar as a teen, I was surprised to learn that, I'd already been exposed to it with Battle of the Planets, but the beloved series that caused me to kill countless trees (I made probably hundreds of paper airplanes, painted red and blue just like the Phoenix flown by "G-Force") was a pale comparison to its earthbound original; a mere late-70s cash-in on the Star Wars craze and a sidestep of the puritanical American censors. I needed to see Gatchaman and to cast Battle of the Planets aside. So I did. And I haven't looked back.
The series is an homage to the American comic book superheroes first encountered by creator Yoshida Tatsuo in post-war Japan as cast-offs handed out by American G.I.'s. The colorful artwork and compelling adventures so inspired Yoshida that he would eventually go on to create Science Ninja Team Gatchaman as a way to bring the Western-style superhero into the burgeoning Japanese manga market.
The stories in the series revolve around a team of five young orphan ninja superheroes working for a Dr. Nambu from the fictional International Science Organization in order to fight the bio-terrorist organization known as Galactor. Galactor is led by the shapeshifting, hermaphroditic Berg Kattse, who reports to a supreme leader, Sosai X.
The Science Ninja Team Gatchman includes the team leader Ken Washio his second-in-command, Jō Asakura, the only female member Jun, the youngest member adopted brother of Jun, a preteen named Jinpei, and the ship's pilot Ryū Nakanishi. Together, on their ship the God Phoenix (simply named the Phoenix in Battle of the Planets) the team, in bird-themed costumes, take on Galactor and battle numerous creatures in an effort to protect the Earth's environment.
There is a strong overriding environment theme that runs throughout the series, and, unlike subsequent re-purposed versions for American audiences, it was not afraid to have the heroes kill, maim, or even confront "taboo" issues, like Berge Kattse's gender. In Battle of the Planets, hoops were jumped through to explain this away and the environmentalism took a backseat to space battles and out of place slapstick comedy.
While I have to admit that Gatchaman can begin to become repetitive, with each episode spending most of its time retracing much of the same ground as many of the other episodes – a threat from Galactor, a giant monster attacks, the Earth is in peril, Berg Kattse is foaming at the mouth for a chance to bring down Gatchaman, our heroes prevail – it still has a great bit of '70s charm and comic book wonderment that is lost in much of today's anime. There's not much "deconstruction" going on here, it's just straightforward action and adventure that kids, old and young, can lose themselves in and enjoy.
Video Quality
[Rating:3.5/5]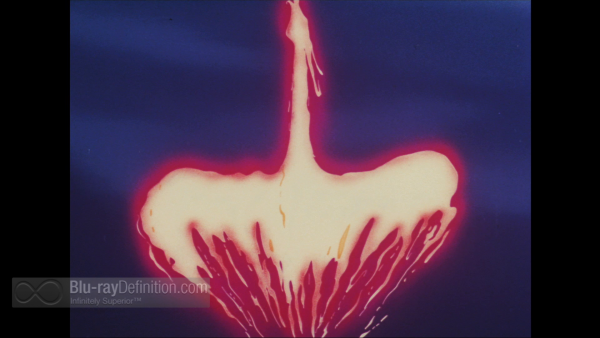 Gatchaman is a series that dates back to 1972 and has been reissued so many times it is well beyond the scope of this review (there's an interesting featurette included, oddly titled "Art Gallery" that give a rundown). Taking this into account, one can hardly expect this film-based animation to look pristine, but it's not like we haven't seen older animated releases come to Blu-ray looking amazing. That being said, the AVC/MPEG-4 1080p (1080i in the case of the OVAs) encodement of the series probably looks the best it ever has on any home video format. I would say that perhaps grain reduction was little too heavy-handed, because it does look soft and smooth. Colors could have been pumped up just a little as well, because they don't really pop much and look a bit faded. In the end, however, ardent fans will probably be pleased, but this is far from a reference quality offering.
Audio Quality
[Rating:3.5/5]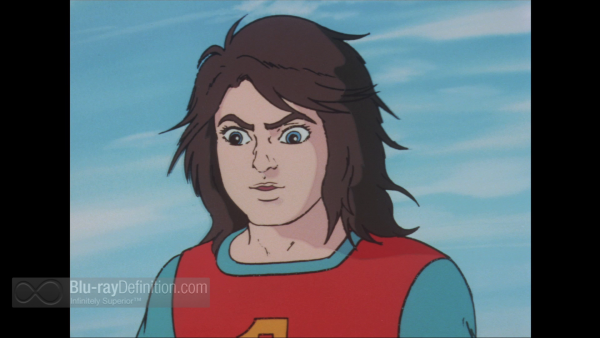 Sentai has included the original Japanese monaural soundtrack in DTS-HD Master Audio 2.0 (48kHz/24-bit) as well as the English dub from the previous DVD release, also in DTS-HD Master Audio 2.0 (48kHz/24-bit). The artificially reprocessed, reverberant, and boomy sound of the English dub does not sound very appealing, and I would say that the more reserved, even if boxier, Japanese track is preferable.
Supplemental Materials
[Rating:4/5]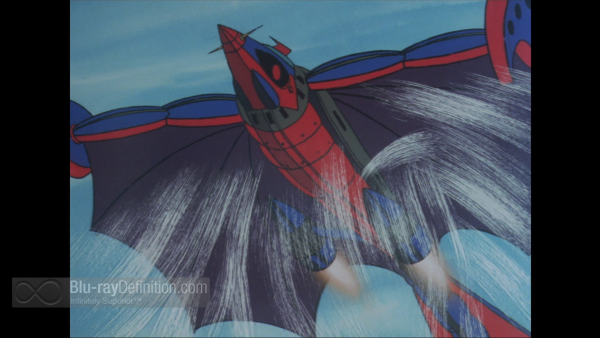 There are a lot of supplements here ported over from DVD, but, beware, the SD material has been stretched to full screen, for whatever reason.
The supplements:
Disc 1:
Commentary with Leraldo Anazulda (Ken) & Charles Campbell (ADR director)
Commentary with Brian Jepsen (Joe) & Charles Campbell (ADR director)
Disc 2:
Commentary with Kim Prause (Jun) & Charles Campbell (ADR director)
Commentary with Luei Christian (Jinpei)
Disc 3:
Commentary with Victor Carsrud (Ryu)
Disc 4:
Commentary with Andy McAvin (Dr. Nambu)
Commentary with George Manley (Narrator)
Disc 5:
Commentary with Edwin Neal (Berg Katse)
Commentary with Sarah Alys Lindholm (Senior Translator)
Disc 6:
Commentary with Joh Tyson (Red Impulse)
Disc 7:
Commentary with Leraldo Anzaldua (Ken) & Andy McAvin (Dr. Nambu)
Disc 8:
Commentary with Kim Prause (Jun) Luci Christian (Jinpei)
Commentary with Brian Jepson (Joe) & Winston Parish (Leader X)
Disc 9:
Minions & Mayhem Commentary with Josh Grelle, Glenn Fraser, Chris Ayres & Charles Campbell
Disc 10:
Commentary with Marty Fleck (Director Anderson) & Charles Campbell (ADR Director)
Commentary with Samantha Inoue Harte & Charles Campbell (ADR Director)
Disc 11:
Commentary with Recording Engineers Eden Barrera & Bobby Gordon
Commentary with Luci Christian (Jinpei) & George Manley (Narrator)
Disc 12:
Commentary with Leraldo Anzaldua (Ken) & Charles Campbell (ADR Director)
Disc 13:
OVAs (1080i/60):

Gatchaman vs. Turtle King
The Mysterious Red Impulse
Final Count 0002
Disc 14:
What is Gatchaman (1.78:1; SD; 00:35:54)
What We Were Thinking – A text breakdown of the American TV shows on the air at the time Gatchaman launched in Japan
Character Profiles
Character Sketches (1.78:1; SD)
Episode Sketches (1.78:1; SD: 00:12:18)
Science Ninja Technique! (1.78:1; SD; 00:07:46)
Art Gallery (1.33:1; SD; 00:18:17) – A narrated gallery of the various home releases, from the first 8mm release in the early '70's on.
Gatchaman Music:

Gatchaman: Battle of the Planets 7-Zark-7 – Italian
Battle of the Planets Opening Theme – Dutch
Battle of the Planets Closing Credits – Dutch
The Archangels – France
Commando G – Spain
7-Zark-7 – Spain
Battle of the Planets – Spain

Publishing Galleries (SD) – A detailed, narrated history of Gatchaman in print:

Publishing Gallery I
Publishing Gallery II
Gatchaman in English
Gatchaman in Europe
Gatchaman in France

Gatchaman at Play (1.33:1; SD; 00:09:52) – A narrated history and gallery of Gatchaman games and merchandising.
The Origins of Tatsunoko Production (1.78:1; SD: 00:11:03)
Interview with Alex Ross (1.78:1; SD: 00:11:05)
Interview with English Director Charles Campbell (1.78:1; SD; 00:16:54)
English Actor Interviews (SD):

Leraldo Anzuldua (Ken, the Eagle)
Brian Jepson (Joe, the Condor)
Kim Prause (Jun, the Swan)
Luci Christian (Jinpei, the Swallow)
Victor Carsurd (Ryu, the Owl)
Edwin Neal (Berg Katse)
Andy McAvi (Dr. Nambu)
George Manley (Narrator)

English Audition Footage (SD):

Ken, the Eagle
Joe, the Condor
Jun, the Swan
Jinpei, the Swallow
Ryu, the Owl
Berg Katse
Dr. Nambu
Narrator
Leader X

English VA Roundtable (1.78:1; SD; 00:40:39)
Gatchaman at the Alamo Draft House (2.35:1; SD; 00:07:18)
The Demon 5 in Concert (1.78:1; SD: 00:01:30)
Clean Opening Animation
Clean Closing Animation
Unused Ending Sequence (1.78:1; SD; 00:02:49)
Gatchaman ModelLock Commercial (1.78:1; SD; 00:00:36)
The Definitive Word
Overall:
[Rating:4/5]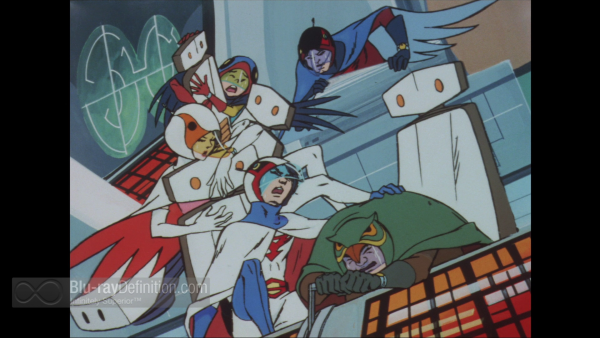 This Blu-ray collection of all 105 TV episodes + 3 OVAs of the original Gatchaman from Sentai Filmworks is a welcomed release for anime fans and all of us who remember Gatchaman in all of its incarnations. It looks better than it ever has here and will be well worth owning.
Additional Screen Captures
[amazon-product]B00DPH7SZA[/amazon-product]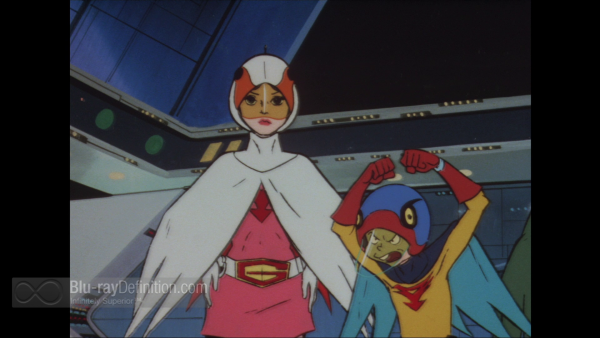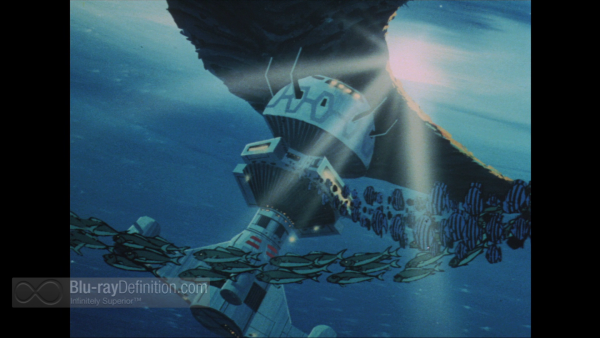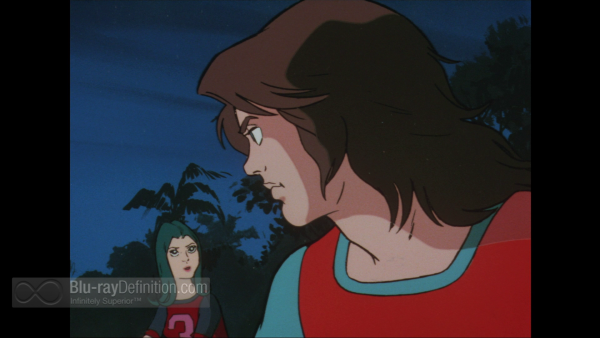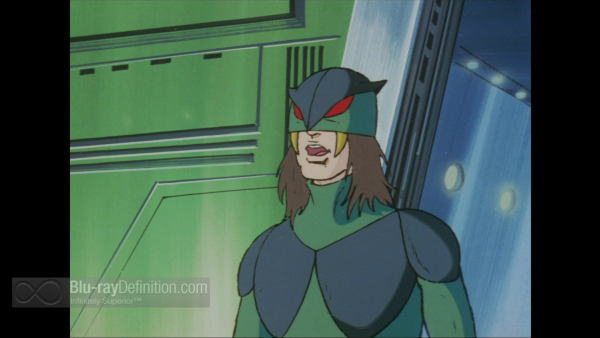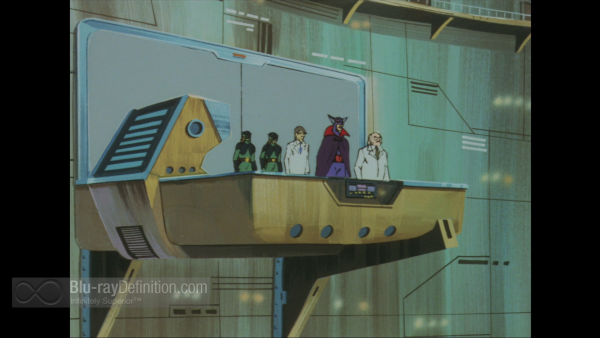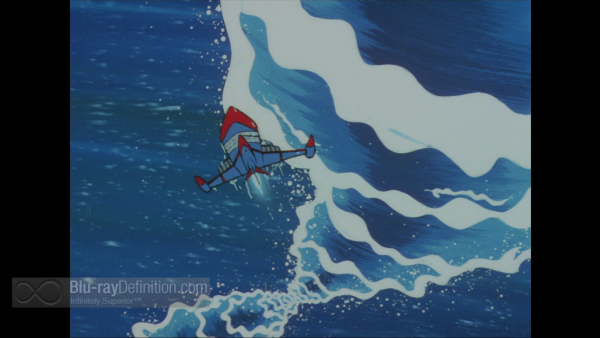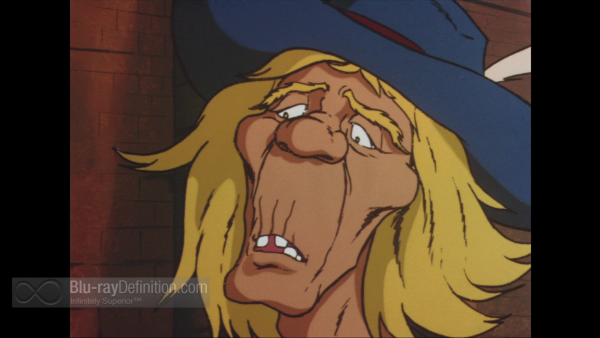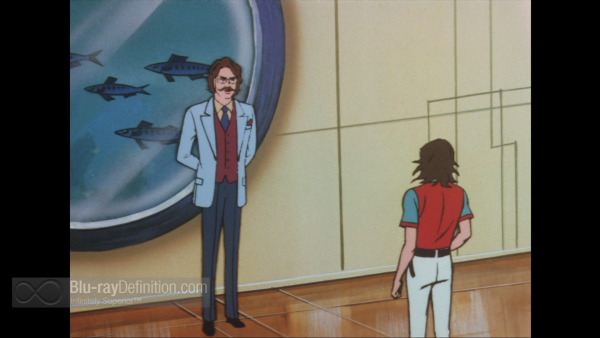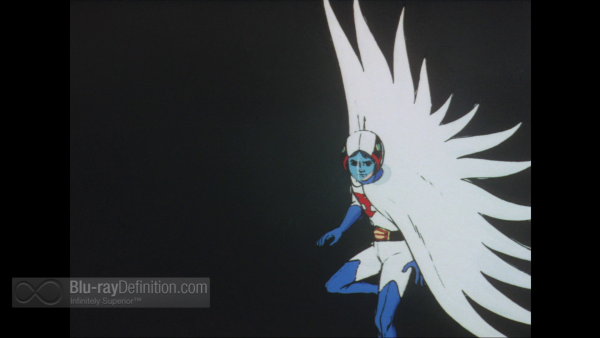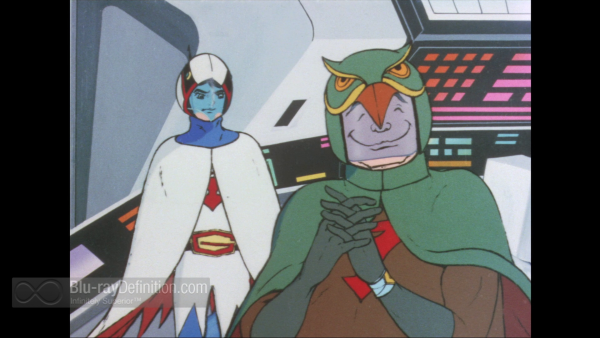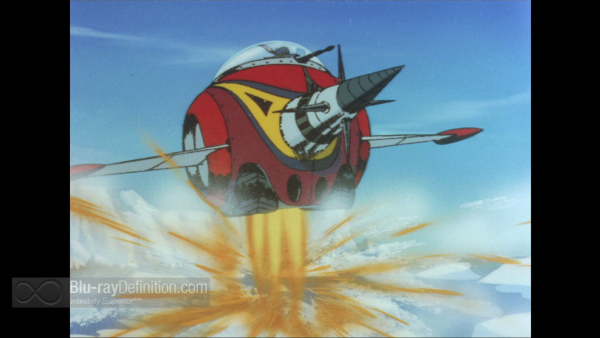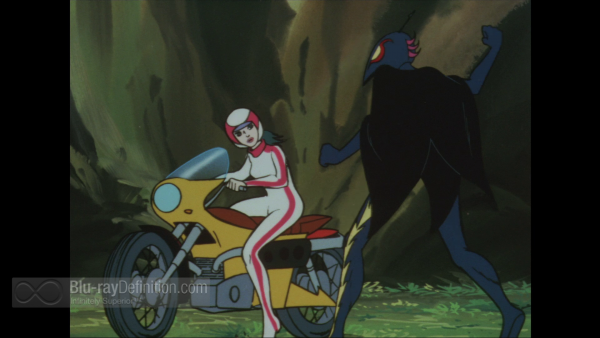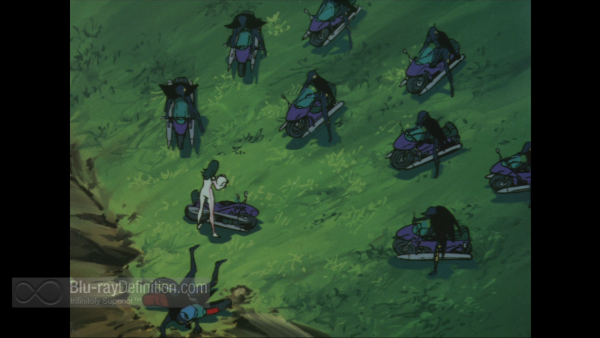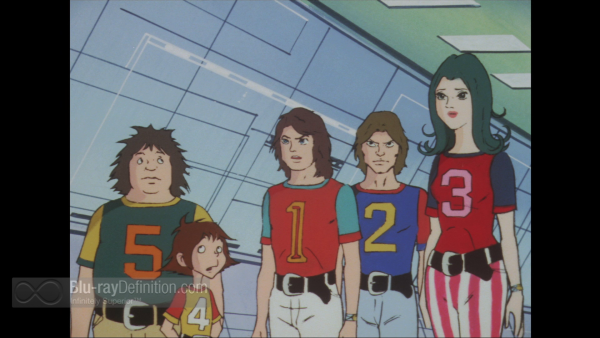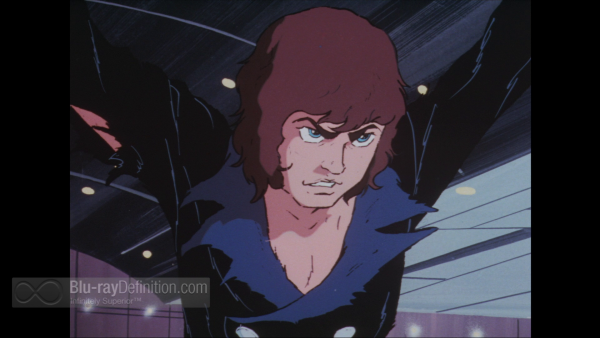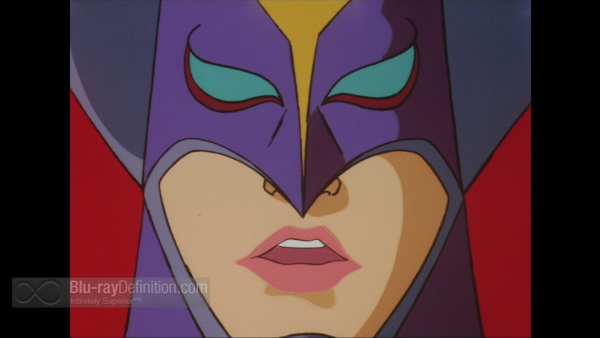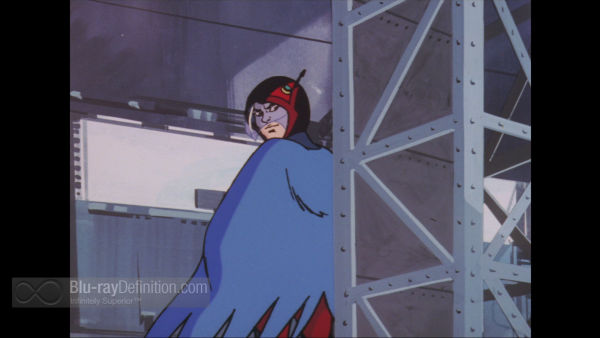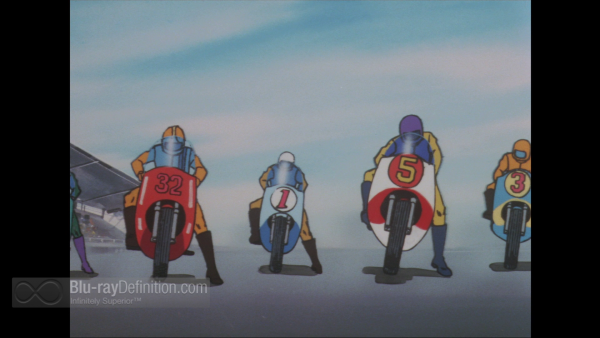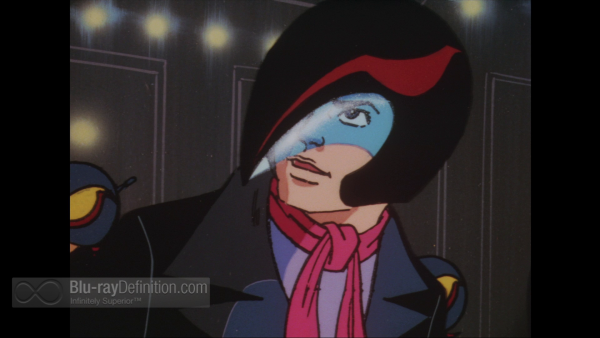 [amazon-product]B00DPH7SZA[/amazon-product]