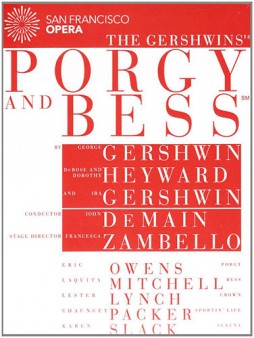 – –

The Film
[Rating:4.5/5]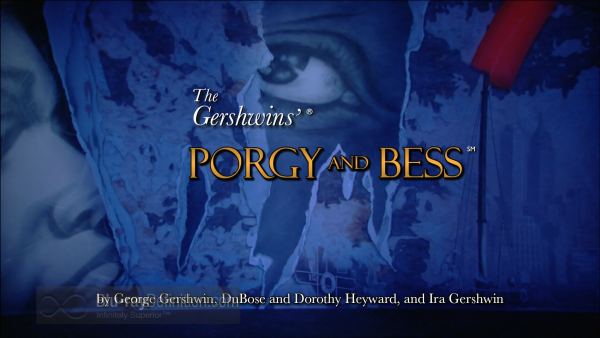 For legal reasons, revisions to the original Porgy and Bess must now be labeled as The Gershwins' Porgy and Bess. My wife and I saw the recent Broadway realization of this iconic American folk opera two years ago with Audra MacDonald and Norm Lewis in the title roles. In today's typical Broadway fashion, all of the performers were head-miked, a move that occasionally backfired when opera singer MacDonald's huge voice literally blew much of the cast off the stage. Fortunately, vocal balance and power is not an issue with this 2009 San Francisco production. It has a cast replete with opera singers, as Eric Owens (Porgy) and Laquita Mitchell (Bess) assume the leads, with other strong soloists rounding out the cast list. To make even a stronger case for this performance, we get superb leadership from the pit by John DeMain whose 1976 Grammy-winning Houston Grand Opera recording was an epic revival of this work.  Francesca Zambello's staging is wide-open, allowing the singers to have the unobstructed physical space, essential to convey the opera's power.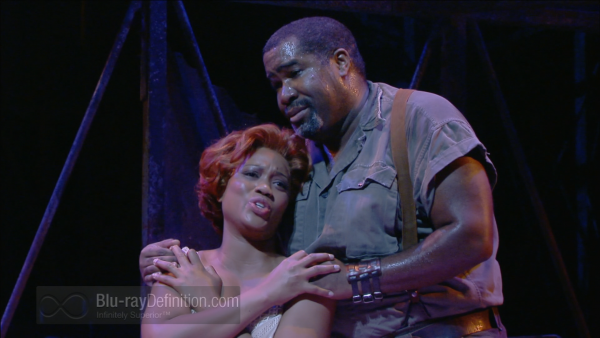 This well-known story involves a crippled man, Porgy (this production gives him a crutch instead of the original goat cart), Bess, a loose woman addicted to "happy dust" with whom he eventually falls in love, Bess's pimp/lover, Crown (Lester Lynch) who complicates this triangle, and the shadowy drug dealer Sportin' Life (Chauncey Parker).  When Crown kills fisherman Robbins (Michael Austin) after losing a game of dice, he flees and Porgy takes Bess in to his home. Eventually, events catch up with all concerned, and Crown returns, gets in a fight with Porgy and is fatally wounded.  Bess succumbs to Sportin' Life's offer of the "high life" and leaves for New York City. As the opera ends, Porgy vows to find Bess in NYC, no matter how long it will take.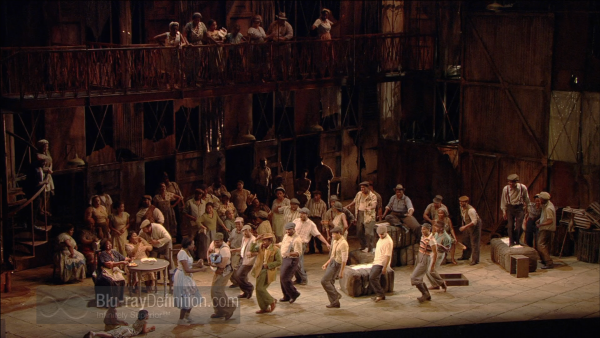 Porgy and Bess is a uniquely American work that begins with Clara (Angel Blue) singing the evergreen Summertime while trying to soothe her baby. What follows is a panoply of great vocal numbers as only the Gershwins could create: I Got Plenty of Nuttin,' Bess, You is my Woman Now, I Loves You Porgy, It Ain't Necessariy So, and, My Man's Gone Now. Many of P&B's songs have entered the Great American Songbook and have been covered by countless popular singers. But, you have really not heard this work until you hear it with full-throated operatic performers who leave nothing behind, and that is what you get with this SFO production.
Video Quality
[Rating:4/5]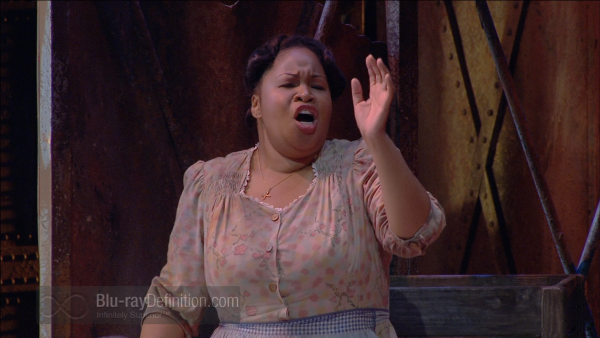 If you are going to see a video version of this opera, this one is good for the most part. Like previous SFO videos that I have reviewed (Moby Dick and Lucrezia Borgia), images occasionally lose their sharpness when the stage lights are slightly dimmed. The remainder of the time (which is really most of the time), we get good details, contrast and color palette.  Frank Zamacona's video team does a masterful job in giving us the feel of a live performance.
Audio Quality
[Rating:4/5]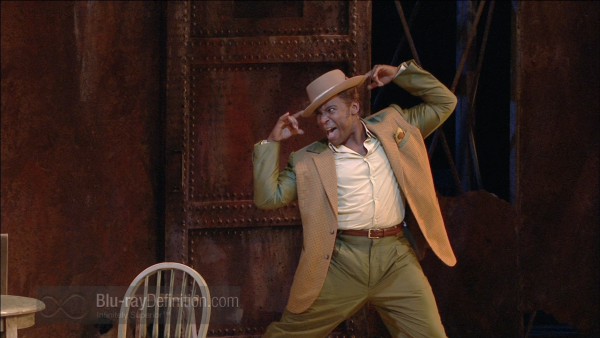 The balance tends to favor the voices, but with voices this good, you really want to hear all of them. Bass-baritone Owens has a voice that is a force of nature and soprano Mitchell is his equal. Maestro DeMain keeps his forces in the pit in perfect sync with the singers on stage and the audio engineers give us the sound perspective from the War Memorial Auditorium's big-bucks seats. The surround soundtrack has decent ambience, particularly in the storm scene, with minimal audience noise.
Supplemental Materials
[Rating:3/5]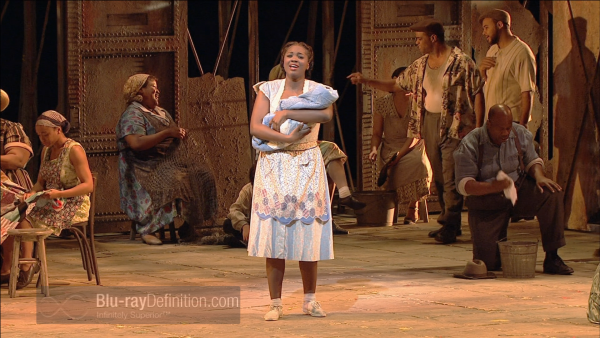 There is a nice program booklet with credits, track listings, a synopsis, and background notes by General Director David Gockley. Various interview tracks are listed below (all in English DTS-HD MA Stereo kHz/24-bit):
Meet the Artists (8:09): Eric Owens, Laquita Mitchell, Chauncey Parker, Lester Lynch, Karen Slack give us their personal insights into their roles and the opera, interspersed with scenes from the production.
Meet the Director (Francesca Zambello)(3:40): the director shares her thoughts about the opera and her involvement in this production, the sixth that she has done.
Meet the Conductor (John DeMain) (6:05): Maestro DeMain who has lived with this opera for four decades draws from his own experiences with Porgy and Bess.
Reflections from David Gockley: A Forty Year Passion (10:46): SFO's general director tells us about his life with Porgy and Bess.
The Definitive Word
Overall:
[Rating:4.5/5]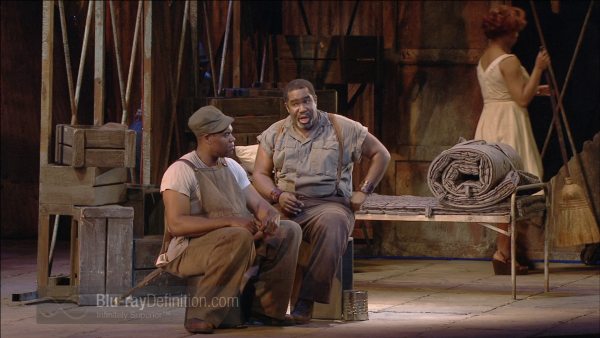 This is the Blu-ray premiere of the quintessential American opera and sets the proverbial bar at an extremely high level. Karen Slack's Serena literally stops the show with "Since my man is gone," and every time we turn another corner, there is another magic vocal moment. Case in point, Owens's rendition of "I Got Plenty of Nuttin". A production as good as this one will make us temporarily overlook the obvious racial stereotypes of segregated America that was the norm in 1930s America, the decade of this opera's composition. Maestro John DeMain has always championed this work, and has made the strongest case that Porgy and Bess should be designated as an opera rather than as a Broadway musical. With voices like those that we get in this SFO production, who would argue with that decision? As much as I enjoyed the 2011 Broadway revival of this work, this one is significantly better. A terrific Blu-ray disc that should be in all of opera video libraries, this Porgy and Bess is an easy one to recommend.
Additional Screen Captures
[amazon-product region="uk" tracking_id="bluraydefinit-21″]B00IAV084Y[/amazon-product]
[amazon-product region="ca" tracking_id="bluraydefinit-20″]B00IAV084Y[/amazon-product]
[amazon-product]B00IAV084Y[/amazon-product]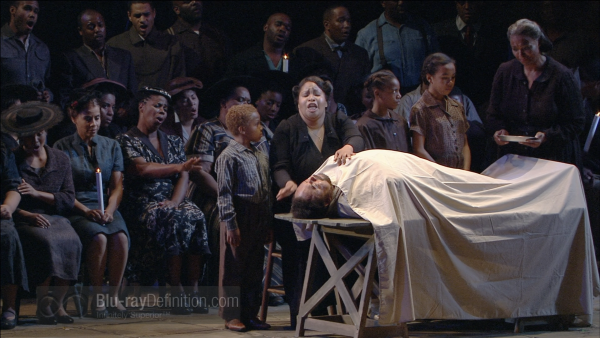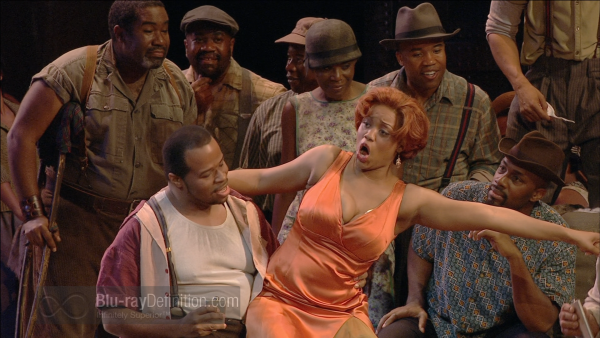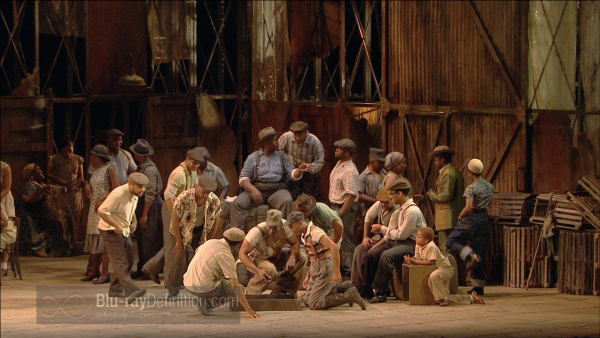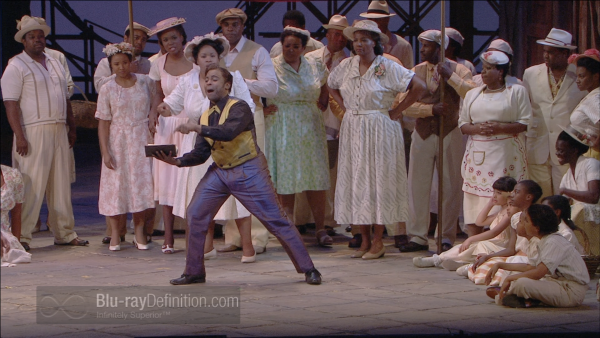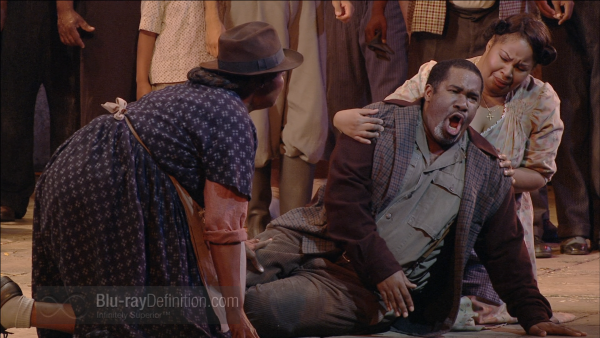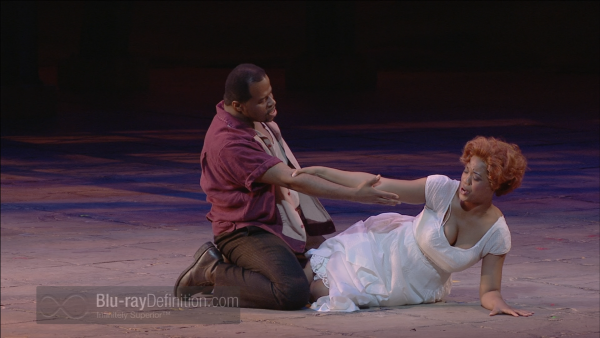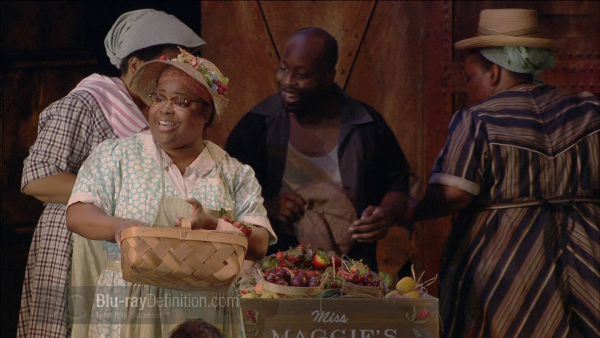 [amazon-product region="uk" tracking_id="bluraydefinit-21″]B00IAV084Y[/amazon-product]
[amazon-product region="ca" tracking_id="bluraydefinit-20″]B00IAV084Y[/amazon-product]
[amazon-product]B00IAV084Y[/amazon-product]