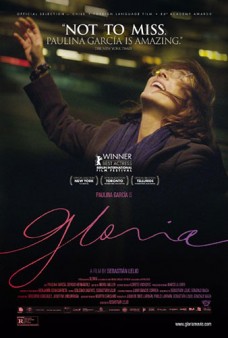 – –

A fifty-something single Spanish woman navigates the singles scene in Director Sebastian Lelio's new Chilean film Gloria.
Chilean actress Paulina Garcia plays the title character, Gloria. She is the mother of two adult children and keeps herself busy to ignore the fact that she doesn't have a man in her life. She navigates the singles scene, including attending a ballroom dancing class for singles. Set against the backdrop of Santiago, Chile, Gloria throws herself into work and the pleasures of being single, but she doesn't realize that perhaps a man could make her happier. It is not until she meets ex-naval officer Rodolfo (Sergio Hernandez), a man who has a lot of baggage, that makes Gloria realize what she was missing in her life. Gloria gives this new relationship everything she's got, however, it appears that Rodolfo doesn't take it very seriously. He tends to disappear when they are together, using the excuse that his ex-wife and two grown-up daughters need him for an emergency. In one heartbreaking scene, he abandons her at a couples resort. Does Gloria break down over this relationship, does she take revenge, or does she just persevere and go forth with her life? She is a strong woman, very independent. Gloria can take care of herself and doesn't need a man to make her happy.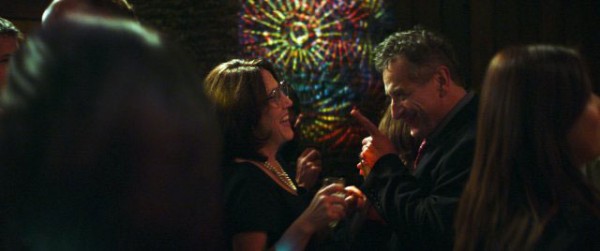 Gloria walked away with the Prize of the Ecumenical Jury and the Best Actress Silver Bear for Paulina Garcia at the Berlin Film Festival. Gloria also been nominated for Best Foreign film at the Independent Spirit Awards and the London Film Critics' Circle Awards. According to director Leilo, the inspiration for this film was to make a movie about his and co-screenwriter Gonzalo Maza's mothers' generation. "We both thought there might be a movie there and that got mixed with the excitement of giving a main role to Paulina Garcia." And Garcia does a great job. Not only is she acting in the normal way of acting, but most of the role relies on the use of her body, throwing up her hands in the air when the time is right to convey a sense of 'whatever' when bad things happen to her. Who is Paulina Garcia? She was born in Santiago, Chile in 1960 and has appeared in television and theatre in her native country. She is both an accomplished theatre director and playwright as well.
Gloria is told exclusively from Gloria's point of view, not very common in most film's today. Gloria is an inspiring contemporary drama about loneliness and self-discovery for a fiercely independent woman. Gloria is now playing in movie theatres across the United States.
Movie Rating
[Rating:3.5/5]