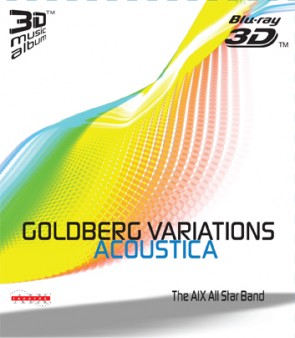 Aspect Ratio: 1.78:1

Video Codec: MVC 3D

Resolution: 720p/60

Audio Codec: Dolby TrueHD 5.1 "Stage Mix" (96kHz/24bit), Dolby TrueHD 5.1 "Audience Mix" (96kHz/24-bit), LPCM 2.0 Stereo (96kHz/24-bit)

Subtitles: N/A

Region: ABC

Rating: Not Rated

Discs: 1

Studio: AIX

Blu-ray Release Date: August 3, 2010

List Price: $34.98
Shop for more Blu-ray titles at Amazon.com
Overall
[Rating:4/5]
The Performance
[Rating:5/5]
Video Quality
[Rating:3/5]
Audio Quality
[Rating:5/5]
Supplemental Materials
[Rating:0.5/5]
Editors Note: Since this is a 3D title with no 2D material we have opted not to post any screen captures with this review.
The Performance
[Rating:5/5]

There's a moment during this performance of the Goldberg Variations when percussionist Alberto Lopez starts off a rhythm, he looks up at his fellow musicians and a small smile breaks on his face. Being a musician myself, I'm familiar with those moments. There's something about music — good music — when you play it with friends that makes you smile. It compels you to smile. The AIX All Star Band, playing the Goldberg Variations will definitely make you want to smile, even if you're not there playing it with them. You can put it on and play this recording amongst friends instead.
There's nothing new about people wanting to re-work the music of Bach. In fact, it's been going on since the composer was alive and Jazz musicians have been doing it practically since the word "jazz" came into existence. I'm reminded of the Modern Jazz Quartet, as I sit here and write these words now, and their reworking of classical pieces.
Goldberg Variations Acoustica was conceived by AIX founder Mark Waldrep to be one long "pulsating" electronic variation based on Bach's work and performed by a group of highly skilled musicians. Well, I'd say they succeeded. The AIX All Star Band, led by Jim Cox (arranger, piano, organ, and Wurlitzer electric piano), with Dean Parks (electric guitar), Laurence Juber (acoustic guitar), Kevin Axt (acoustic bass), MB Gordy (drums) and the aforementioned Alberto Lopez (percussion) bring together Bach's Goldberg Variations sublimely in this one-take, "live in the studio" performance.
Call it jazz, new age, fusion, rock, or whatever, the music flows effortlessly from this group of highly skilled, talented, and oh-so-tight performers. One moment durin Variation 4, they sound almost like Led Zeppelin doing a combination of "Gallow's Pole" and "Going to California" and later on, there are hints of country, flamenco, and even Latin jazz. It's a wholly original take on Bach that flows where it may in an organic fashion and ends exactly where it should, with Bach sealing the ceremony.
Video Quality
[Rating:3/5]

Goldberg Variations Acoustica, billed by AIX as the first "3D Music Album" provides the recording session in a 720p/60 3D MVC encoding only. There is no 2D program available on the disc. While I realize that 3D picture quality is something that can be dependent on the display, some of it also has to do with the source. This is third Blu-ray 3D title I have had the opportunity to view on my equipment (the other two being Cloudy with a Chance of Meatballs and Grand Canyon Adventure: A River at Risk) and this one by far suffers from the most issues.
Perhaps it has to do with the cameras used or the fact that it is 720p and not 1080p, but there is a lot more crosstalk (when the image meant for one eye bleeds over to the next, causing a "ghost" image to be displayed) on this title that I have seen in any other. There was also definite posterization in the black background the musicians were set against and aliasing visible on the stringed instruments and piano keyboard. I could see this even when I removed my 3D glasses. Perhaps things were compressed more to optimize for the sound, rather than the picture quality?
Still, if you turn off the critic in your head, Goldberg Variations Acoustica is fun to watch while listening to the performance. The 3D is not gimmicky in the slightest. It adds a more realistic dimension to the performance, rather than presenting a room full of flat musicians or, going in the completely opposite direction, sticking things unnecessarily in your face. I found that after a while, my brain began to tune out the crosstalk and I just enjoyed the performance and the 3D.
Audio Quality
[Rating:5/5]

As is typical with AIX releases, there are three mixes provided, and they are all in high-resolution 96kHz/24-bit. Surround lovers can choose between two Dolby TrueHD 5.1 mixes. One is a "stage" mix, the other an "audience" mix that utilizes the surround channels purely for ambience. Either one will yield a full, dynamic, and pleasant surround experience that is balanced and smooth. My personal preference is for the "stage" mix, to be placed right in amongst the musicians. It spreads the instruments out a bit wider, opening the soundstage and sounds just a little bit fuller to my ears. Last, but not least, there is a more than competent LPCM 2.0 stereo mix that provides equal dynamics, spacious stereo imaging and good instrumental separation.
Supplemental Materials
[Rating:0.5/5]

There is simply a channel identifier test tone for surround setups.
The Definitive Word
Overall:
[Rating:4/5]

3D and surround sound are a match made in consumer electronics heaven, and in the extremely capable hands of AIX, they are more than a force to be reckoned with. Are we seeing the future of high quality, high-resolution music playback? Maybe, but whatever the case may be, Goldberg Variations Acoustica is a must-have for audiophiles, which should come as no surprise for anyone already familiar with the AIX legacy.
Shop for more Blu-ray titles at Amazon.com